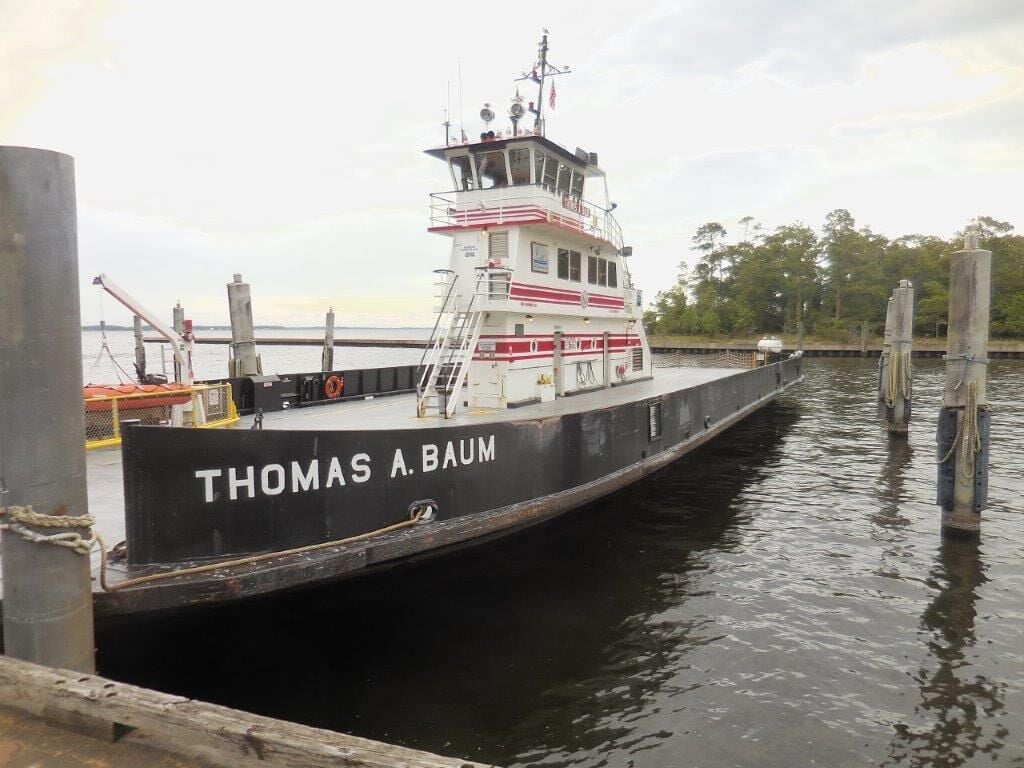 You can find just about anything for sale on the state's surplus property website, from dump trucks and old police cars to furniture, computers and bunches of pocket knives surrendered at airport security checkpoints.
And for this month only, you'll also be able to make an offer on a ferry.
The N.C. Department of Transportation is auctioning off the Thomas A. Baum, which carried cars and passengers across the rivers and sounds of Eastern North Carolina for 25 years. The Baum was recently replaced by a new, larger ferry and deemed surplus.
The Baum is in good shape and will likely be used as a ferry by its future owner, Stegall said. Ferries of a similar size and design can be found in Texas, Louisiana and New England.
"It has a good Coast Guard certificate of inspection," Stegall said. "So whoever buys it could very easily turn it around and put it right into service."
NCDOT is selling the Baum because of its age and its size. It can carry 30 cars, 149 passengers and six crew, while its replacement, the Rodanthe, has room for 10 more cars and twice as many passengers.
"Essentially we upgraded to a larger ferry," Stegall said.
The Rodanthe now runs between Hatteras and Ocracoke islands. Over the years, the Baum was moved around but most recently crossed the Neuse River between Minnesott Beach and Cherry Point, where the boat is tied up now awaiting its future.
'You could make a really cool houseboat'
The Baum has a central pilot house atop a small indoor seating area in the center of an open car deck. Cars drive on one end and off the other. Because it's a vehicle ferry, the boat is very stable and would lend itself to any number of uses, Stegall said.
"You can use your imagination as to what you wanted to do with it, because it would be a blank canvas, essentially," he said. "If you had the money and the wherewithal, you could make a really cool houseboat."
Another ferry similar to the Baum, the Herbert C. Bonner, was sold about the same time to Prudence and Bay Islands Transport Co. in Rhode Island. The company did not change the name, which is why cars and passengers cross between Bristol and Prudence Island in Narragansett Bay in a boat named for the late North Carolina congressman for whom the former Bonner Bridge over Oregon Inlet was also named.
NCDOT had not received any bids for the Baum as of Friday morning, but Stegall is confident potential buyers will come forward.
If none do, the state will remove the $1 million minimum bid and try again. Proceeds from the sale will go into a fund to replace old ferries.