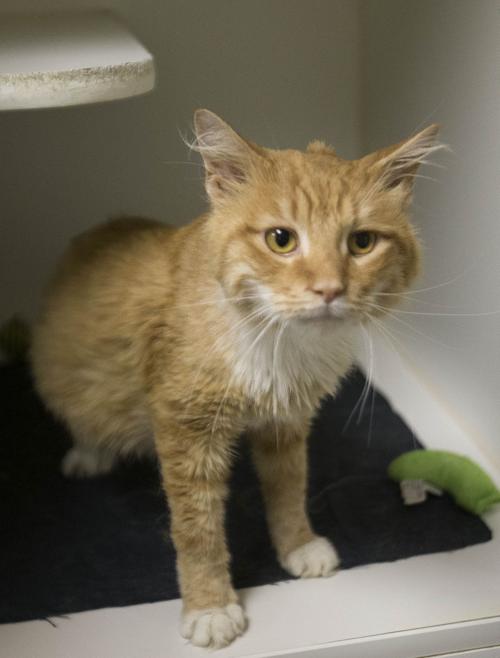 GREENSBORO — After months of complaints, rumors and allegations of animal cruelty and abuse, the N.C. Department of Agriculture on Monday revoked the United Animal Coalition's license to operate animal shelters in Davidson and Guilford counties.
"In the course of the investigation and in reviewing records, it was found that the UAC demonstrated serious deficiencies in the care of the animals in its custody," according to the letter of revocation, delivered by hand to United Animal Coalition President Carolyn Cudd.
Cudd did not respond to requests for comment.
The report details 65 incidences of animal cruelty documented at the Guilford shelter by state officials along with abnormally large numbers of animals found dead in kennels at the Davidson facility.
The report mentions a cat with a shattered back leg and internal bleeding being housed for seven days without veterinary care before being euthanized. A dog with a gunshot wound to the face was at the shelter for 12 days without proper care before being put down.
The Guilford County Board of Commissioners convened an emergency meeting Monday, voting unanimously to terminate the United Animal Coalition's contract and to place the shelter under the county's control on an interim basis. The Davidson County Board of Commissioners made the same decision at their own emergency meeting later.
Marsha Williams, the shelter's director, was suspended with pay last week. Williams is an employee of the United Animal Coalition, not Guilford County. The shelter will close for the rest of the week and is scheduled to reopen on Saturday, with Deputy County Manager Clarence Grier serving as interim director.
"The things we've learned are very disturbing and unacceptable to us, as I know it is for the community as a whole," Commissioner Hank Henning, the board's chairman, said at a press conference following the meeting. "Our goal is to put transparency and a culture of efficiency back into the shelter, so the community at large can get the services and the shelter that it wants and deserves."
Many issues and investigations
The Department of Agriculture had been investigating the two shelters for more than a month after receiving complaints on the conditions and care for animals in both counties. Most of that investigation is completed, though officials will continue to cooperate with law enforcement and county administrators, said Dr. Patricia Norris, a veterinarian and director of the department's Animal Welfare Section.
"There are a few things left outstanding we're going to tie up, but the vast majority is concluded," Norris said. "I wanted to get this revocation order out as soon as I could justify it so I could have a new start ... and end the conditions that led to the amount of suffering here."
Other investigations into the shelters remain ongoing as of Monday. The Guilford County Sheriff's Office and the Lexington Police Department, in conjunction with their respective district attorneys, are investigating claims of animal cruelty and abuse and potential misappropriation of county money. Those allegations involve more than one person, according to Sheriff BJ Barnes, and are separate from the instances outlined in the state's report.
"The investigation we have started has expanded and will continue," Barnes said. "To be quite frank with you, I expect criminal charges to come out of this."
The federal Drug Enforcement Agency is looking into potential violations at both facilities. The DEA oversees and regulates shelters and veterinary clinics since both handle drugs that are classified as controlled substances. Facilities must have a license to have certain drugs on site and individual veterinary and euthanasia technicians must also be certified to handle those substances. Barnes said the violations relate to "drugs not being where they should be," but did not elaborate further.
The United Animal Coalition, a Greensboro-based nonprofit, has run the Guilford County shelter since 1998. Commissioners first became aware of issues with the group during the budget process in June, when the organization's contract was due for renewal. In the month leading up to that meeting, the board received multiple emails alleging animal cruelty, nepotism among shelter management and strained relations between employees and volunteers.
A former vet tech described euthanasia policies that targeted any animal with a treatable illness worse than an upper respiratory infection. She saw a collie being thrown into a dog exercise area, where it died shortly after and was left there for hours.
Volunteers spoke of nursing puppies and kittens back to health only to see them euthanized for treatable conditions.
Multiple emails complained about the shelter administrators, noting that Williams, the facility's director, installed relatives in each of the shelter's management positions, making it difficult for volunteers to address concerns relating to workplace issues.
Commissioners responded to those claims by shortening the term of the nonprofit's contract, giving the county a cancellation clause and requiring additional reporting, including the number of healthy and unhealthy animals euthanized each month. That contract took effect July 1, after which the state and local investigations began.
"After some of the stories and reports that came out, we decided to move forward," Henning said. "We hope to re-instill those values that we expect of employees at the animal shelter."
The 'most egregious' infractions
Norris arrived at the Guilford County shelter Aug. 4 to investigate a complaint about an injured dog who was not receiving care. He'd most likely been hit by a car, according to records.
Norris located the dog in the shelter's general intake area.
"Upon examination," her report reads, "the dog had multiple fractures and severely swollen rear legs, was unable to stand, had bloody urine, multiple abrasions and was severely dehydrated."
The dog's records confirmed that he'd been in the shelter's custody for four days and was placed on "medication through the stray period," but noted no veterinary examination or further care.
The lack of treatment of the injured dog was in direct violation of the United Animal Coalition's veterinary policy, which states that "any severely ill or injured animals are taken to outside veterinarians for immediate evaluation," after which the veterinarians' "recommendations and protocol" are carried out by shelter staff.
Norris reviewed the shelter's records and found more than 100 documented examples of other instances where the nonprofit violated its own policies, resulting in actions that also violate the state's animal welfare laws.
The county's revocation letter details 65 of those instances, categorized as the "most egregious." These include:
A dog that arrived at the shelter with a temperature of 108.5 degrees. There's no record of a veterinary exam, but first aid was applied to reduce the dog's temperature to 102.5, after which the animal was placed in a kennel. The dog died overnight. Records contain conflicting dates and times.
A kitten that arrived at the shelter unable to stand or use its back legs. Euthanasia was recommended upon intake, but wasn't carried out until three days later. There is no record of medication given or of a veterinary exam during that time.
An elderly dog that was brought to the shelter by its owner to be euthanized. The dog could not walk on its own, had a distended abdomen, was urinating on itself and bleeding from its rectum. Euthanasia was approved for the dog two days after intake, but wasn't implemented until four days after it was brought to the shelter. There is no record of a veterinary exam during that time.
A sick kitten that was admitted to the shelter with a severe upper respiratory infection, a common and treatable illness. The kitten was euthanized 11 days later without receiving veterinary care.
The records review also uncovered multiple animals who did not receive rabies vaccinations upon intake. One adult cat was housed for 20 days without being vaccinated. A dog lived in the shelter for more than six months before receiving the shot.
Norris conducted a separate review of records at the Davidson County shelter after receiving a complaint in June that a dog was admitted there with a broken back and did not receive veterinary care.
The probe showed that 405 animals were found dead in their kennels from January through Aug. 12. Additionally, reports from May 1 through Aug. 13 "revealed an overwhelming number of euthanasias due to moderate to severe medical reasons and/or contagious disease."
At that point, Norris said, the shelter should have discerned there was a disease outbreak and contacted a veterinarian for help in minimizing further damage. No one did.
"What should have happened, and what is required by law, is for them to have gotten a written protocol from a veterinarian to address this disease issue," she said. "Most normal shelters that would have seen the spike of animal deaths would have done this on their own."
The dual investigations were the most extensive Norris ever conducted and by far the most disturbing, she said.
"To revoke a shelter license due to this amount, and this severity of violations, to my knowledge, is unprecedented, at least in North Carolina," she said. "I don't understand how you can get to this point in the first place. I have never seen anything this bad."
Scratching the surface
Exhaustive as they are, the reports don't detail every offense or every instance of neglect.
On Aug. 8, Katharine Bunnell and her husband Travis went to the Guilford County shelter to adopt Carl, a 6-year-old long-haired orange cat. Carl was skinny and lumpy, with matted fur, feces stuck to his tail and greasy brown dirt in both of his ears. But he was sweet, Bunnell said, and the couple thought he would flourish once he was in a stable home.
"We assumed he was malnourished from lack of care at the shelter," she said. "We thought it would help him out if we adopted him and could take him home and fatten him up and love him for years to come."
It didn't work out that way. Carl wouldn't eat, refusing several kinds of food.
That Monday morning, the couple rushed him to their vet, where he was quickly diagnosed with feline infectious peritonitis, a fatal disease that develops in response to feline enteric coronavirus, a relatively common illness among shelter cats.
Their veterinarian estimated that Carl had been sick for at least a month, and that he had, at most, a week to live.
Carl had been at the shelter since May, according to his records. He had not been seen by a veterinarian since June.
"Not wanting him to suffer anymore, my husband and I had to euthanize Carl that afternoon at our vet's office while I held him in my lap," Bunnell said. "We were heartbroken and devastated about this whole ordeal because we had fallen in love with Carl."
The Bunnells returned to the shelter the following day to let the staff there know what had happened. No one seemed to care, Bunnell said, and when the couple asked if they could donate Carl's adoption fee to sponsor another cat, staff members told them no.
"We are sickened by our ordeal with this shelter and the seeming lack of care there," she said. "We hope this situation doesn't happen to anyone else."
'Failure at a higher level'
The swirl of controversy can be traced back to a lack of oversight, Barnes said Monday. The United Animal Coalition is governed by a board of directors whose members include attorneys, judges and business owners who do not work at the shelter and are not independently familiar with its daily operations.
"I think somebody just didn't keep their eye on the ball and didn't do what they were supposed to do," said Barnes, who is also a board member. "They've done some excellent work in the past, but as of late, it seems there are some things that slipped through the cracks. And now it's falling to the commissioners."
Norris agreed. The workers and volunteers at both shelters are diligent and seem to care about the animals, she said.
"I honestly think that there are some very good workers at both shelters that are very dedicated to the care of the animals, and those are the people that work with those animals on a day-to-day basis," she said.
"I think there was a failure at a higher level."
Officials will spend this week evaluating the shelter's existing staff members and obtaining an accurate head count of animals currently at the shelter, said Grier, the deputy county manager.
Commissioners urged existing volunteers to stick to their current schedules and also asked former volunteers who left the shelter on bad terms to consider coming back to help.
"We are reaching out to all the partners who have worked with the shelter over the years," County Manager Marty Lawing said.
Commissioners offered no timeline on when a permanent management staff could be in place, saying only that all options, including another public/private partnership, remained on the table.
"In the immediate, our priority is to get the shelter up and running," Henning said. "And then we'll take a look at our options."
Contact Kate Elizabeth Queram at (336) 373-7003, and follow @KateElizabethNR on Twitter.
Be the first to know
Get local news delivered to your inbox!