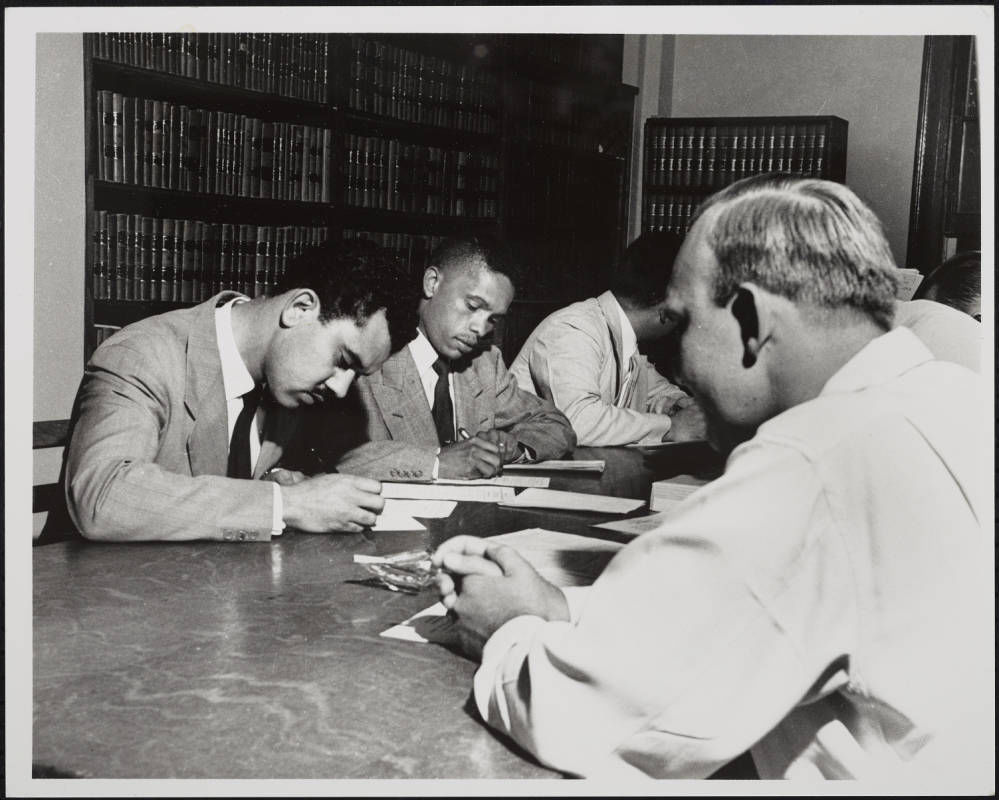 GREENSBORO — He remembered me.
"Of course, I do!" retired civil rights attorney J. Kenneth Lee replied in much of a whisper that day last summer.
He appeared much frailer than the last time we talked.
A year had passed. At least.
I could have asked — "How do you know me?" — to be sure.
But it was in his smile and those eyes that danced, like when he used to tell me stories of righting wrongs and fighting barriers, of walking along downtown Greensboro in deep conversation with the Rev. Martin Luther King Jr., before the civil rights icon was a known name. Of once trying a case for "reckless eyeballing," involving a black defendant and a white woman. Of sitting on his grandma's knees and hearing stories from when she was a slave.
Before he was a U.S. Supreme Court justice, Thurgood Marshall had represented Lee as a student in the fight to integrate UNC-Chapel Hill's Law School, which opened the door — and later the state's public university system — to other black people. As a lawyer, Lee would go on to represent five black girls in the fight to attend the all-white Gillespie Park Elementary in 1957, making Greensboro one of the first cities in the Southeast to desegregate its all-white public schools.
Lee, who had come to Greensboro to attend N.C. A&T, tread a trail of other firsts in a life that charts the progress of civil rights in America, notably the dismantling of Jim Crow laws. Lee loved his country and felt that improving the lot for black people only strengthened what America could be.
"One of the law school's great citizens of the 20th century," Martin H. Brinkley, dean of UNC's law school, said of Lee this week.
Lee was also the founder of American Federal in Greensboro, one of the country's first black federally charted savings and loan. He saw that as one of his biggest achievements outside court, because once black people had homes, they also had collateral to get loans to start businesses or send their children to college.
"He stood at the front of the line all the time," said Bob Brown of High Point, a close friend and former assistant to President Richard Nixon. "He was brilliant, and he believed anything could happen if you put in enough work. He was a mentor to a lot of us."
That included former N.C. Supreme Court Chief Justice Henry Frye, the first black man to hold the position. It was Lee who had suggested to Frye, who wasn't sure what he was going to do with his biology degree, that he should attend law school.
On that visit last summer, I had to lean in close as Lee sat in a recliner, enjoying a breeze off his patio with a private nurse nearby. But it became clearer to me as I sat there that day, there would be no more opportunities for me to hear more of Lee's stories.
John Kenneth Lee had spent months in an assisted living community, in the embrace of family and dear friends, before his death last Saturday at the age of 94.
The funeral is Monday, noon, at Providence Baptist Church. Visitation is 30 minutes prior. A private burial will follow.
Born in 1923 in Charlotte before spending much of his youth in the small town of Hamlet, he was preceded in death by his college sweetheart and wife, Nancy Young Lee, and an only child, Michael Lee, who was also an attorney. His survivors include siblings and grandchildren.
"We never felt second to all the great things he did and wanted to do," said granddaughter Michele Lee, who earned a law degree. "He somehow knew how to handle it all — how to do everything and put his family first. And that's not an easy task. As an adult, I can appreciate that even more."
Back in early 2009, I had stopped by his sprawling Benbow Park home to see if he was in Washington, D.C.
Lee had been in front of the big-screen television in his living room, watching the first black man take the oath of office as president of the United States.
I thought he might have traveled to the nation's capital for the historic moment.
He had been offered tickets from well-connected friends.
Lee joked about the probable traffic, but health problems didn't really give him a choice.
"It makes you feel like you've been rewarded," the soft-spoken Lee said of the inauguration of President Barack Obama, "for all the things you've been through."
It had been a decade since I first tracked him down after the organizing group for what was then the proposed International Civil Rights Center & Museum had announced he was donating some of his papers for a collection there.
"When I was little, I used to get on my grandma's knee and she used to tell me about how they treated her as a slave, and I didn't believe her because I didn't think people would be that mean,'' Lee said at the time.
Lee was born the 13th of 14 children. His father, a Church of God minister making $11 a week, moved the family to Hamlet when he was 3. The elder Lee, who also repaired car windows and picked up other odd jobs, made sure his sons learned to use their minds as well as their hands, and that his daughters would be educated and wouldn't work in anybody's kitchen but their own. The youngest, Winona Fletcher, is a retired college professor.
At dinner, Lee's mother would sometimes busy herself and insist the family start without her. Lee once crept to the wood stove where she kept her plate and saw the small portion left.
"I knew I had to try to do something to give my mother every material thing she ever wanted," Lee said.
It became, he later recognized, one of the greatest motivators in his life.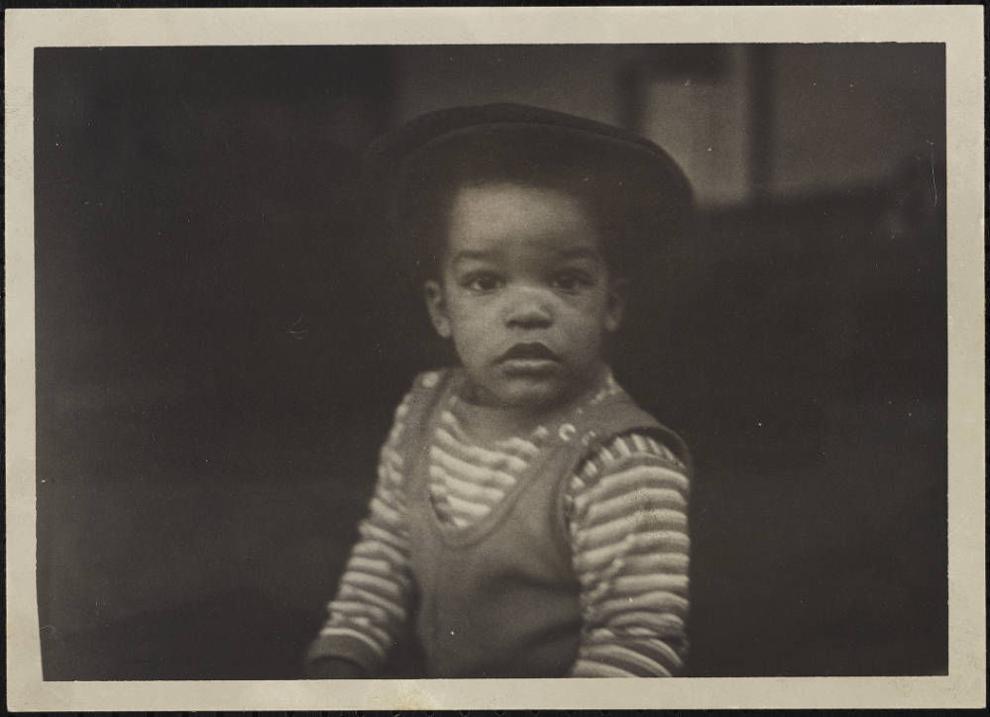 Lee graduated valedictorian of a class that met in a church and never had access to a library. He enrolled at A&T in 1941 with $33 his father had scraped and saved to pay for his first semester.
When he moved into the dorm, it was the first time he had lived in a place with electricity and running water.
"I remember the first time the chemistry professor asked me to go to the lab and get a Bunsen burner,'' Lee said. "I had never been in a lab all my life."
He was set to earn a degree in electrical engineering after just three years of study, but World War II intervened. He joined the Navy, and during training married girlfriend Nancy Young, then a senior at Bennett College. He served in the Pacific on the USS Dade, an attack-transport ship with segregated eating and sleeping quarters.
Lee returned to A&T and finished his last few months, earning a degree in electrical engineering in 1946.
But he couldn't get hired — even though jobs for qualified engineers filled classified ads.
He went to work at A&T as a professor in electrical engineering, but racism gnawed away at him.
"Black people were doing all kinds of crazy things to exist,'' Lee said. "They sat at the back of the bus and went to the back door of restaurants to be served. Black people with degrees had to accept lesser jobs.
"It was hell certified by law. We knew that if you stayed on your side of the fence you could avoid the nastiness of segregation.
"But who wanted to live that way?''
Lee thought the only way out of segregation was through the legal system, so he began to think about law school.
A few years earlier, the NAACP had begun legal action to integrate UNC's law school, considered one of the best in the nation.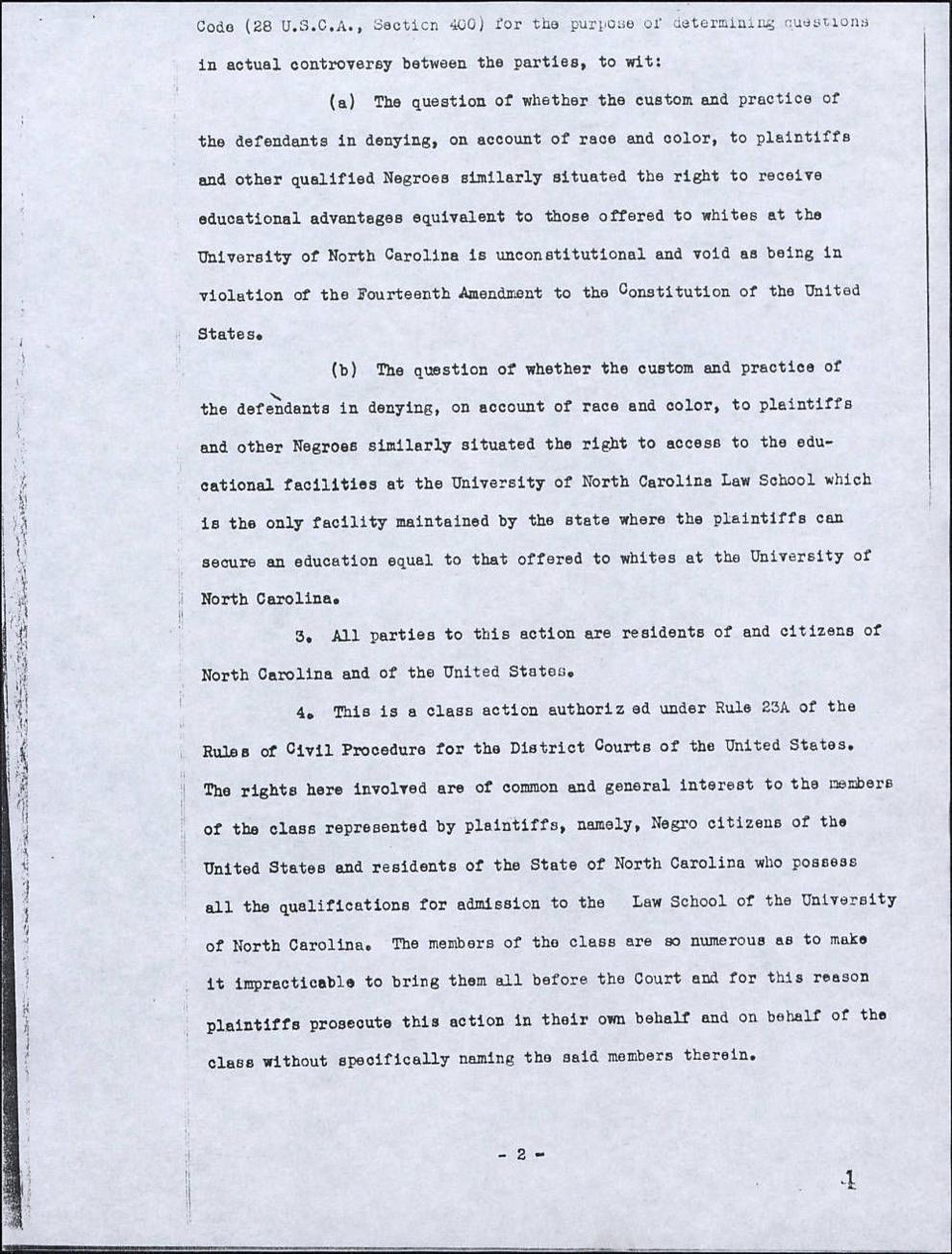 But the case took so long to wind its way through the legal system that by the time it got to court, the original plaintiffs were about to graduate law school at the North Carolina School for Negroes (now N.C. Central), making their cases moot.
Lee applied to the Durham school and signed on as a plaintiff in the case against UNC. There, he found secondhand law books stacked from floor to ceiling in no particular order in the one-room law school.
"When you wanted a book, you had to find it, take all the books on top of it off, and then stack the rest of them back when you were done,'' Lee said. "I didn't want a legal education that way.''
The case went to court in 1950, with Marshall, then chief legal counselor with the NAACP's Legal Defense Fund.
Though Marshall dismantled the arguments for separate but equal, the judge ruled against them, saying: "'I know y'all should be admitted to the UNC law school, but someone other than me will have to sign it,' '' Lee recalled.
The U.S. Court of Appeals sided with the plaintiffs and the U.S. Supreme Court refused to hear the case.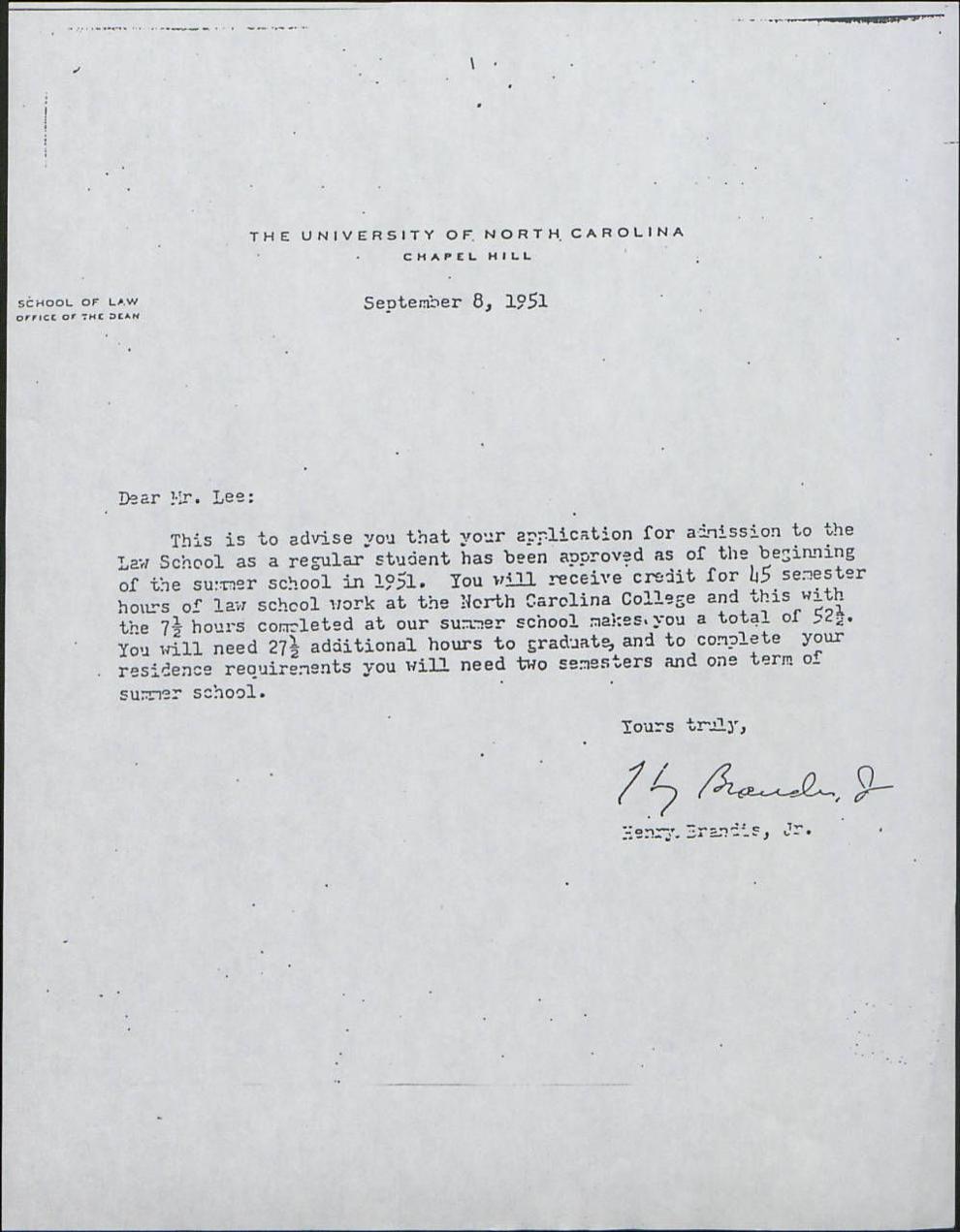 A contingent of police officers escorted Lee and Harvey Beech, another plaintiff, to the campus dining hall that first day in 1951.
"Everybody stopped, forks in mid-air,'' Lee remembered.
Within a few days, the black students drew little attention. Often, white students would sneak onto the floor of their dorm so they could study together. That's because the black students had a floor to themselves.
The devil, Lee said, was always in the details.
In a class where students sat alphabetically and had to recite case law, the professor addressed each of them in order and by name, using the title, "mister.''
When he got to Lee, he would just point. He couldn't bring himself to call him "mister."
"It hurt every time,'' Lee admitted.
One day in 2001, in Lee's home, it was apparent that the words bought back the sting.
"Some things would make me angry, but I found out when you get angry, you can't do a damn thing else," he recalled. "I found that a lot of people that I should have hated I never did. What good would it have done me?''
With credits, Lee graduated in the summer of 1952.
Much of his time soon after was devoted to civil rights cases. Lee, who argued in a steady, compelling voice, served as assistant legal counsel for the state NAACP, a position that he joked none of North Carolina's other 30 to 40 black lawyers really wanted.
It was the 1950s and '60s, a dangerous time to be questioning any white person.
Lee often found himself arguing before jurors who would rather look out the window than at him.
Lee argued his first jury case while a spectator sat in the courtroom with a double-barreled shotgun sticking out from under his trouser leg.
"The judge saw it, the other attorneys saw it, I saw it — and nobody said anything about it the whole time,'' he said.
The case involved five black men charged with killing a white sheriff's deputy in Moore County. The attorney general's office had sent two attorneys to prosecute, and a couple of lawyers running for statewide offices also volunteered their time.
The young men had committed the crime, and Lee hoped only to spare them the death penalty.
He had the law on his side; the men hadn't been arraigned properly. As the three-week trial neared its end, Lee handed the judge a brief saying as much.
"The judge called us all into his chambers. He said, 'Now here I've got a bench of lawyers with 200 years of experience and here is a boy on his way out of law school. You let me sit here three weeks and make a fool out of myself. You go back and work out a plea or I'll let them all go.' ''
The man who pulled the trigger got life in prison.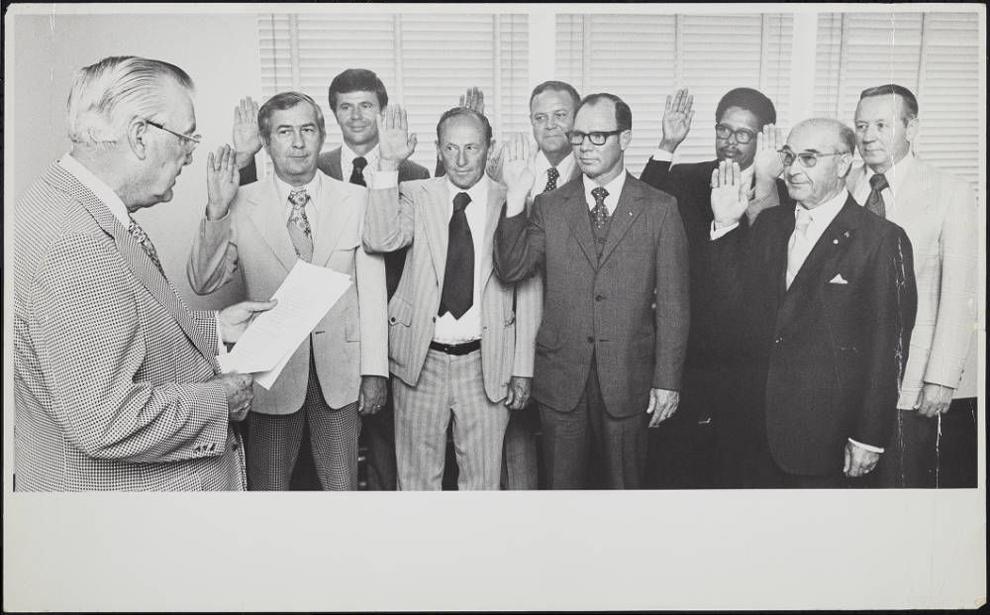 I had heard this story a number of times. Telling it always brought Lee satisfaction because the justice system worked, despite the times.
Often, his work resulted in threatening calls at home.
"We went through the cross burnings and the fires and the nights that we didn't think he'd come home,'' Michael Lee, who would follow his father to law school, once said. "I remember when I was very small we used to get phone calls saying he had been shot ... or had been tied to a stake and would not be coming home.''
Lee never considered himself a hero.
"People (in parts of the South) were getting lynched for just trying to eat in a restaurant, " Lee said, referring to the bravery of those families who said yes to challenging segregated schools. "What they did was special and took a lot of guts. It wasn't anything I did.''
Lee represented the majority of the 1,700 civil disobedience cases in North Carolina that included the Woolworth sit-ins of 1960.
"I never got paid for a single one of them,'' Lee said, those warm, brown eyes dancing. "I called the NAACP for a little help and Thurgood Marshall said to me, 'We spent half a million dollars getting you into law school. It's time for payback.' ''
He kept the "Colored'' sign he removed from the segregated bathrooms in the Guilford County courthouse in the 1950s and placed it on the bathroom to his home office.
Anytime talk turned to the civil rights movement, he fervently praised the black homeowners who repeatedly signed bonds to get protesters they did not personally know out of jail — he called them Greensboro's "unsung heroes."
"Everybody had something to do, and their piece wasn't the same as mine and mine wasn't the same as King's," Lee once said of the Rev. Martin Luther King Jr. "I never participated in the marches. I waited through the marches to get them out of jail."
Although as his private law practice grew and included white clients, Lee never made a lot of money as a lawyer.
It was business acumen and initiative that ensured him a comfortable life, including at one time having homes on the golf course in Pinehurst and the oceanfront in the Caribbean.
"Kenneth always had a good sense for business,'' recalled Fletcher, the sister.
In the first grade, her brother won a bike delivering a weekly farmer's almanac. He used it to ride several miles to a country store, where he bought penny lollipops that he would resell to his siblings and others for a few cents more.
As an adult, he turned racism into opportunity. Where segregation shut out black people, he found a way to open another door, often making a profit and creating jobs in the process. In the 1940s, for example, black people couldn't go to white theaters to see black performers such as Duke Ellington. So Lee, still in his 20s, opened a small theater in Salisbury.
In the years after World War II, A&T had more engineering applicants than space. So in 1947, Lee set up his own radio and electronics trade school in Winston-Salem, and filled it with black veterans seeking education through the GI Bill.
He maintained those businesses and others during law school with the help of Nancy, who had earned degrees from Bennett and A&T, and was a longtime teacher at Price Elementary.
Lee's business ventures were doing well by the time he went to the bank to borrow $20,000 — the remainder he needed to build that $55,000 Benbow Park.
"They told me they didn't loan black people more than $13,000,'' Lee said. "Nobody was bashful then.''
Not believing the loan officer, Lee researched mortgage loans at the courthouse and found just one bank loan to a black man for $13,500.
At a time when established financial institutions in the city had no black people as managers or even tellers, Lee contacted the Federal Home Loan Bank Board and told them he wanted to charter a savings and loan.
"It took a lot of initiative, a lot of nerve, a lot of planning, and Kenneth was good at that,'' Frye, the former chief justice, remembered.
American Federal opened in 1959, and soon white financial institutions released restrictions on black customers in order to compete.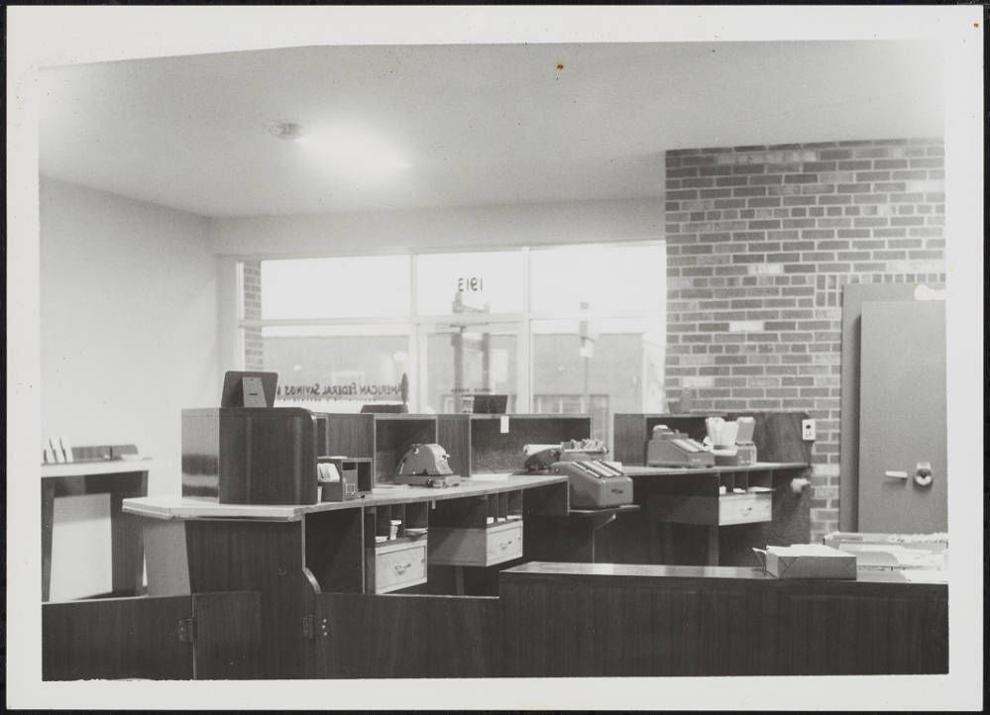 "It was the first time blacks could build a brick house — that was monumental,'' said Lewis Brandon, a historian who had participated in the '60s-era civil rights demonstrations. "When you would go there, you would see people from all walks of life, people with mud on their shoes and in coveralls from working all day. It was their bank.''
Lee served as the unpaid president of the savings and loan for 30 years.
He was also the first black person appointed to the state's banking commission in 1973, and the first black business person inducted in the Greensboro Business Leaders Hall of Fame in 1985.
A favorite story of mine was of Clyde Webster, the carpenter who worked on that home.
Lee had the blueprint and a patch of land off Benbow Road, where the homes for black doctors and the chancellor of N.C. A&T would follow, when one day he looked up to see his nemesis, a Ku Klux Klan leader named Clyde Webster, step into his law office.
By then, Webster had been caught after repeatedly tossing bottles through the plate glass window of Lee's office and was appealing an active jail sentence for the vandalism.
A carpenter by trade, Webster marched with KKK banners as the school district discussed integration.
Lee was rattled but didn't show it as this man, who had a high-ranking position in the group, stood there.
He thought that Webster might be there to shoot him.
"'I was fired,' " Lee said Webster blurted out.
The man happened to be the chief carpenter for the company Lee had just hired to build his home. Knowing the history between the two, the company fired Webster.
"He said, 'You and me ain't gonna never agree on race,' but I'm the best damn carpenter you will find, and I will save you money,' " Lee said Webster told him. " 'You won't have to speak to me if you don't want to.' "
Lee agreed to let Webster stay on the job.
And Webster often made suggestions for changes that Lee would take to the architect, who agreed the revisions would save him money.
During the construction, the men often talked.
"The man called him 'Mr. Lee,' so he thought something had changed in him," said Lee's sister, Winona Fletcher. "Black people weren't called 'mister' anything back then."
Lee's home had been completed by the time Webster's appeal came up, and Webster's lawyer subpoenaed Lee to talk about the time the two men had spent together. As a result, Webster was given a suspended sentence.
They saw each other just outside the courtroom. Webster, surrounded by other KKK members, reached out his hand to Lee.
"He said, 'I just want to let you know that if anybody in this town ever messes with you, all you've got to do is call us.' "
Lee saw it as an "unholy alliance,'' but the harassment and phone calls stopped.
When the previously all-white Gillespie ParkElementary opened the next fall with the black children Lee represented, Webster was back picketing in front of Gillespie with a 4-foot-high sign saying, "NIGGER GO HOME,'' when he spotted Lee among the idling traffic.
"He looked over toward the street, saw me passing, threw up his hand and hollered as loud as he could, 'Hey, Mr. Lee, how you been doing?' '' Lee said.
Lee lived long enough to see projects he started thrive and those passed to others eventually fall into disrepair.
He closed the last business, an investment office he operated in semi-retirement, in the early 2000s.
Later, he reluctantly placed Nancy in an assisted living facility. He would spend time there every day until her death at 81 in 2005.
Awarded the state's Order of the Long Leaf Pine and honored by A&T and UNC, Lee didn't do much public speaking.
Over time, his own health grew worse.
A stroke had temporarily incapacitated Lee back in August, 2001, keeping him in the hospital for three months — unaware at that time as pictures of the World Trade Center towers and the Pentagon ablaze became forever ingrained in the American psyche.
Later, someone broke into his home — he suspected they were looking for money — and left him battered and bruised but very much aware.
Some of the stories that defined his life can be found in the papers he has donated to the UNC Law School and the International Civil Rights Center & Museum , because he never wanted people to forget there was a time when black people didn't count in the eyes of the law. Fletcher, the sister, included many of them in the self-published book, "No Way! Memoirs of J. Kenneth Lee, Esq."
His mother, whose sacrifice spurred him on, died during his freshman year at A&T, never knowing what he would accomplish.
The Sarah Lee Fitness Center at the old Hayes-Taylor YMCA once stood in her honor.
By last summer, his family largely kept Lee's condition quiet and limited visitors to the assisted living facility to family and close friends so he wouldn't be overwhelmed with people.
I still went with permission, sitting with him in appreciation of those times he tolerated me and my questions — the look of 'Really?' often in my eyes back then.
I felt drawn to him like I had my grandfather, Thurston Armstrong, whose knees where I once sat.
Former News & Record librarian Diane Lamb suggested many times that I should go back and record Lee as part of an oral history.
Today, especially, I wish I had done so.
Contact Nancy McLaughlin at 336-373-7049 and follow @nmclaughlinNR on Twitter.