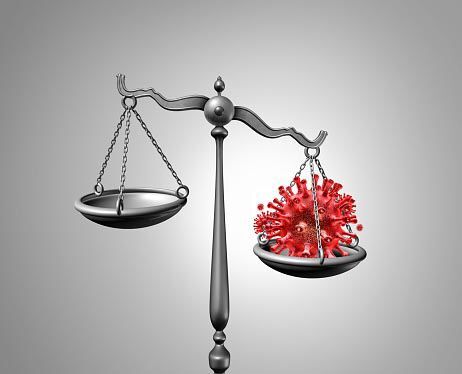 While other states are canceling bar exams or moving the tests for new attorneys online due to coronavirus, North Carolina is facing criticism for holding an in-person bar exam next week.
On Friday, Raleigh attorney Kieran Shanahan, representing an immunocompromised exam applicant, called on Gov. Roy Cooper to step in and require alternatives for the test.
"Our state leaders must realize that the North Carolina Board of Law Examiners waited until the last minute to plan for the health and safety of hundreds of North Carolinians who will gather in Raleigh in two weeks," Shanahan said in a news release. "Our future lawyers shouldn't have to choose between their health and their careers."
The N.C. Board of Law Examiners, which administers the bar exam, says it's taking adequate precautions to prevent the spread of COVID-19.
Instead of using a single site for the test, participants will be spread out among several large spaces at the State Fairgrounds and N.C. State's McKimmon Center, ensuring they're at least 6 feet from others. Masks will be required at all times, with staggered check-in times and hand sanitizer available.
Law school graduates must take the exam in person July 28 and 29 unless they decide to wait for the next test in February , according to the board.
"Please be assured that the Board of Law Examiners is doing everything it can to make the best of a very difficult situation," board chairwoman Kimberly Herrick said. "It recognizes the public's need for access to justice and representation, the hardship many applicants will experience if not able to be licensed to practice until February 2021, as well as the need to protect the public health."
Cooper's executive orders still limit indoor gatherings to 10 people, and 390 of the 770 people taking the test will be in the 95,000-square-foot Jim Graham Building, which normally can seat 1,300 people.
Shanahan said his client, Campbell University law school graduate and cancer survivor Britni Prybol, was denied a request to take the exam remotely and instead was told she could use "a room at a testing site that may not be as densely populated" as the Fairgrounds site.
Shanahan said the Board of Law Examiners waited until June 30 to contact the Department of Health and Human Services for guidance on how to hold the test. And he said the application form for the exam includes a liability waiver that prevents lawsuits if applicants contract COVID-19.
"It is an unconscionable attempt by the NCBLE to abdicate responsibility for a mass gathering larger than the 'super-spreading events' to which your office frequently cite when arguing that struggling businesses should remain shuttered over the past months," Shanahan wrote to Cooper.
Herrick said that the only online remote testing option isn't the Uniform Bar Examination that North Carolina uses.
She said the board has the option to postpone the exam until a September date, but "the majority of applicants and law school leadership we have corresponded with indicated that a later bar exam would result in substantial financial hardship to many."
This article is published through the N.C. News Collaborative, a partnership of Lee, Gannett and McClatchy newspapers in North Carolina that aims to better inform readers throughout the state.