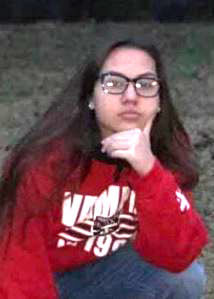 Lupita Arely Torres returned home safely in the afternoon of Aug. 16, according to the Rockingham County Sheriff's Office
---
WENTWORTH — The Rockingham County Sheriff's Office is asking for the public's help in finding a runaway 16-year-old Mayodan girl.
Lupita Arely Torres was last seen leaving her residence at 164 Hairstone Road on foot around 11 p.m. on Thursday. She as reported as as missing at 6:48 a.m. Friday morning by a family member, according to a sheriff's office news release.
She is described as a female with brown hair and brown eyes, olive complexion, around 5 feet 7, 140 pounds with a nose piercing and scar on her right cheek.
Anyone who sees her or knows of her whereabouts is asked to call Detective Payton Lingle at the Rockingham County Sheriff's Office at 336-634-3232 or Rockingham County Crime Stoppers at 336-349-9683.