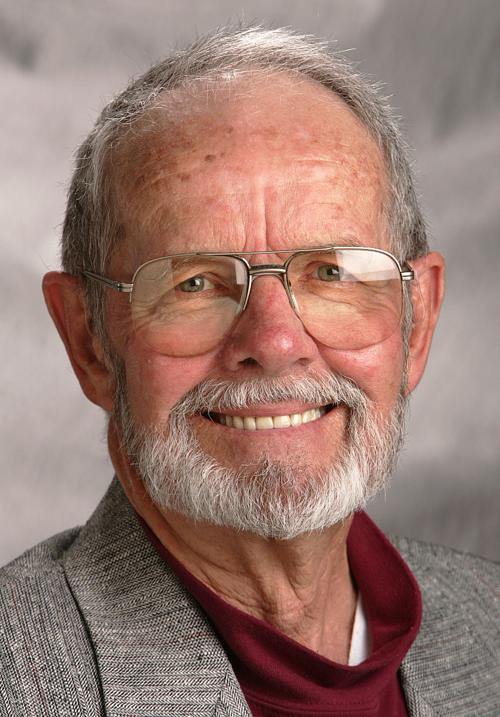 Harry Thetford shared this column with us several months ago, but we thought it was fitting to run on Grandparents Day.
For years I thought a Duke-UNC basketball game was the perfect illustration of an irresistible force meeting an immovable object.
Now that I have baby-sat six grandsons and one granddaughter through their "Terrible Two" years, a more perfect irresistible/immovable illustration has come to my attention.
Relax. That's as close as it gets to bragging about my grandchildren, as worthy and justified as that would be.
Grandfathers must have their own grandfather persona — I'm still searching for mine.
Since I've been to college, I figured a teacher/grandfather persona would be a perfect fit. That hit a snag when my first-grader discovered I had never seen a rhombus, could not draw a rhombus, and confessed, even though we had rumbles on busses when I was growing up, they were spelled differently.
Surely it came as a shock to our own children, but I once went for a disciplinarian/grandfather persona. To the very youngest grandson, I would teach the definition, pronunciation, and consequences of "No!"
To the next oldest, I would use longer sentences, such as, "No way!"
Seeing as how they live in a multi cultural community, I occasionally flavored my teachings with, "No way, Jose!"
Before giving up on discipline, I did have the opportunity to learn all my grandchildren's middle names. And they learned something about their middle names as well — like if used by their grandmother, it was umpire-speak for "Strike Two."
As a family tree researcher, I learned my grandfather was a justice of the peace. How proper it would be if I went for a justice of the peace persona.
Where 2- and 3-year-old brothers are joined in play, calls for justice are quick, often and loud. The problem arises when one brother wants justice and the other brother wants mercy. Generally, the one crying the loudest is on the justice side.
Of course, if the mother and/or grandmother are within hearing distance, they will chime in with their ruling — almost always on the mercy side.
I'm not completely sold on the "Once a Marine, Always a Marine" mantra. Nonetheless, I attempted to mold a Marine/grandfather persona. As for putting up the toys, I explained crisply, "You may construe that as a direct order!" The grandtroops heard, "Pop wants the toys disbursed over a wider area!"
Upon repeating my direct order to pick up the toys, I learned my earlier vocabulary lessons had exceeded expectations. The over-2 replied, "No way, Jose," the under-2, "No way, Jose!"
As the clash of wills unfolded between a 72-year-old and two 2-year olds, it became obvious I was on the wrong side of the irreversible/immovable issue.
I have only one granddaughter. Of course, she is the perfect little lady. Her mom, dad and grandmother see that she is spiffy-clean, well-groomed, dressed prettily, etc. I was surprised, but she is allowed an infrequent temporary tattoo on her arm.
One morning, it was just the perfect little lady and her grandfather. The solitary approved sticker-of-the-week-tattoo (I think it was a butterfly) was still visible on her arm. But out of nowhere, a package of 36 more tattoos appeared. (Some of them may have been monster pick-ups and men on motorcycles.)
As a matter of complicity, all I was asked to do was hold her under the kitchen faucet. She would take it from there. One arm was tattooed past the elbow, and the other was filling up fast, when her grandmother called down from upstairs.
There were two problems, both of the "clear and present danger" category. No. 1, granddaughter's first, middle and last name had been invoked. No. 2 , a question (which would have worked just as well as a statement) about more tattoos was raised.
Temporary tattoos have amazing staying power, often lasting several days. But they are no match for Brillo pads.
We're home now. The grandchildren are stuck with their parents again. They're probably picking up their toys, getting by with only one tattoo, and drawing their own rhombi.
And we're hawking the cafeterias. Being around old folks ain't all that bad.
Harry Thetford retired as store manager of Sears Friendly Center in 1990. He and his wife, Martha, have three children and seven grandchildren. Contact him at Htthetford@aol.com.HARRY THETFORD