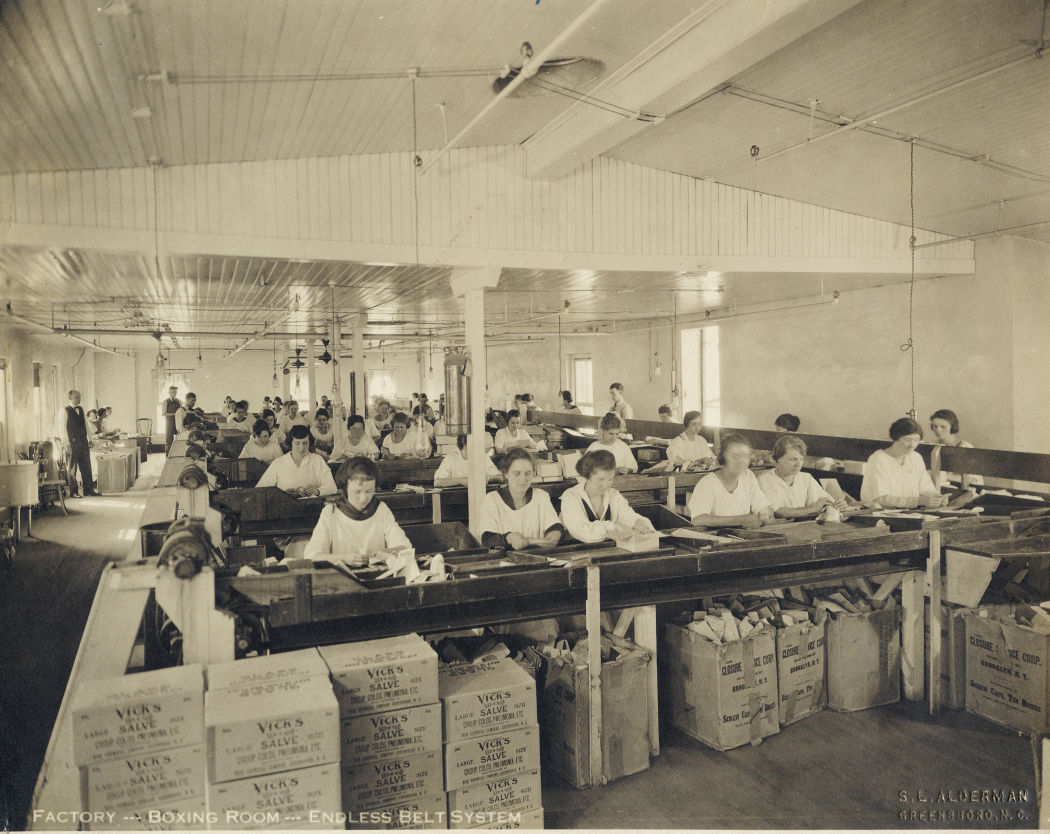 As health care professionals brace for the spread of the swine flu, they advise patients to use a variety of over-the-counter medicines or prescription drugs Tamiflu and Relenza .
And this fall, they'll have a new vaccine at their disposal.
But in 1918 , when another flu pandemic killed millions around the world, terrified families had few options.
Many turned to a product developed and produced in Greensboro — Vicks VapoRub .
During the outbreak, sales of the pungent-smelling salve soared from $900,000 to $2.9 million in one year. Stores ran out. And newspapers carried what amounted to free a ds for VapoRub.
Many customers saw the product as a lifesaver.
"It saved the nation from the flu epidemic," Greensboro resident Fred Preyer once said of the product invented by his grandfather, Lunsford Richardson .
A Johnston County native and pharmacist, Richardson moved to Greensboro in 1891 from Selma .
He co-owned a pharmacy at 121 S. Elm St. , where he created a number of medicinal products, including a salve which combined menthol with camphor and an ointment base that included eucalyptus oil.
But historians in Johnston County don't tell it that way.
The county's Heritage Center Web site calls Selma "the birthplace of VapoRub."
In addition, a town centennial book says Richardson created the salve in Selma and sold jars of the stuff in a pharmacy he owned there.
"All evidence points to Richardson perfecting the product and creating it for sale in Greensboro," said Linda Evans , community historian at the Greensboro Historical Museum . "That's how the company history reads, too .... I believe Selma takes pride in the fact he was probably working on the formula when he was a pharmacist (there)."
Family correspondence says Richardson first sold his salve in 1894 , after he came to Greensboro. He called it Vick's Croup and Pneumonia Salve , a product the patient could rub on his chest or neck or dab under her nose.
The vapors are supposed to ease breathing.
Richardson chose the name Vick because it would be easy to remember and to honor his brother-in-law, Dr. Joshua Vick .
"I had seen a vision," Richardson once wrote. "I had dreamed dreams of a world-wide business."
Help in reaching that dream came in 1907 when his son, Smith Richardson , joined the business and convinced his father to focus his efforts on the salve. They renamed it Vick's VapoRub. The company, which ultimately dropped the apostrophe, sold the salve in familiar blue jars.
In a 1917 promotional campaign, Smith Richardson mailed out more than 5 million samples of VapoRub across the country.
"It turned out to be a marketing success," said Bill Moore , former director of the historical museum. "Then the flu epidemic hit and everybody had this sample ....The popularity just caught on everywhere, even internationally."
What became known as the Spanish flu initially hit in the spring of 1918, then faded out, only to resurface that fall.
Around the world, an estimated 40 million to 50 million people died. In North Carolina, the flu claimed 13,000 lives.
Across the country, people turned to VapoRub, in hopes of warding off the flu. At the same time advertisements for it flooded the country, some of which appeared in newspapers in the form of news stories.
"How To Use Vick's VapoRub In Treating Spanish Influenza," read a headline in the Billings, Mont. , Gazette on Dec. 9, 1918 . "Call physician. Go to bed. Stay quiet. Don't worry."
Susan A. Kitchens , a blogger in Monrovia, Calif. , found a clipping from the article in a letter her great-grandmother, Fannie Fogler , in Billings had sent to her daughters in Boston .
"What a puff piece," Kitchens said of the clipping. "That newspaper article is a treat."
But Fogler believed in VapoRub and had become worried after learning that one of her daughters had caught a cold. "Why didn't you use the VapoRub as I told you," Fogler chastised in a letter dated Dec. 10, 1918 . "I have never known it to fail to break up the 'flu' and it has also cured pneumonia."
As the flu spread and deaths mounted, many customers agreed with Fogler.
The Vick Chemical Co. , as it was then called, couldn't meet the demand. "Druggists!!," screamed a headline in the St. Paul, Minn. , newspaper in October 1918, "Please Note Vick's VapoRub Oversold Due to Present Epidemic."
In one day, the company said it received orders for more than 900,000 jars of salve. All had to be filled and packed by hand.
Vick manufactured VapoRub in a plant on Milton Street not far from Spring Garden Street.
As orders flooded in, the company added night shifts. After local officials closed schools to try to prevent the spread of the flu, teachers found jobs there. So did soldiers returning from World War I.
"Turning out enough VapoRub seemed more than a man-sized job during those flu years," the company wrote in The Vick News , a company publication, in 1955 . "... Many people turned to Vicks as a way to get quick relief."