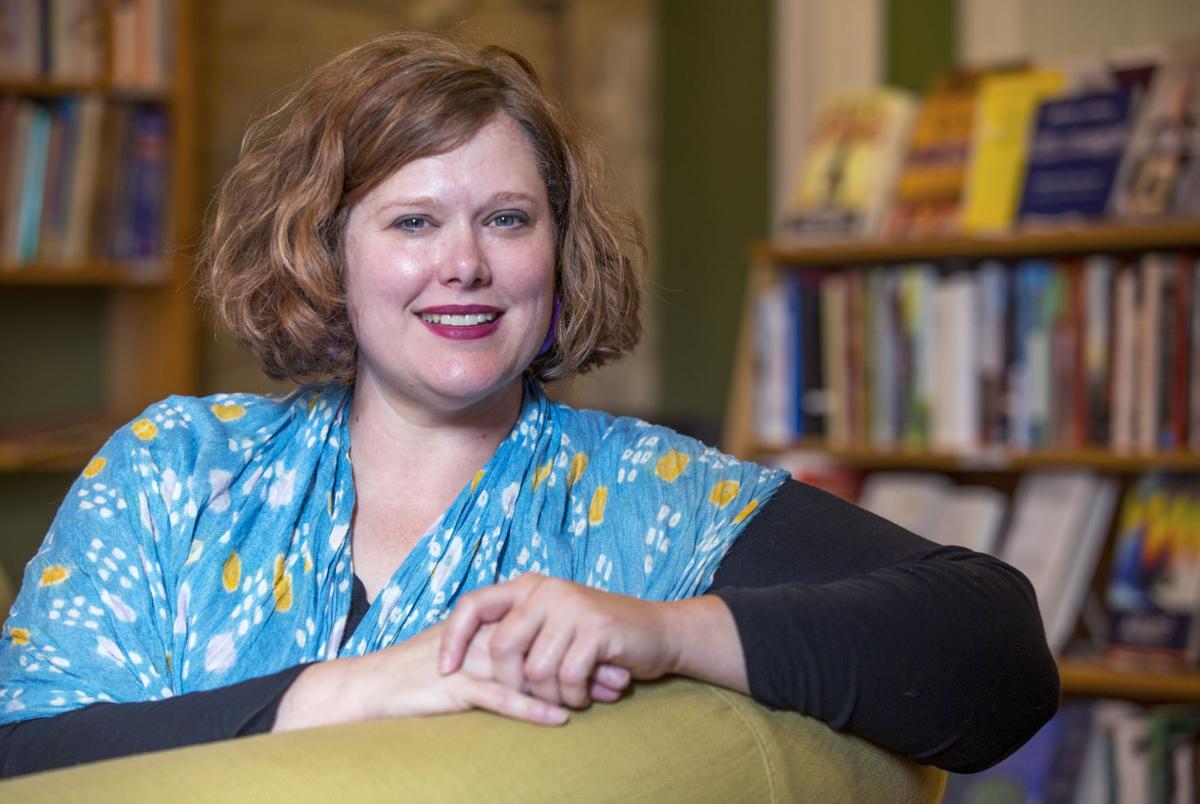 People don't know that I am a Muslim unless I tell them.
I am a white woman with a few discrete tattoos. My uncovered hair is either blonde or red. I'm opinionated, but I also battle the typical anxieties of American women. I lament over body image issues and money, and whether I'm a good mother to my son, Ibrahim.
I can pass as a typical American, whatever that means.
I accepted Islam 22 years ago after being active in college around the Palestinian issue. At first, my mother considered my change in faith to be a cultural betrayal, but she realized that I was still Southern and American. I didn't change my name as some people do when they embrace Islam.
I eventually married a man from Afghanistan. I didn't hear much from my father after the wedding. He was upset that I had partnered with someone from "over there."
(For the record, my former husband is a Nobel Peace Prize co-laureate for his work with the International Campaign to Ban Land Mines.)
A few years later, I lived in the Muslim world with my then-husband, who was at the time a diplomat in the United Nations. I traveled back and forth to the United States, and I became accustomed to extra security screening at airports, as well as the occasional snide comment on the street. That was when I wore the Muslim veil, the hijab, and I didn't pass so easily.
"Go back home, Taliban!" an older man said to me a year after Sept. 11. This happened on a New York sidewalk. I had returned to the city after living abroad.
I turned to that mean man and mustered my best Southern accent. "Florida? Honey, you want me to go back to Florida?"
Twelve months earlier, I watched the twin towers fall live on the BBC in my Azerbaijan living room. We had just moved to Baku, the capital, from New York. My elementary-age Afghan stepchildren had arrived in America from Pakistan a few months earlier. Ibrahim was an undiscovered clot in my womb when we visited the observation deck a month before that horrible September day.
As I watched as the towers fall, I didn't realize the moment marked a before and after — not only for America, but for Afghanistan and Muslims, in general. I felt Ibrahim move in my belly for the first time, as if he sensed a seismic shift of the earth, too. This incident occurred prior to ISIS and before anti-Islam and racist tendencies resurfaced in America.
Regardless whether one can pass or not, being a Muslim these days carries a particular weight that is sometimes a burden, sometimes an opportunity.
"We want to do something about the current rhetoric around Islam," Scuppernong Books co-owner Steve Mitchell said to me one day, "but we don't know what."
I suggested "Ask a Muslim Anything," an open forum at the bookstore where Muslims would be available to answer whatever questions people want to ask. Scuppernong liked the idea. They supported my desire to include everyday Muslims rather than scholars.
An independent bookstore seemed like a perfect place to host the discussion, particularly as Islamic identity in America isn't exclusively tethered to Islamic centers. Muslims increasingly define our experiences through cultural expressions related to literature, art, music and community activism.
Ask a Muslim Anything was conceived a few weeks after I had returned from New York, where had I spoken at StoryCorps, a project that collects and archives stories from around America. I sat on a panel with Muslims and Arabs (some who were Christian) and explored ways to encourage our respective populations to share personal stories.
Storytelling is more necessary right now than ideology or theology. The experience of being Muslim is about as vast as the world itself, yet the dominant discussion of Islam hinges on ISIS and the alleged inherent violence of the faith.
Most Muslims don't recognize ourselves in these stereotypes, yet we can't get out from under them, no matter what story we try to share. However, I believe the more we share our personal stories, the more we complicate the dominant narrative about Islam.
I understand that being a white American Muslim who doesn't wear the veil is a privileged experience. I opt out of experiencing direct Islamophobia, unlike my covered sisters.
Yet, being "an average American" makes me approachable for some to ask questions they wouldn't otherwise ask.
People want to know why I don't look like a Muslim. Or what it was like being married to a man from "over there."
Muslims don't have a look, nor do we have team uniforms. And, being married to a brown Muslim man was like being married to anyone. Marriage comes with challenges and blessings, even if one ends up marrying someone who grew up next door.
I'm grateful people feel comfortable enough to ask me such questions. Perhaps when they meet me Islam ceases to be something that is impossibly foreign and becomes just another American experience.
Ask a Muslim Anything arose from the understanding that Muslims are like everyone else, regardless of our ethnic or cultural background. The way we experience love, loss, happiness and struggle is no different than the next person. Yet, we are often denied the experience of being marvelously, even boringly, human.
We are everywhere in America, even in mundane ways. This became clear as a variety of Muslims gathered with others during the first three Ask a Muslim events in the spring. There were converts such as myself, Muslim women in the hijab, secular Muslims, Shia, African Americans.
The audience members brought thoughtful questions about Islamic practice, theology and the inevitable questions about ISIS.
During one discussion, an African American filmmaker asked Muslims in the audience to raise our hands.
Then, the filmmaker pointed out the obvious: "See? You are around Muslims every day, even if you don't know it."
Indeed, we come as a mosaic of different ethnicities, dress styles and identities. Dare I say it: We look like normal Americans.
Having a conversation about being an American and a Muslim is not a challenge for Muslims. The conversation about Islam in America, however, is often a problem for others. There are those who can't seem to hear us no matter how loudly we speak.
Sometimes, the act of storytelling itself becomes suspicious, particularly to those who feel all Muslims are on the verge of radicalism.
Earlier this year, I received a phone call from my son's middle school principal.
"I want to let you know that I had a conversation with Ibrahim today," the principal said. "He didn't do anything wrong, but I wanted to inform you in case he brings it up."
Ibrahim, now a tall, brown 14-year-old, had turned in his required-reading log for English class.
His teacher felt compelled to consult the principal.
The principal explained that it wasn't often he saw a student read a book about ISIS.
Never mind that the book was a collection of journalistic pieces by two Washington Post writers. Never mind that one would hope public school students are encouraged to explore current geopolitical issues in their class work.
"We are Muslim," I explained. "We talk about these things around the dining room table. The book is on our coffee table."
The principal, to his credit, had a wonderful conversation with Ibrahim. They spoke about my son's father, who fought with the Afghans during the war with the Soviets. They spoke about Ibrahim's time living in the United Arab Emirates. The principal told me that Ibrahim left a positive impression, and he valued the chance to get to know him better.
Ibrahim told his principal that, "If fear is not knowing, then the opposite of fear is knowledge."
My son demonstrated that a simple conversation makes a profound difference. (And, I'm not such a bad mother after all. I've raised a confident young man.)
Having a real conversation is a radical act these days, especially when popular opinion is based on social media memes and heated political rhetoric. What America needs right now is space for a front-porch chat. You know, the kind of conversation that happens when you and a neighbor sit in rocking chairs and let the afternoon mosey away.
We need an opportunity to simply be human with each other.
So, let me embrace radicalism: I'm a radical Muslim when it comes to making space for stories and for celebrating humanity. My Islam demands that kind of compassion.
In the spirit of being radical, the next Ask a Muslim Anything is Tuesday at Scuppernong Books. A diverse group of Muslims will be around for conversation about Muslimy things.
Ask whatever you want. We are here to tell our stories, and to listen to yours. After all, the radical act of being human is what keeps America great.
Deonna Kelli Sayed is a Greensboro-based writer and storyteller. Her work is featured in "Love, Insh'Allah: The Secret Love Lives of American Muslim Women" and "Faithfully Feminist: Jewish, Christian & Muslim Feminists on Why We Stay." Learn more about her at dksayed.com and on Twitter @deonnakelli.