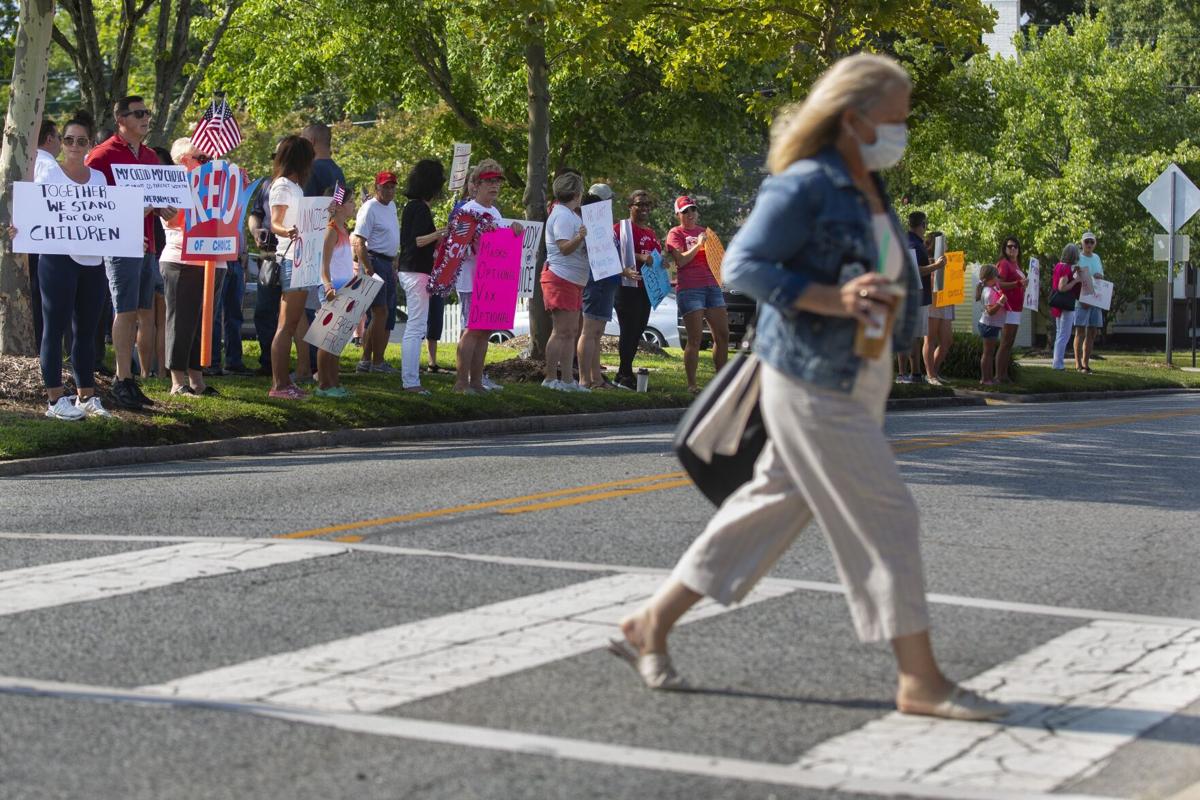 No more secret identities.
Your mask may come off now. The Guilford County Board of Commissioners, acting as its alter ego, the county Board of Health, voted unanimously Monday night to rescind the county's mask mandate.
The order took effect immediately, meaning an order imposed in mid-August, during the surge of the COVID delta variant, was lifted the moment the 8-0 vote had been taken.
Neither the vote, nor its outcome, comes as a surprise. With an eye on encouraging metrics, the health board said it would likely roll back the rule when it scheduled Monday's meeting two weeks ago.
The board's decision does not affect Guilford County Schools, where a mask requirement still holds. A number of school districts in the state require masks in counties that have not issued mask mandates for the general public.
If it were up to us, we might have waited until vaccination rates were higher and the temptations of the holiday season had passed for the lifting of the countywide mandate. But the health board's vote is a hopeful step toward life as we used to know it.
It is based on a number of positive trends in Guilford County and throughout the state. Infection and hospitalization rates are down. Over a recent 21-day period, the COVID positivity rate had dropped to an average of 4.8%. That's the figure state health officials have set as a benchmark for relaxing some rules and restrictions.
But this good news comes, as do all things COVID, with an asterisk and fine print.
One number that is not as encouraging as the others is the relatively low vaccination rate in Guilford of only 56%. More vaccinations would help to preserve the current gains against the virus. The approval of vaccinations for children provides an opportunity to improve that figure. So will more adults stepping up to get a shot that has been proven overwhelmingly safe and effective.
Remember: The mask rule is rescinded as long as the numbers stay low. If we are not careful, we could be right back where we were before.
Dr. Christopher Ohl, an infectious disease expert at Winston-Salem's Atrium Health, describes the period before Thanksgiving as "a sweet spot" for lifting mask mandates.
But what will follow that period is the holidays themselves, and cooler weather.
This means more indoor activities, family gatherings and travel, and more chances for new infections.
"There is no set rulebook on how to mitigate a global pandemic," county commissioners Chairman Melvin "Skip" Alston said. "We've seen this pandemic take turns for the better only to be followed by a new and more challenging virus."
Look no farther than Europe, where a new wave of infections has taken hold, mostly among the unvaccinated. Europe reported close to 2 million coronavirus cases last week, the "most in a single week in that region since the pandemic started," the World Health Organization reported.
Health experts have cited a slowdown in vaccination rates and the rollback of restrictions such as face mask mandates among the causes.
The keys to breaking the cycle of hopeful steps forward, followed by frustrating stumbles backward, are caution and discipline.
In Greensboro and Guilford County, you can help by resisting the natural impulse to be irrationally exuberant, and to forget that there's still a pandemic.
We all should still avoid unnecessary risks. We also should remain patient and respectful.
We should abide by the rules of business establishments that choose to maintain a mask requirement to protect their patrons and employees. With the county mask mandate lifted, business owners and workers no longer have the weight of the county's authority mandate to back their own rules.
We should be decent. If you don't accept an establishment's rules, you should take your business elsewhere, rather than pitch a fit or create a scene.
We should continue to accept and abide by the school system's mask rules. They are meant to keep children, teachers and school staff safe, not a plot for world domination.
The virus doesn't care about our politics. It simply wants vulnerable (or gullible) hosts.