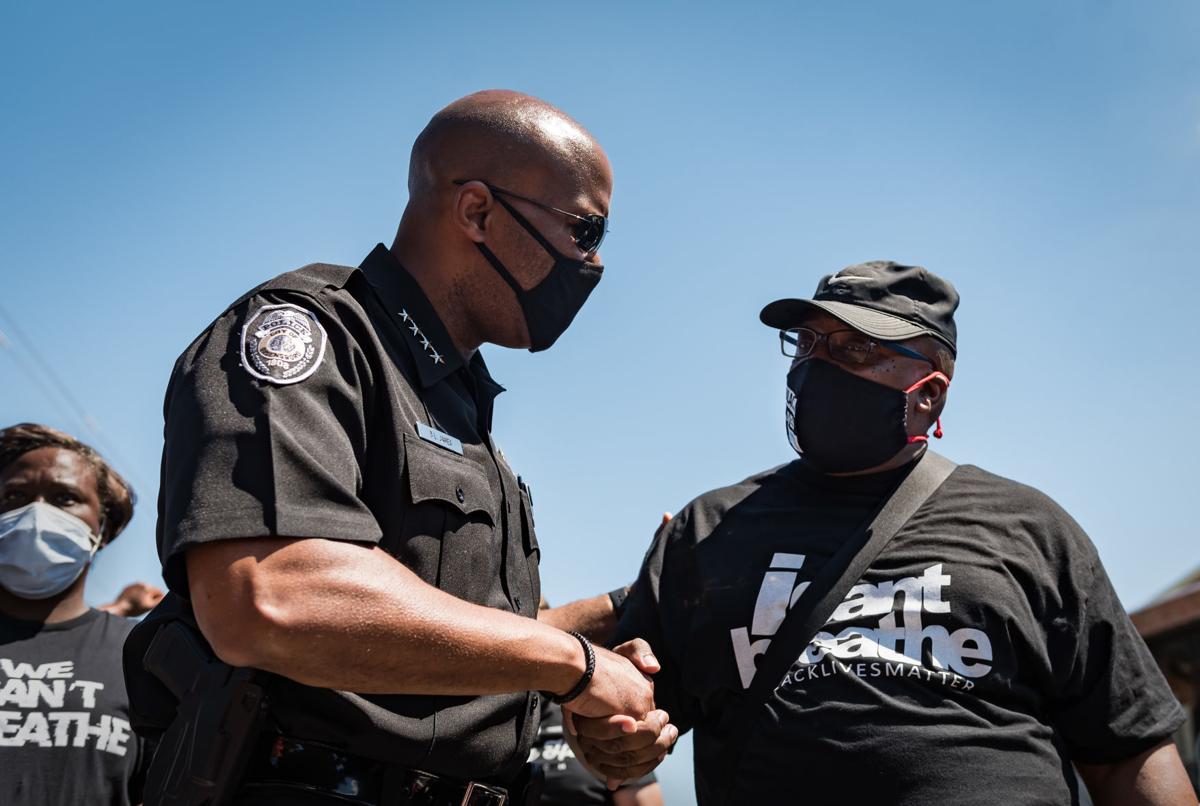 A veteran City Council member may have put it best.
"We might as well tell people the truth," Goldie Wells said during a discussion last week of the city's horrific spikes in violent crime.
"If we knew the answer to stopping the homicides, we would do it."
It does at times seem like an impossible dream. Or is it an unending nightmare?
Following a record year in which violent acts, mostly shootings, claimed 61 lives in Greensboro in 2020, as compared to 45 the previous year.
So far that grim pace continues into 2021. As of last week, there had been 12 homicides in the city.
We are not alone. According to the Gun Violence Archive, a nonprofit that tracks gun violence, gun-related deaths in the United States jumped 25% in 2020 compared to the previous year.
In North Carolina, those numbers were even worse, totaling a 31% increase over the prior year.
In Charlotte, 121 shooting deaths in 2020, the most since 1993.
In Durham, 32 versus 33 the year before.
In Wilmington, 22 homicides in 2020, as compared to only 10 the previous year.
"Twenty-twenty became the most violent year of the 21st century," Philip J. Cook, a professor of public policy at Duke University, told McClatchy News. "It looks like that is also true for North Carolina."
As Greensboro Police Chief Brian James noted in his three-year strategic plan for the department, the problem of violent crime isn't a police problem; it's a community problem. The tendrils of this crisis extend from all directions, from education to poverty to housing to gang activity to tragic escalations of petty disputes to a lack of positive male role models.
Nor has it helped that the coronavirus has kept at-risk young people away from the structured activities of in-person schooling and extracurricular activities for the majority of the current school year.
So this suggests not defunding the police, but refocusing them as an important piece of a broader solution. That means not simply being there to protect the public when violence breaks out, but helping to prevent violence in the first place. That, in turn, means applying more thoughtful, analytical and targeted approaches to what James calls the "hot spots."
This will require resources. Foremost, it will take quality hires in the patrol ranks.
The problem is, that hasn't been so easy to do in recent years.
James notes in his plan that the number of sworn officers has lagged behind the city's growth. Greensboro has added only 30 sworn officers since 2011. Further, before the department can increase its ranks, it has to be able to fill its current openings. Among a force of 683 sworn officers, there are 34 vacancies.
But the question isn't simply a matter of how many, but whom? A shrinking pool of applicants makes it harder to recruit and retain the best candidates. Greensboro trails other cities in police pay, James says. And recruiting minority officers is harder in an era in which relations with police in communities of color are especially strained.
To be clear, the goal here isn't to shock and awe with a show of overwhelming numbers. If this is done right, a bigger force that at least keeps pace with population growth would free officers to work fewer hours in a job that is inherently stressful. Quality hiring would result in officers who should be better equipped to interact effectively with the community. And, while every officer of color is not automatically immune to misconduct, a more diverse force, which looks more like to the community it serves, should, on the whole, help build better community relations.
Communities of color are in particularly anguished by the plague of violence that disproportionately affects their young people. You can see that through tears and desperate pleas during packed town halls in somber recreation center gyms and church pews.
This is why relationships are more important than military hardware. Familiarity breeds trust and trust breeds confidence. If communities truly feel that they are partners with police, we believe we'll see a difference in the violent crime rate.