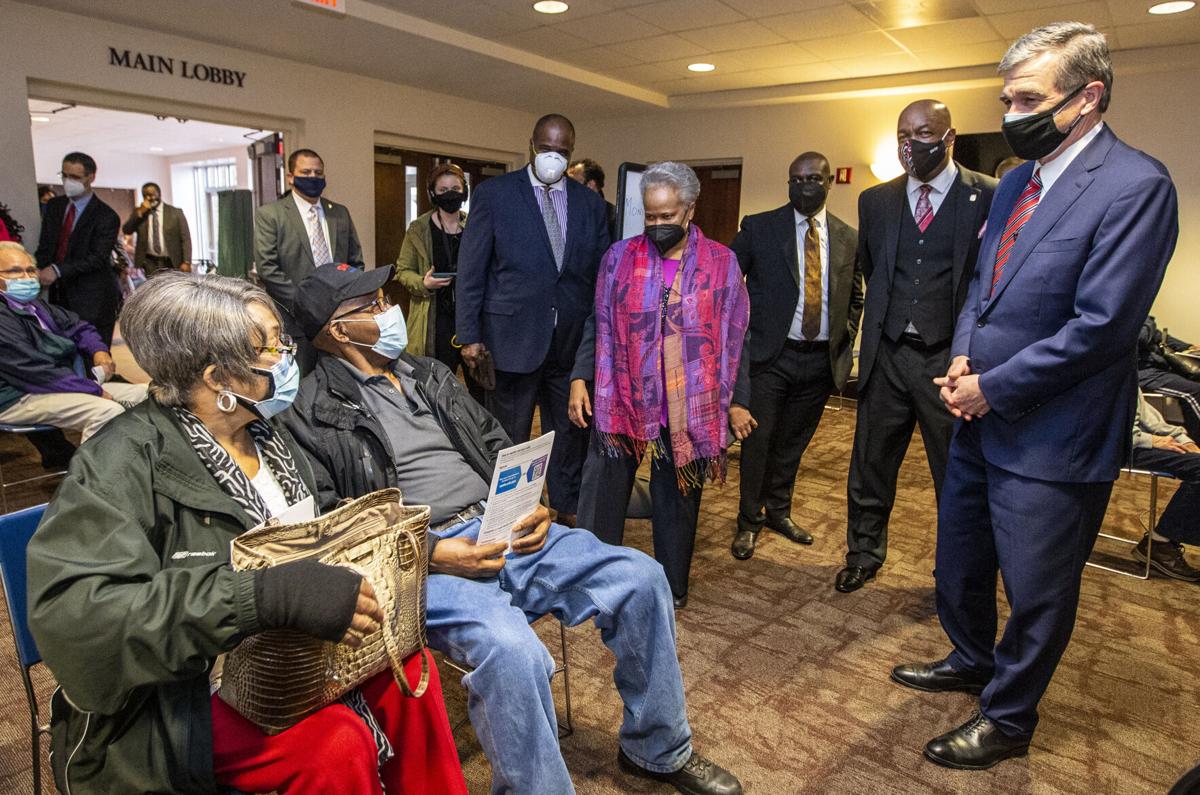 Picture a raging fire in a city and wailing fire engines racing to the places … where the flames are burning lowest.
That, in effect, seems to be the case with COVID-19 vaccinations in North Carolina.
Though African Americans and Latinos are disproportionately affected by the pandemic, they are receiving far fewer vaccinations than their white peers.
Among North Carolinians who had had their first doses of the vaccine, only 12.6% were Black and 2.3% were Hispanic; 80.37% were white, the state reported in early February.
What's more, white North Carolinians are the demographic that is proportionally most over-represented in vaccinations in Swain, Mecklenburg, Durham … and Guilford counties.
This matters because people of color are affected by COVID at far higher rates than other segments of the population.
Black and Hispanic Americans die at a rate of almost three times that of white Americans, the CDC says. 
This isn't to suggest that the state, health care providers and local governments are intentionally shortchanging people of color.
But, for a variety of reasons, it is what has been happening. And it needs to change.
Clearly, one major obstacle is access. For instance, making reservations online for COVID shots is harder in communities where internet connections are more limited.
Another is convenience. If vaccination sites are not located near communities of color, people in those communities may have a harder time getting there, especially if they are older.
Then there is the question of trust.
In Elon Poll results released last week, 47% of white respondents said they plan to get the vaccine; 17% did not and 23% were unsure.
By comparison, only 36% of Black respondents said they would get the vaccine, while 29% said they would not. Twenty-six percent of Black respondents said they were unsure.
African Americans in particular may be less trusting of vaccinations because history has taught them to be. Remember, this is a country in which government-sanctioned researchers at Tuskegee Institute in Alabama intentionally did not treat Black test subjects for syphilis so they could study the effects of the disease. Many of the subjects died.
And as late as the 1970s, this state forcefully sterilized some of its citizens, most of whom happened to be poor and Black.
Thankfully, there are some hopeful signs on the vaccine front.
In a news conference last week, Gov. Roy Cooper said Black North Carolinians comprised 18% of those vaccinated in the previous week, up from 11% a month before.
And in a plan made public last week, the Governor' Office cited several new strategies to increase vaccinations in communities of color, among them:
Requiring all vaccine providers to collect race and ethnicity data.
Funneling a portion of the state's weekly allocation of vaccines to events that focus on "underserved communities."
Expanding the hours of a COVID call-in line to address the public's questions about vaccinations.
Using "trusted messengers" in communities of color to soothe fears and concerns.
Guilford County set a good example with vaccination centers that cater to populations of color, like Mount Zion Baptist Church, which can provide as many as 375 vaccinations per day.
Cooper visited the site Thursday, and cited it as a model for other communities.
Also, the nation's largest historically Black college, N.C. A&T, has become the first UNC System campus to offer COVID vaccinations. And a "trusted messenger," A&T Chancellor Harold Martin, has distributed a video of himself and his wife, Davida Martin, getting vaccinations in January at the Greensboro Coliseum.
Martin, a former dean of engineering at A&T, acknowledged the Tuskegee study among other "deep-seated" reasons for distrust in the vaccine among Black people.
But then he added: "I understand the anxiety and fear but, listen, I understand the science. I am a scientist. … I trust the science."
Good for Martin, good for A&T and good for Guilford County.
As for the statewide picture, North Carolina was one of the first states to release race and ethnicity figures for COVID-19 vaccinations and has made those numbers readily available to the public.
It is acknowledging its problems openly and honestly, and sharing its strategies to address what needs fixing with similar candor and directness.
That seems to us a good prescription for better results.