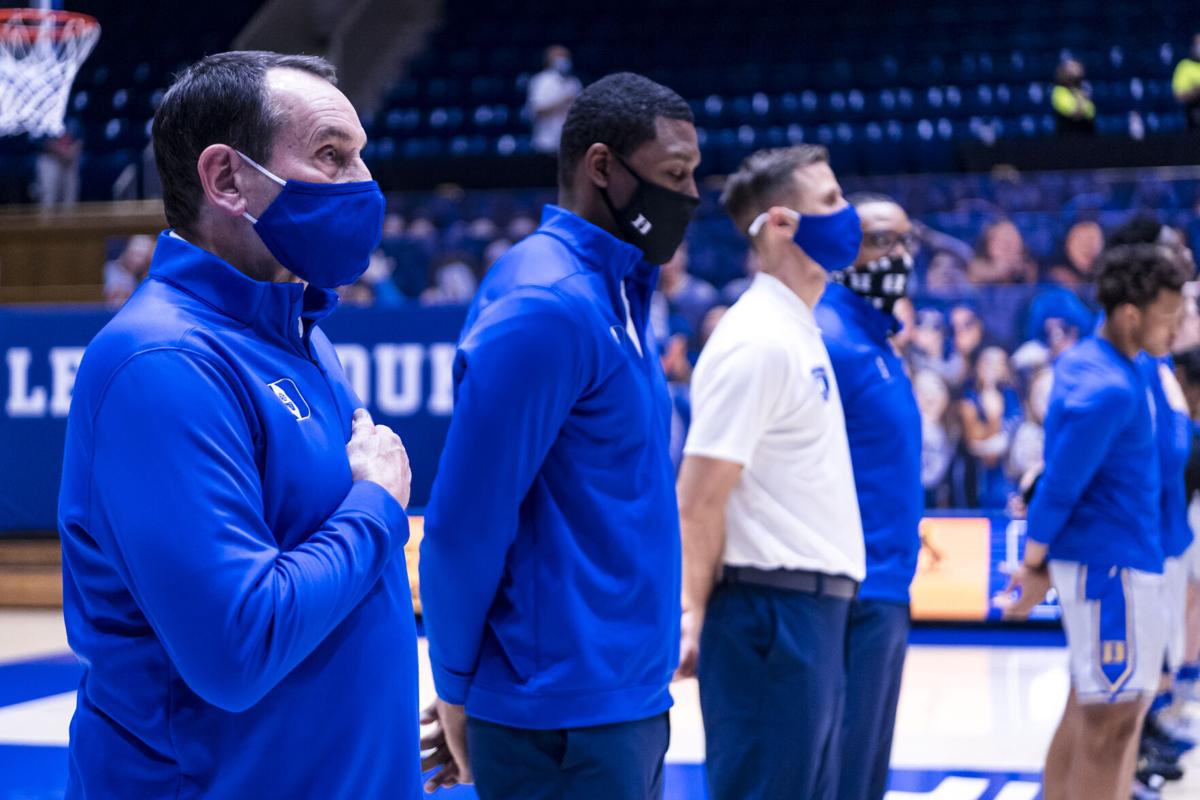 This editorial has been updated with a correction: Rep. Mark Walker did not participate in the election certification vote. His term had ended.
If the past is prologue, one of the prime time fabulists on Fox News might be inclined to say that this week to Mike Krzyzewski.
But we applaud the Duke Hall of Fame basketball coach for speaking his mind to reporters on Saturday about the ugly siege of the U.S. Capitol fomented last week by the inflammatory rhetoric and outlandish fabrications of a U.S. president who refuses to accept defeat, much less reality.
Five people died after a mob of Trump supporters overran police lines, ransacked congressional offices and called for the hanging of Vice President Mike Pence, whom Donald Trump has deemed disloyal for not doing what Pence has no power to do: block the certification of Democrat Joe Biden's victory over Trump.
During a rally before the riot, Trump had whipped his supporters into a frenzy and then stood by quietly as they stormed the Capitol like an invading army, carrying nooses and Confederate flags and leaving pipe bombs in their wake.
Only after pleas from fellow Republicans and Democrats did the president call for the rioters to stand down.
And even then he continued to insist that he had won by a "landslide" an election he actually lost by 7 million votes.
All this from a "law and order" president who has called NFL players unpatriotic — and much worse — for kneeling during the national anthem.
Coach K, who is registered as an unaffiliated voter, spoke in terms that you would hope to have heard from those Republicans North Carolinians elected to the U.S. House, including Triad congressman Ted Budd. You would hope.
But many still defended Trump's provably false allegations, rejected by the courts, numerous recounts and investigations, and even Trump's former attorney general that the Democrats had "stolen" the election.
"It went to the very fabric of this great country, where the symbol for our democracy is that Capitol, and we allowed that symbol to be really just spit on and stepped on," Krzyzewski, an Army veteran and West Point graduate, said Saturday of the mob's behavior.
Krzyzewski not only called out the protesters for their violent desecration of the seat of government, he also called on fellow Republicans to denounce it as well.
Krzyzewski described Jan. 6 as "the sorriest day ... outside of 9/11, shootings in schools where kids have gotten shot and killed. By the way, I know everyone went under desks in the Capitol. I'd like to ask how many times teachers have done that at schools when there is gun violence."
He continued: "It was an insurrection. It went to the very fabric of this great country. The symbol of our democracy is that Capitol. We allowed that symbol to be spit on and stepped on. ... My prayers go out to the officer's family who was killed from the Capitol Police, just like my prayers go out to the 16,000 families that have lost loved ones this last week (due to COVID). Are you kidding me? There's 16,000.
"What the hell are we doing? Where we can't work as a country to come together and get these vaccines out and make sure we're coming together," added Krzyzewski, who was recently quarantined when family tested positive for the virus.
The Duke coach also called on leaders to lead.
"If someone's doing something bad," he said, "Congress has the responsibility of stepping forward. I'm not sure if you saw Colin Powell be interviewed on TV, a man who is a great American. What he said was as this whole thing is moving along, Congress needs to step forward and say you can't do that. Where are our values?"
"It was a sorry, sorry day,"  Krzyzewski said. "Everyone who was involved should be prosecuted. Our leaders and politicians who spoke up in support of that should be chastised. This is not about being a Republican or a Democrat. It's about being a damn American. Work together. People say that's not who we are … that is who we are right now."
What was Rep. Ted Budd doing last week?
Defending Trump's dubious conspiracy theories by voting against the certification of the election, as did every Republican House member from North Carolina except one. Oh, and also sending out fundraiser emails.
At 8:15 a.m. on Jan. 6, a "Team Budd" email pitched: "We are following up to see if you will join Congressman Ted Budd in standing up for fair, free, and integral elections. We need your support — the future of our country depends on it."
For a mere $25, $50, $75, $100 or, what the heck, "any amount," you, too, could save America.
Meanwhile, in another corner of the sports world, the organizers of the PGA Championship canceled plans to hold the event at President Trump's Bedminster, N.J., golf club in 2022.
They expressed concern about potential damage to the "PGA of America brand," but did not specifically mention the storming of the Capitol. They didn't have to.
Some will fume that golfers should stick to golf and Coach K should stick to beating Carolina and leave the politics ... to whom? The politicians?
How well is that working out?
How 147 members of Congress could support Trump's dark and incendiary descent into unreality based on zero credible evidence is the true outrage.