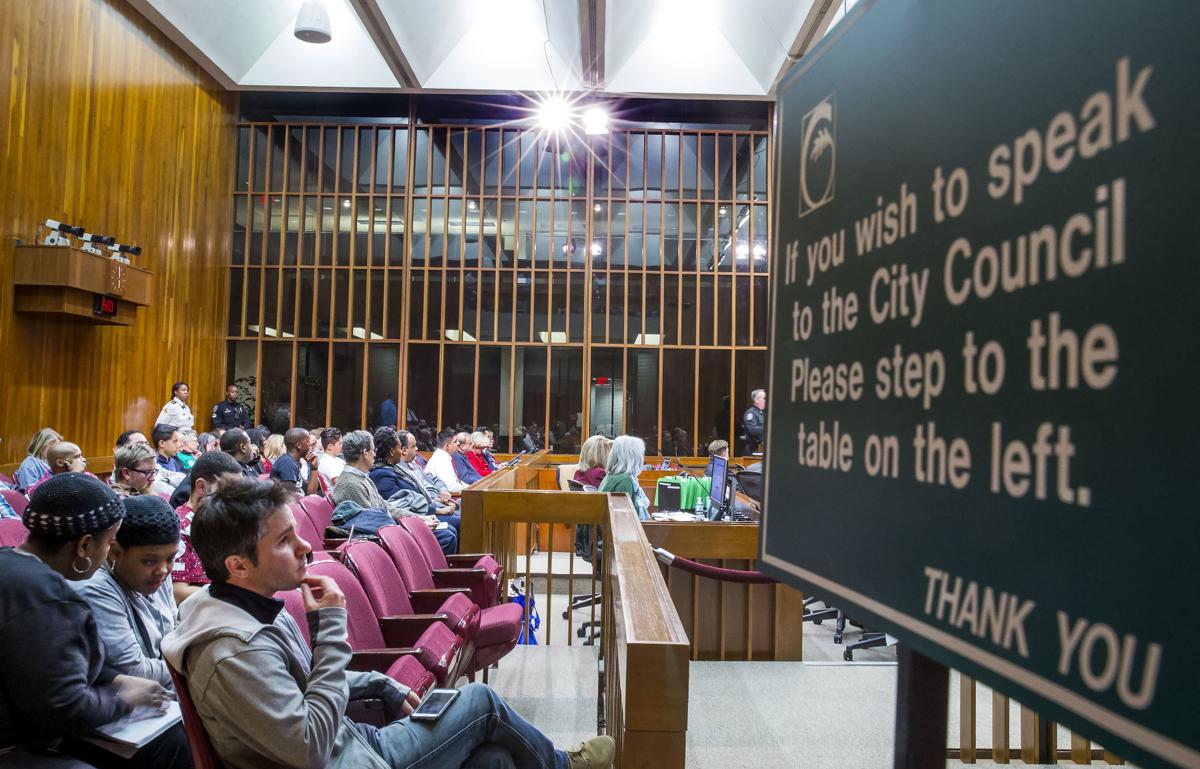 The Greensboro City Council works for the taxpaying public — which presumably also means listening to the taxpaying public.
The council has now all but eliminated public comments during, of all times, the one meeting of the month that is supposed to be devoted solely ... to public comments.
That town hall-style meeting format debuted in January 2018 as the city's version of an open-mike night. 
It was public engagement at its best and, occasionally, worst — sometimes powerful and compelling, sometimes messy and annoying.
But, on the whole, it was well worth the bother.
Now the council effectively appears to have done away with it.
The most recent public comment meeting on Sept. 1 was completely free of public comments.
You could email or phone in and leave a voicemail. The comments are summarized and shared by the mayor at the next meeting.
This may prevent some grandstanding. But it also mutes the voices of others whose causes are sincere and valid.
Now, if you're looking only for sheer efficiency, this is terrific. Last week's meeting came and went in barely more than 30 minutes before the council adjourned to convene a closed session.
The council spent what little time it did meet in public mostly listening to itself.
Then sayonara, hasta la vista. T-t-t-t-that was all, folks.
Is this really how you're supposed to conduct the people's business?
The public still has the opportunity to comment during public hearings on specific agenda items at regular council business meetings, but that's it.
The council could cite as a convenient excuse its shift to virtual meetings as a COVID-19 precaution.
Yet as the local online publication, the Rhino Times, has rightly pointed out, if you have the technology to allow citizen speakers during public hearings, you could make the same effort for what, in more normal times, were called "speakers from the floor."
Yes, we know. Public forums at council meetings could be messy, loud, rude, disruptive and sometimes even bawdy affairs. Some of the same people would come up over and over to air the same grievances. Other speakers would breach the bounds of public taste and decorum, prompting the city to post a warning at the beginning of streamed and televised meetings.
We've experienced similar challenges with online commenters.
In today's hypercharged political climate, with its deep divisions and distrust and conspiracy theories and pandemic fatigue, it's even worse.
And Greensboro is hardly alone. The web is filled with footage of public commenters behaving badly (including those irate Floridians who rebelled against mask-wearing as an affront to their freedom — in a coronavirus hotbed).
We feel the council's pain.
But today's council sessions are Zoom meetings (or whatever brand of video conferencing they're using). They even stumble through the same technical glitches and awkwardness the rest of us muddle through. ("Can you turn up your volume? We can't hear you.")
That makes managing speakers easier, not harder. And it eliminates the disruptions that sometimes resulted in the past during in-person meetings.
Further, this is an important part of the council's job.
When the council first shifted to virtual meetings in the spring, probably no one expected this to have to last into the fall. Now we know.
"It was never our intent to squelch public comments," Mayor Nancy Vaughan said in an interview Friday. "I believe that, pre-COVID, we were one of the most pro-public comment city councils in the state."
Vaughan said the current format is based on the advice of the city attorney.
But she also said she was open to reconsidering how public comments are handled.
That would be our advice. With the threat of the coronavirus still making in-person meetings hazardous, virtual meetings are going to be a way of life until at least early 2021, the mayor said.
That's a long time to give short shift to the public's voice.
Would a more robust comment session make meetings longer? Definitely.
Would it veer off-course at times onto wacky tangents that no one saw coming? Very likely.
Would some people abuse their speaking privileges with off-color language, personal attacks or disruptive rhetoric?
But the benefit outweighs the cost.
And the technology clearly allows for more than we're getting now.
If there is a will, there is a way.
Catch the latest in Opinion
Get opinion pieces, letters and editorials sent directly to your inbox weekly!