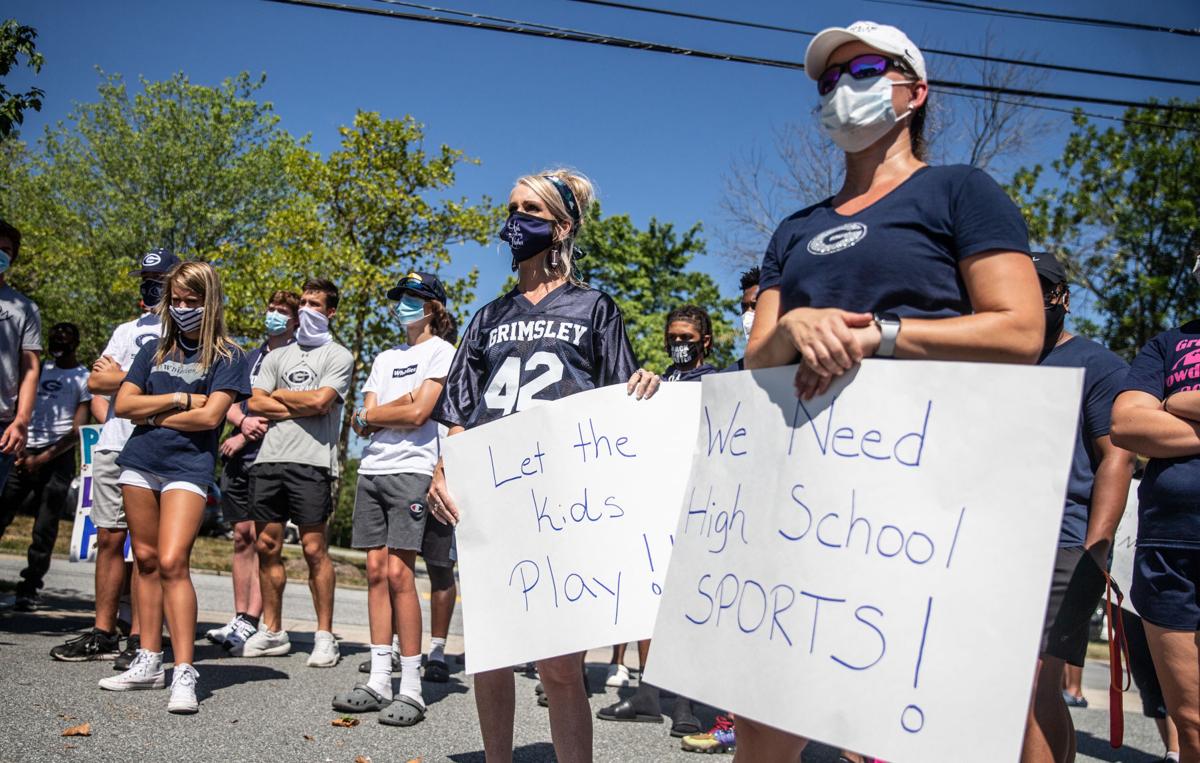 On a sun-broiled morning, several dozen Guilford County students, coaches and parents Wednesday gathered to make a case for fall sports.
As the coronavirus surges in North Carolina, it's still unclear as to when — and whether — there will be any fall sports this school year.
Guilford County Schools has delayed athletics workouts and marching band practice until at least Aug. 3. The N.C. High School Athletic Association has put off the official start of fall practices until Sept. 1.
Understandably, this concerns many for whom football and marching bands are both rites of fall and keys to the future, especially for rising seniors. For more than a few, the opportunity to play in college hinges on how they perform this season. If there is a season.
Participants in the rally, organized by a Grimsley High School senior football player, Sincere Burnette, also cited the bonds and lasting friendships that team sports can foster. Then there's the motivation sports can provide for students to stay in school and to do well in their classes.
"There are athletes, male and female, who depend on these things," Page football coach Doug Robertson told the News & Record. "I've always said that athletics is the No. 1 dropout-prevention tool we have in our schools. Some of these kids, whether we like it or not, are motivated by doing extracurricular activities. I want to be an advocate for these kids, because if I don't do that, why am I doing what I do?"
The coronavirus has taken a heavy toll on schools academically and athletically. Last spring, as the virus erupted and spread, schools were forced to shift to online classes and spring sports were canceled, prematurely ending the high school careers of many athletes.
Now comes the gnawing uncertainty of fall, no matter whose banner you wave. As the News & Record's Joe Sirera reported, Dudley, Eastern Guilford, Grimsley, Northern Guilford, Page, Ragsdale, Southeast Guilford, Southwest Guilford and Western Guilford were represented at Wednesday's rally.
But the reality is that COVID-19 doesn't care about rivalries or touchdowns or homecoming courts. And football, in particular, is a sport, that, by its nature, involves conditions that invite the spread of the coronavirus: repeated bodily contact, blood, sweat, heavy breathing.
Already a number of colleges have suspended their seasons, including N.C. A&T. And there's mounting evidence that youth sports already are spreading the coronavirus. Since late June in St. Louis County, Mo., six to eight new cases of COVID-19 have been reported daily in children and teens ages 10 to 19. Also, at least two high schools in that community have reported infections among athletes participating in football workouts.
Even college programs have seen their share of problems. Earlier this month, 37 student-athletes and staff members at UNC-Chapel Hill tested positive for the virus. At N.C. A&T, four athletes tested positive. A&T's league, the Mid-Eastern Athletic Conference, has since suspended all fall sports.
"Everybody gets it," A&T athletics director Earl Hilton said. "The data is pretty clear, so it's not a difficult thing to explain. But understanding it doesn't make it less devastating. It doesn't make it less gut-wrenching, less heart-breaking. …"
Even so, this is a decision that must be made with minds and not hearts. And in our minds, it's clear: High school football in the fall seems both unsafe and unwise.
And it breaks our hearts to say it.
Catch the latest in Opinion
Get opinion pieces, letters and editorials sent directly to your inbox weekly!