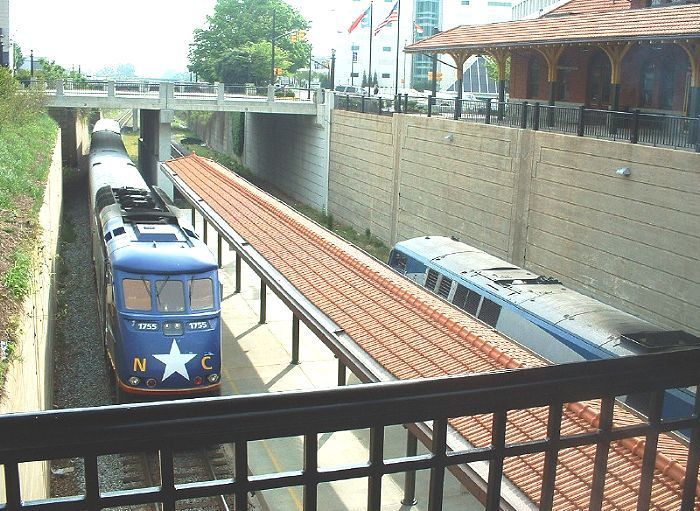 Passenger rail service in North Carolina is high-priority if not high-speed. The state is working hard this year to complete its Piedmont Improvement Program, which aims to enhance the route linking our four largest cities — Charlotte, Greensboro, Durham and Raleigh.
The project may be most beneficial to Greensboro travelers, providing faster trips to Charlotte and Raleigh. Because of increasing road traffic in both those metro areas, driving can be a frustrating experience.
When work is done, Charlotte and Greensboro will be linked by 92 miles of uninterrupted double track. East of Greensboro, several passing sidings are being built, including one in Alamance County that will relieve a 22-mile stretch of single track without anywhere for trains to pass each other — a "bottleneck," according to the N.C. Department of Transportation.
A dozen new bridges are being built to eliminate road crossings, reducing hazards and improving train speeds. And two daily passenger trains will be added, increasing to five the number of round trips between Raleigh and Charlotte each day.
This reflects rising demand for passenger rail and forward thinking by North Carolina's leaders, including Republican Gov. Pat McCrory. As mayor of Charlotte, McCrory helped launch that city's light-rail project, which is cutting traffic congestion and spurring development.
Our Republican legislature, unfortunately, dislikes mass transportation and has taken steps to hinder the Triangle's development of light rail. The Piedmont Improvement Program is funded primarily with $500 million in federal funds. At least in this case, the legislature didn't reject the money from Washington for political reasons, as it did funding for Medicaid expansion, extended unemployment benefits and food stamps.
McCrory, or his successor if he's not re-elected, should keep the state's rail development on track. This old form of transportation hasn't been surpassed for efficiency in moving goods and people. North Carolina's future depends on transporting freight to and from ports and between cities, and on finding alternatives to endless highway construction.
As News & Observer of Raleigh transportation writer Bruce Siceloff reported this week, North Carolina isn't building high-speed rail. He presented a contrast with California, which is spending tens of billions of dollars to upgrade passenger rail service between Los Angeles and San Francisco, allowing trains to reach a top speed of 220 mph.
North Carolina has more modest, and affordable, ambitions. Passenger trains here don't go faster than 80 mph and usually travel much slower. But they aren't covering great distances; the trip from Charlotte to Raleigh takes just over three hours.
The public seems supportive. This week's High Point University/News & Record poll found that a large majority of Democrats and a plurality of Republicans want "more state spending on mass transit systems, including commuter rail service, to reduce traffic on highways."
While it's not clear where the money would come from, it's certain that train travel is important to North Carolina's future.