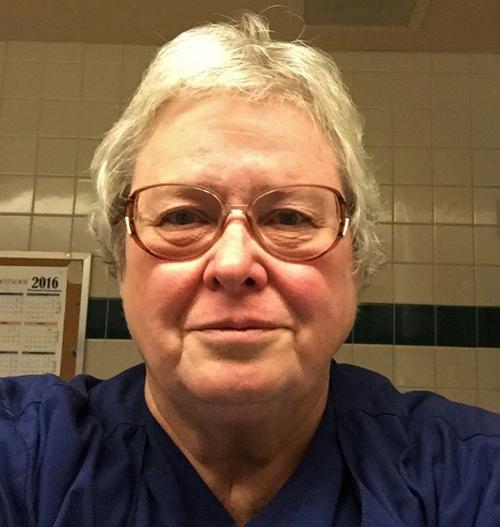 MADISON — What would have usually been a typical quiet afternoon in my home town was shattered several weeks ago by a murder-suicide.
For unspoken reasons, a local retired professional and former leader of his church who had been a dedicated husband father and longtime caregiver took the life of his wife and then his own.
He mercifully spared his live-in caregiver who had helped tend to his ailing wife who suffered chronic heart disease and late-stage Alzheimer's disease.
Family members said the 86-year-old had tried to find an assisted living facilty that could accept both he and his wife, but he had no luck. He also faced the pandemic and all of the added stressors it brings to vulnerable seniors and to caregivers. Perhaps this constellation of problems was too much to bear.
No matter what, the tragedy points to a need for recognizing the toil and stress that caregivers navigate.
I am a veteran nurse and a caregiver to my terminally ill 65-year-old sister.
I chose to become my sister's caregiver after she suffered a series of major health setbacks that rendered her so ill that she would either need to become a resident of an extended care facility or remain a resident of her own home with someone close by to care for her.
Being a nurse of more than 30 years, I know how North Carolina politicians loathe the idea of Medicaid expansion for the needy in Rockingham County and statewide. I know the realities of so many health care facilities that are short-staffed. And with the recent scourge of COVID-19 and the heightened risk of my sister contracting the virus or other diseases in a long-term care facility, the option was unacceptable to me.
I could not allow my sister to be deposited in such a place, when I had the choice to return home to care for her.
And now, I share that duty with a group of caregivers who have become a family to us.
Caregiving is exhausting; physically and emotionally.
Consider the physical demands: lifting, turning bedridden patients, assisting patients to the car, hoisting wheelchairs, bathing, preparing meals, clean ups — duties that can make an old body creak and tighten.
I do not sleep well, often getting up at night to sit in a chair and watch my sister sleep. I worry if I've given her the medicine she needs when she has a crisis. I have to remind myself that I am a nurse, after all, and I do know these interventions.
At work, I worry about whether I've done enough to help her. Yet, I know I am more than blessed than so many struggling. I have a family of caregivers, a family of choice, plus a work family that often lifts me when I most need it.
To speak of your own physical distress as a caregiver can feel disloyal. After all, you are the caregiver and the person you care for is going through far more. At times, the guilt you feel is overwhelming. I am able, she is not. How dare I complain about a bad back, a headache, being tired.
And there have been times when I have said unkind things to my sister, a person who has always shown more grace and kindness to others than to herself.
While I could never harm my sister, there have been times when I have felt profoundly sad and depressed.
At 69, I have more yesterdays than tomorrows. And my time to fulfill my bucket list is waning. Yet, I have the privileges she does not.
We have been fortunate to assemble a team of caregivers and a family of friends who have lifted both of us, and assisted in her care. This remarkable, selfless group has helped us with holidays, birthdays, and juggling their schedules to fit with my work schedule.
They have decorated and planned parties for my sister, shared secrets, laughter and prayer. I have been lifted and carried often by this group when I have whined, become overwhelmed with grief, disappointed by people I believe should have visited, helped, cared, and offered her the love and care she has given so freely to so many.
Nevertheless, I am able to console myself with the knowledge that people make their own choices. Caregiving for some is a check, and a "thought and prayer."
I have come to believe we have several families in life: the family of chance, of choice and of work.
In caregiving, I have found there are usually two camps: those who can, and those who choose not to.
An empty promise of help, or the declaration that someone will not help are straws upon the back of the camel.
Though I am reminded that even as my sister has been diminished by illness, she has had some remarkable opportunities.
She has had visitors from the camp where she worked tirelessly for decades serving youngsters with chronic illness. In turn, scores of those young people have told her how important she has been to them. It's been quite remarkable to watch. And prior to the COVID-19 social distancing restrictions, she enjoyed plenty of visits from friends. She still happily receives phone calls.
I count it an honor and privilege to care for my sister. It has been educational and reaffirming. It has been an act of love, even when the emotional and physical work of it has been daunting.
Caregiving is not for the faint of heart! Caregiving is for the strong of heart, soul, and purpose. As a member of my work family told me when I was nearly broken, I say to fellow caregivers: Stay strong. Just stay strong.
I am strong and will be for her — my charge, my beloved sister.
Anne Tuttle has been a registered nurse for more than 30 years and she calls Madison her hometown.
Be the first to know
Get local news delivered to your inbox!