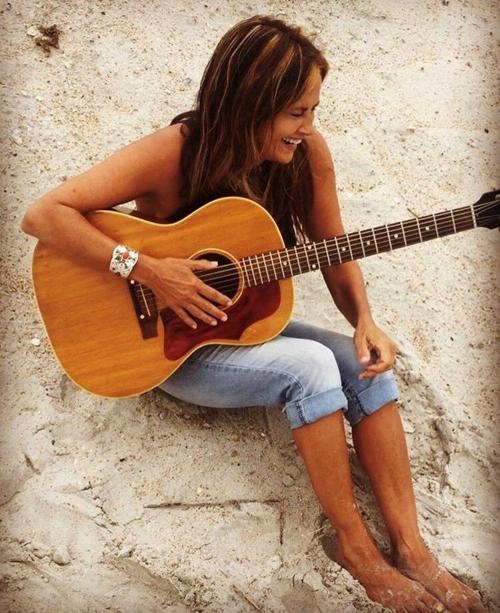 SURF CITY, N.C. — In the midst of a pandemic, musician and Madison native Vaughan Penn is experiencing a creative rebirth, looking for hope and happiness in her new song "Let Me Out."
The song, which Penn describes as a "toe tapper," is something of a country anthem for these recent long months of pandemic lockdown.
And the natural sing-along celebrates the catharsis of breaking out of sadness and looking for hope in times of adversity.
"It's a line dance song. It's a song that hopefully puts a smile on your face and some hope in your heart," Penn said.
The song "just came barreling out," Penn said, sparked by renewed creativity during her coronavirus-era songwriting sessions.
While she's unable to tour or perform live right now, Penn has turned her energy toward writing and recording, viewing the pandemic as a "rebirthing time."
"I've been blessed that my muse is so active, and I've been able to spend so much time creating.
It's almost like when I first started writing," Penn said. "I'm reborn creatively in this time, and I'm kind of diggin' it."
Penn's sultry vocals and songwriting are influenced by Etta James, Tina Turner, Koko Taylor and Stevie Nicks, she says.
And Penn's melodies have been featured over the years in more than 150 television shows and movies, including "Grey's Anatomy," "Californication," MTV's "The Hills," and the Oscar-winning film, "The Big Short."
She's opened and headlined for some heady artists, too, including Darius Rucker, Emmylou Harris, Indigo Girls, Melissa Etheridge and Amy Mann.
Penn's released 10 records on her indie label, Meepers Music Records, and she was named Top 40 Breakthrough Artist of the Year at the New Music Awards in 2007.
In normal times, Penn would perform about 120 shows per year as a solo artist, lead singer for a great party band, and jazz chanteuse, both solo and with her family's jazz ensemble, Penn Family Music.
Jazz fans around the Triad may know Penn from her performances in recent years at the O'Henry Jazz Series with the family ensemble. Penn's mother, Dixie, and sisters Elaine, Liz and Georgianna, pass and share the mic at the Greensboro hotel gigs, accompanied by top regional jazz players and Penn's dad George on saxophone.
Born in New York, Penn grew up in Madison. And while she's seen the glamour of big city life in Los Angeles, Penn said she views her small-town roots as a blessing, something she always carries with her.
"I think the best thing a person can do is grow up in a small town," she said. "You learn to appreciate the little things and the everyday miracles."
"Let Me Out" debuted recently on radio stations across the region and is available to stream on Penn's website: www.vaughanpenn.com. A small donation online is encouraged; "it helps us make our daily bread," Penn said.
Penn plans to focus next on creating a music video to promote the novel song and writing more music at home in Surf City. With more time to write, record and reflect, she feels inspired by all that is happening around her, Penn said.
"When in life have we all gone through the same thing — not just in our small circles —but in the whole world?" she said. "It's an interesting thing, to say the least."
Be the first to know
Get local news delivered to your inbox!