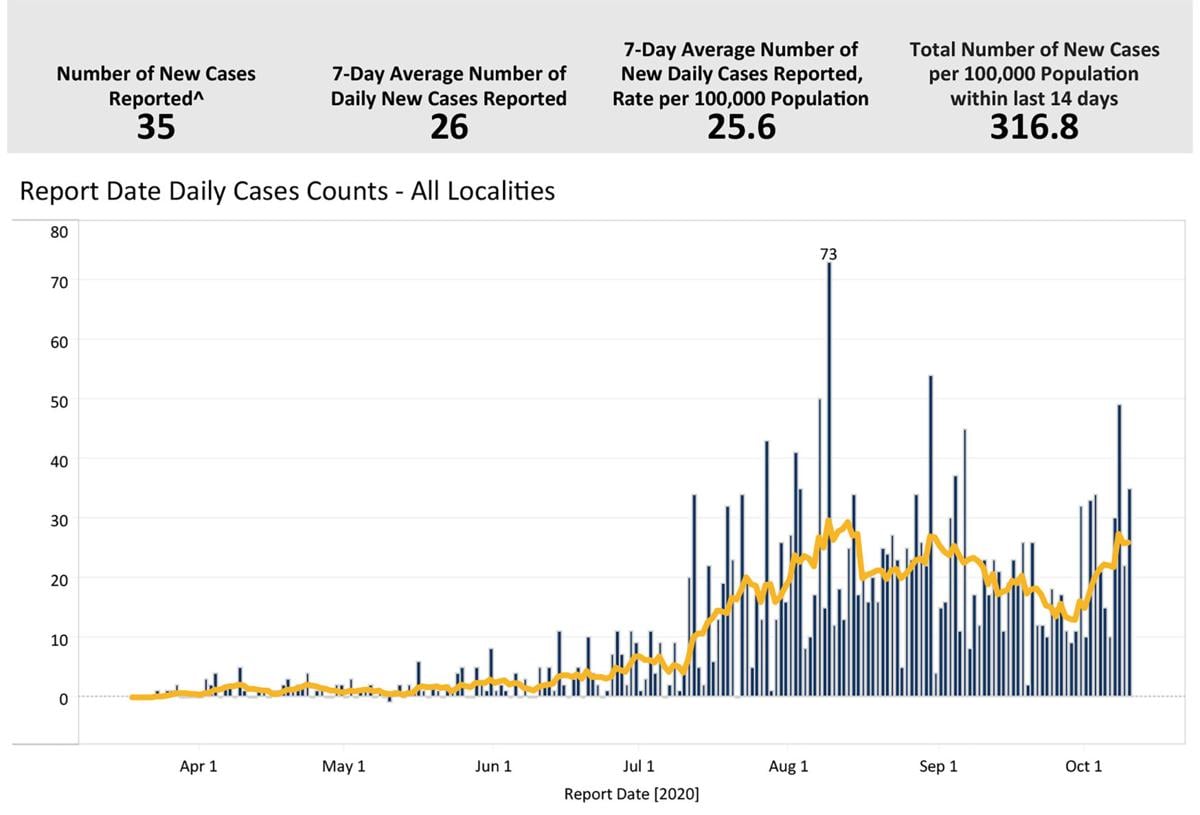 DANVILLE, Va. — COVID-19 has taken 10 lives in 10 days in the Pittsylvania-Danville Health District.
The latest, a Danville man 80 or older, was revealed in Saturday morning's update from the Virginia Department of Health. On Friday, the deaths of two women — one in the 60-69 age range and the other 80 or older — were recorded officially.
Saturday also marked the sixth consecutive day that at least one death was added to the toll for the district. Officials with the Virginia Department of Health would not say if the deaths listed this week were associated with long-term care facilities, instead they referred the Register & Bee to the online databases that provide general information.
When a death appears in Virginia Department of Health's daily data update, it's never clear when it actually occurred. All of the data lags — at least to some degree — said Dr. Scott Spillmann, director of the Pittsylvania-Danville Health District.
"When deaths are reported to us, we must verify them with death certificates, and possibly health records," Spillman wrote in an email to the Register & Bee. "This takes time, especially as some physicians are delayed in signing, or refuse to sign the death certificate."
As of Saturday's report, 37 residents of Danville and 11 from Pittsylvania County have died from COVID-19.
An organization tasked with tracking COVID-19 cases at long-term care facilities reports at least 23 of the 48 total deaths in the district occurred at those facilities. The Virginia Long-Term Care Task Force lists three facilities in Danville with recent outbreaks: Riverside Health and Rehabilitation Center, Roman Eagle Memorial Home and Brookdale Danville Piedmont.
Brookdale was the only center classified with an outbreak in progress, according to Saturday's data.
Outbreak drives up caseload
Since March, the local health district has recorded 2,148 cases of the illness caused by the novel coronavirus: 1,042 in Danville and 1,142 in Pittsylvania County.
Driven at least in part by an outbreak at Danville City Jail that had infected at least 100 inmates and employees as of Friday, the average number of daily new cases in the local district has risen to about 26. By comparison, a summer surge sent that figure to about 30, but by late last month it was down to about 13 new cases a day.
Many regions around the state are seeing an increase in cases, however it's not enough to define as a trend, Spillman said.
Health districts on all sides surrounding Danville and Pittsylvania County are experiencing a slow growth of cases. That's a classification by the University of Virginia's COVID-19 Tracker that means an area is seeing an increase in daily cases, but it's not at a rate to be considered a surge. Generally a surge is defined as a doubling of caseload.
For the first time since the UVa model began tracking cases, there's no health district in Virginia currently experiencing a surge, the latest report finds.
Spillmann said according to aggregate data, in the Southwest Region — a broad geographical area that includes Danville and Pittsylvania County — the daily caseload peaked at the end of August and has been going down since.
This trend is expected to continue into late November for Danville and Pittsylvania County, Spillmann said, referencing the UVa model.
On Saturday, Virginia added 1,256 new COVID-19 cases for a cumulative total of 157,905. There have been 3,354 deaths throughout the commonwealth from the illness.
Heath care workers infected
This month alone, 20 health care workers have tested positive for COVID-19.
Those include situations where the workers are part of an outbreak in addition to general "community spread cases," said Chris Andrews, an epidemiologist with the  Pittsylvania-Danville Health District.
Spillmann said that overall medical providers have been "relatively healthy" in the pandemic.
"That said, it is realistic to expect that some will contract the virus, even while attending to the health protocols faithfully," the health director noted.
The vast majority of the health care workers have recovered
"These wonderful people hold safety as the utmost priority for their patients to, as well as for all the health staff," Spillman said.
Concerned about COVID-19?
Sign up now to get the most recent coronavirus headlines and other important local and national news sent to your email inbox daily.