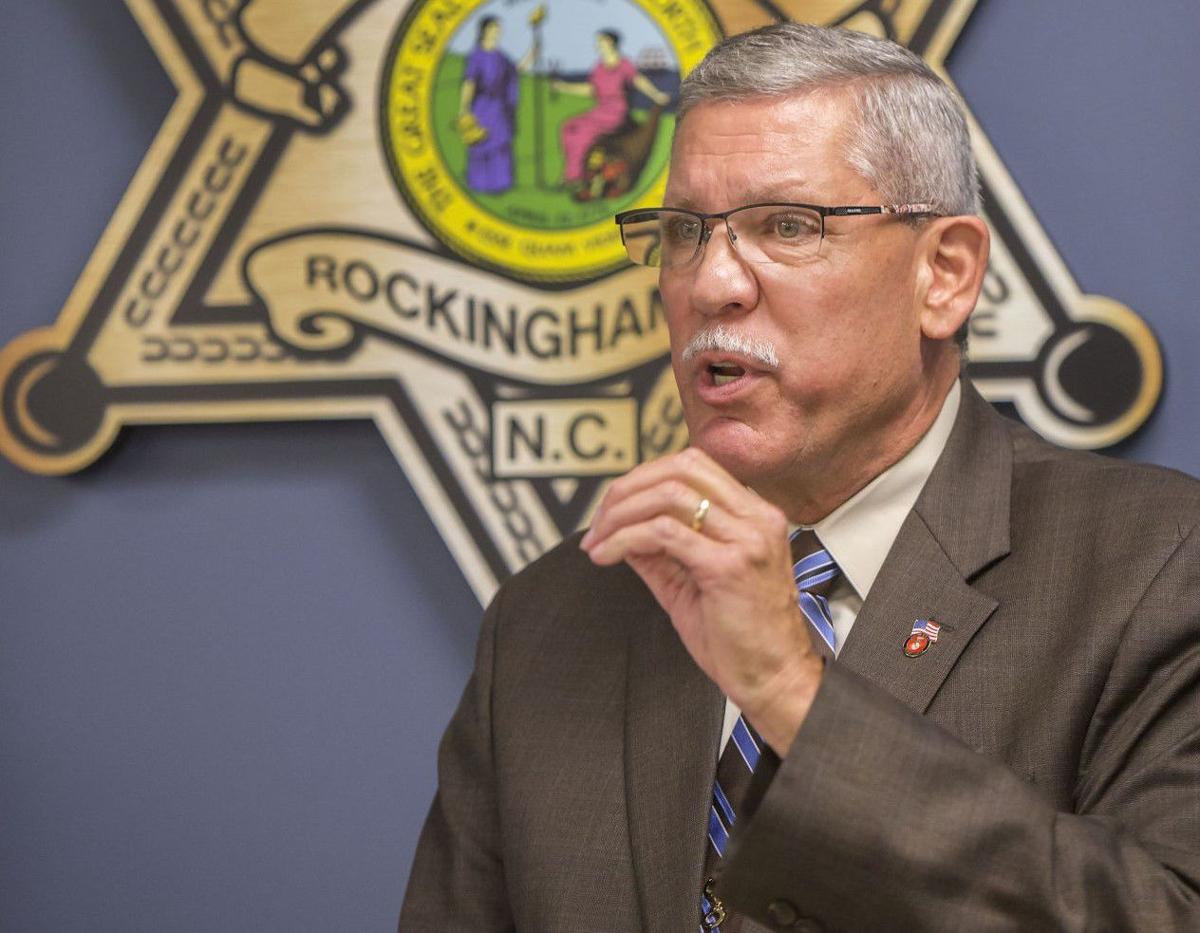 WENTWORTH — As Rockingham County's reported COVID-19 cases jumped by 13.5% in three days, Sheriff Sam Page announced on Friday that he will not enforce Gov. Roy Cooper's executive order requiring citizens to wear masks in public.
Page further said he will not enforce crowd limits on wedding receptions, despite the N.C. Department of Health and Human Services' opinion that such events should be limited.
Though the state doesn't limit the number of people who can attend a wedding or funeral, it doesn't list receptions as part of the exemption to its mass-gathering limits.
The state allows no more than 10 people to gather together indoors and no more than 25 to congregate outdoors, as part of the state's Phase Two reopening plan.
"Marriage is covered under the religious exemption (a protection under the First Amendment). Wedding reception is part of the ceremony … We will not be enforcing the gathering limits for wedding receptions as a result,'' said Sgt. Kevin Suthard, public information officer for the sheriff's office.
The governor's office stressed the need for social distancing upon learning of Page's stance.
"As hospitalizations and confirmed cases continue to rise in North Carolina, it is critical that people follow the "Three W's" - wait six feet apart, wear a face covering, and wash hands,'' Dory MacMillan, Cooper's press secretary, said via email.
"Additionally, Executive Order 141 remains in place, limiting mass gatherings to 10 people indoors and 25 people outdoors in order to slow the spread of this virus. It is the responsibility of local law enforcement to enforce these limits. MacMillan did not respond for comment about whether the governor would impose penalties for refusal to enforce the order. 
Cooper's directive, which went into effect at 5 p.m. on Friday, came in response to a steep increase in recorded COVID-19 cases across the state and a spike in coronavirus hospitalizations statewide that has public health officials on edge.
On Friday, the Rockingham County Department of Health and Human Services reported 201 positive cases, a jump from 177 cases on Tuesday, one of the highest average daily increases the county has seen.
And local churches and event centers have scores of weddings slated for summer.
"The current jump in cases has been seen all over N.C.,'' said Dr. Doug Browning, a family medicine practitioner at Eden's James Austin Health Center. "Wearing masks has been proven to decrease transmission of the virus.''
And nurse practitioner Jason Vaughn called on authorities to enforce social distancing.
"We need our local, state and federal leaders to encourage adherence to state recommendations to curtail COVID-19 infection spread,'' Vaughn said. "This can no longer be politicized.''
Page, who is a Republican and a state campaign chair for President Donald Trump's reelection campaign. plans to wear a mask in compliance with Cooper's order, Suthard said early Friday. "But we won't be citing people who don't,'' he said.
But Vaughn, who traveled to New York City to help feed beleaguered hospital staff during the peak of the city's COVID-19 crisis, said he's frustrated by local resistance to safe practices.
"The overwhelming consensus, unfortunately, in this community, is that coronavirus has been over-hyped for political reasons,'' said Vaughn, longtime staffer at JAHC. "This has made many of our citizens reluctant to abide by the most-common sense precautions provided by many health organizations. We are currently seeing many states across America having to revert back to more severe measures to control their increasing infection rates. In some states, they are nearing capacity for ICU beds.''
This week's COVID-19 tallies for Rockingham, a county of about 91,000, show 177 patients have recovered. Meanwhile, five patients remain hospitalized and 13 are asymptomatic, meaning they show no obvious signs of the coronavirus but are able to spread the disease to others.
Two of the county's 201 known positive patients, both over 60 and with compromised immune systems, have died since the start of the pandemic.
Countywide testing has been steady over the past three weeks with drive-up locations springing up in western Rockingham County at the Madison-Mayodan Public Library, at Eden Drug and at a Cone Health-sponsored site opposite Annie Penn Hospital on Reidsville's Main Street, as well as at JAHC and numerous other clinics.
And the Rockingham County Department of Health and Human Services has nine staffers working as contact tracers, trying to locate and notify all individuals who may have come in contact with those infected with COVID-19.
Such contact tracing — which is not required by the state but a practice the county chose to employ — helps prompt more testing and often reveals asymptomatic patients, health officials noted.
Thus far, 553 COVID-19 tests have been performed in the county. The state reported 57,183 confirmed virus cases on Friday and 1,284 deaths. Nearly equal numbers of men and women have tested positive in Rockingham County. And 107 of the patients are 40 or older, while 92 are 39 or younger.
Susie C. Spear is a staff writer for RockinghamNow. She can be reached at 743-333-4101 and on Twitter @SusieSpear_RCN.