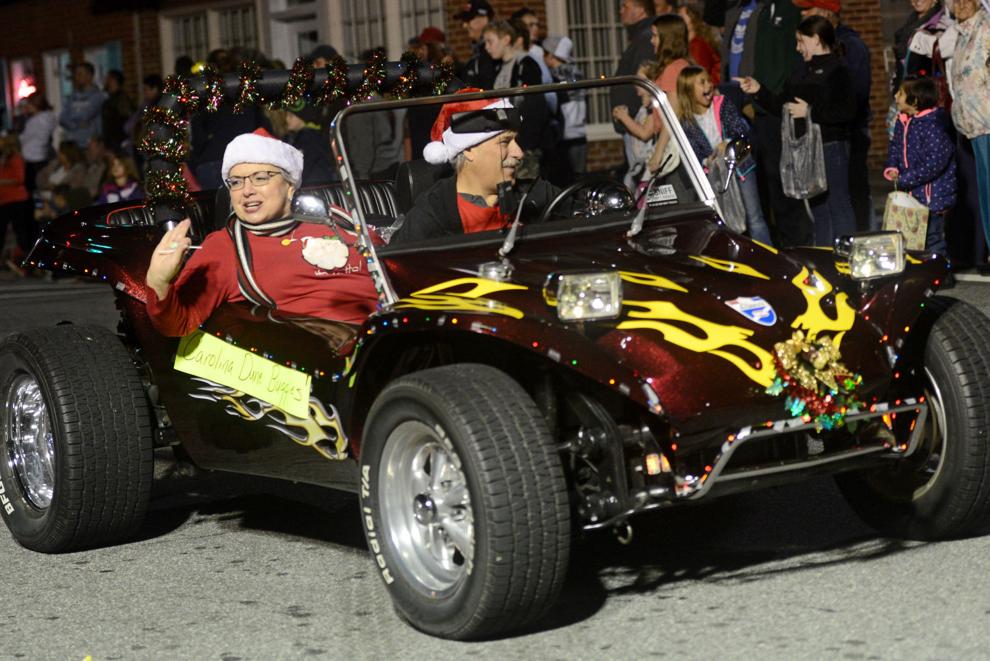 EDEN – Strato-Blue. Orange Copper. Fuchsia Holographic. Tony Edwards leans down and admires a row of topless vehicles at the front of his gated property, as they catch a brief glimmer of sunlight during an otherwise stormy week.
As Edwards walks along the front of the vehicles, mechanic Kevin Keys gently pulls off their tarps into billowing heaps.
Several yards away, the single door of a weathered gray garage stands open to reveal the back end of another vehicle under repair. Even in the shade of the building, the bright metallic blue paint glistens. Above the door spans a banner emblazoned with "Carolina Dune Buggies: Where the fun begins."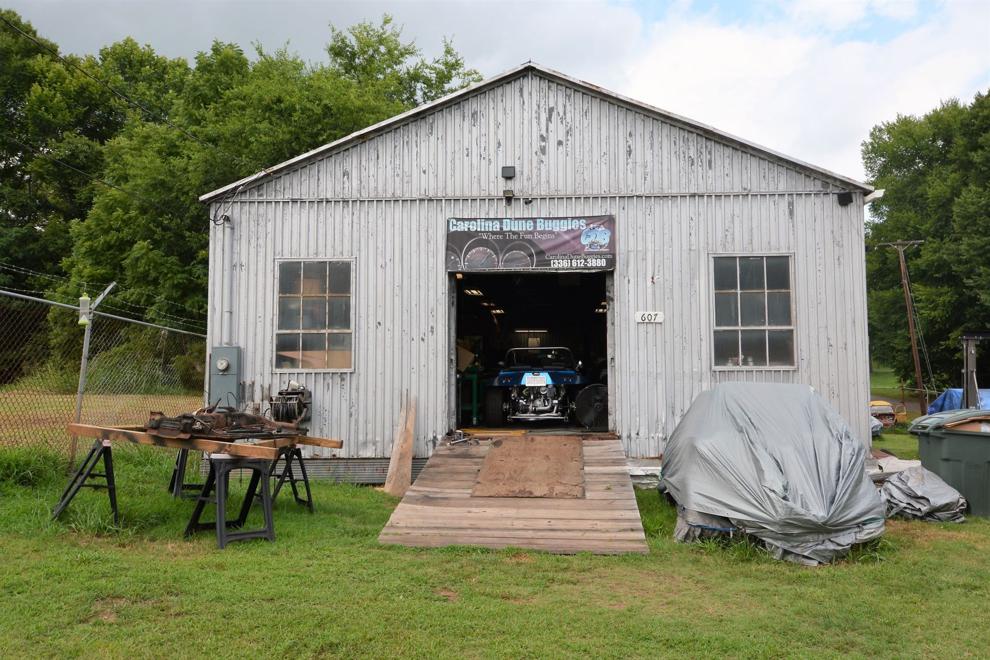 Back yard buggies
Edwards, the son of a Fieldcrest Cannon supervisor and a homemaker, was always fascinated by cars.
"When I was about 13 years old, my dad told me, 'You can have any car you want, as long as you can build it or have the money for it, because we don't have any money,'" Edwards said. "The dune buggies were coming of age, and I told my dad I really liked them, and he said, 'Okay, maybe we can build one.'"
Because his dad was not mechanically inclined, Edwards sought help from his grandfather, a boiler mechanic for New Systems Laundry, which at one time was very near the dune buggies' current shop.
"My grandfather couldn't read or write, but if he could make an X, he was brilliant. He could make anything run. He could look at a nut on the other side of this building and could tell you what size it was. He had wrenches that were unreal, 8 feet long. He had jacks that would take three regular men to pick up, but he could toss them around," Edwards said.
They bought a 1964 VW Beetle. "Some lady had thrown a wrist pin in it, and she kept beating the piston up in it, bam-bam-bam-bam-bam, brrrrrrrr," he said. They cut and shortened the chassis 14.5 inches. They topped it with a California Clipper body shipped from the West Coast.
At 14 years old, Edwards built his first engine and learned to wire a car.
"We did that and I kept fooling with them for years, pretty much my whole life," Edwards said. "That engine building led to building Corvettes, Mustangs, 1,000hp drag boats,  big cars and little cars. But the Volkswagens are what I've always really loved because they're so much easier to deal with, and I had the most experience with them."
Careerwise, he delved into website creation and internet marketing. By 2013, he wanted to build himself another buggy.
"I didn't have the original one I built, but I found its little sister.  It was sitting in Albemarle in a man's back yard, and his wife had filled it up with dirt and made a planter out of it," Edwards said with a chuckle.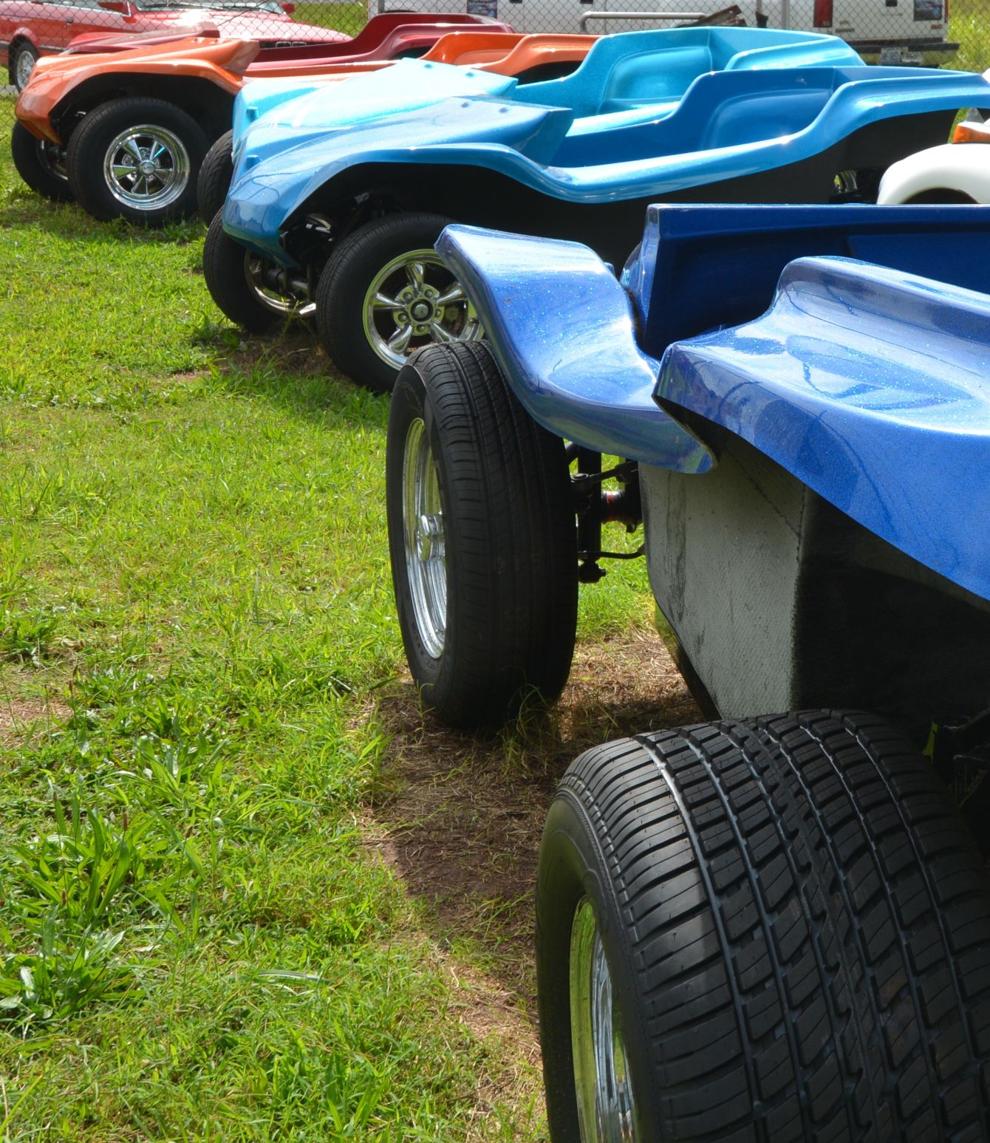 He worked for a year and a half on what would become the Wild Cherry Dune Buggy, which has since won several car shows. Online videos of the built brought much interest. From every direction, he was being told to start a buggy-building business.
Boyd Higgs, another local VW nut, told Edwards he'd be interested in a partnership. "He said, 'I like Volkswagens and I'm good at tearing the stuff up but not putting them back together,'" Edwards said.
The friends sought a distributorship with Pennsylvania-based Berrien Buggy, a Fiberglas body and chassis manufacturer. It took 10 months and much legal paperwork.
"Boyd had a building up on the Cook Block, and while we were gone to get parts in Pennsylvania, [his tenant] called and said she was moving to Myrtle Beach. I said hey, that's a building, doesn't it have a garage?"
So they opened up shop next to the rock church, and worked from there for about 18 months.
"We started Carolina Dune Buggies. My wife Kathy thought of that, and that was really good."
The business grows
"At first I was putting in a couple hours a week, then a couple hours a day, then eight hours a day, then 10 hours a day," said Edwards, who bought out Higgs in February 2016 and needed to relocate.
"I was eating at Speedy's and Zach Chilton comes over and says, 'Hey, you looking for a building?'"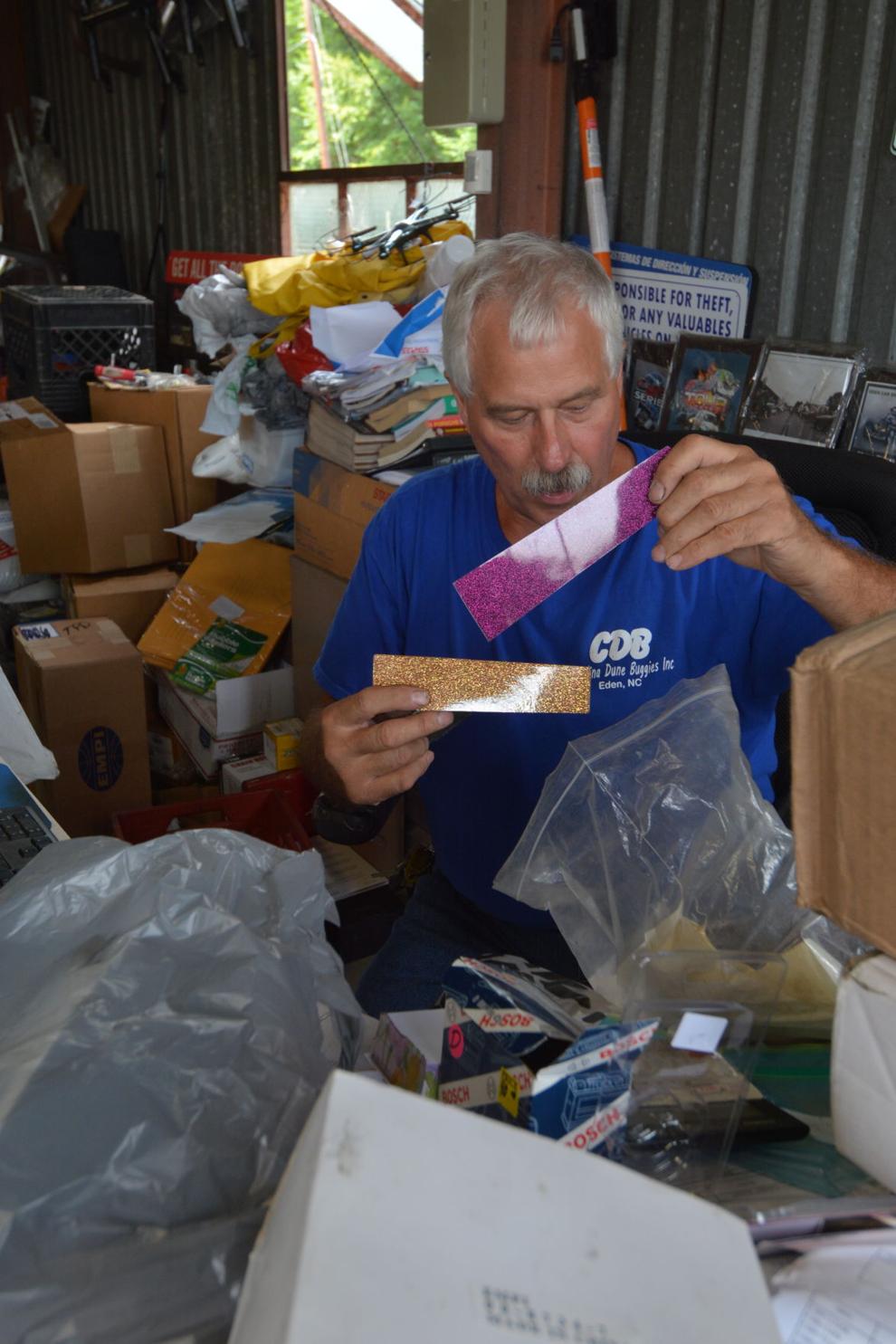 Chilton described a property off Bridge Street, but it wasn't listed for sale. The owners had no keys to the gate or the garage, so they shimmied through a hole in the back fence and called a locksmith. He opened the door, changed the locks, and gave Edwards the keys. He bought property, along with several adjoining parcels. He's still trying to buy another parcel so he can build a 100-feet-square building.
Edwards ran water and electricity to the garage, and used his internet expertise to start a website.
"Two weeks of me doing my thing on the internet, we started getting calls. It started off with three or four. Now we average 30 to 40 different people calling every day," he said. "We get parts orders every day, but we get a lot of people ordering complete cars."
Carolina Dune Buggies is building seven right now, and have another seven quoted out.
Buggy buyers
"We don't build cars, we fulfill dreams," he said. "They'll call up and say, 'I have a dream. My dad owned one when I was a kid. My grandpa owned one. I saw one on TV. There's always a story."
When the customer comes in, Edwards sends him outside into the sunshine with a bag of paint chips.
"They'll bring their kids, their wife, it's a big, huge family event," he said. They pick out everything – the color, carpet, seats and upholstery, tires.
"We don't build cookie-cutter cars. We get this request a lot from hotels to build 15 white buggies," Edwards said. "I would be so bored. By number three, I'd be pulling my hair out. I'd rather build them one at a time, just for that one person and they get exactly what they want and everybody's is different."
The customer makes a down payment that covers the body, chassis and a few other Fiberglas pieces.
"As parts come in, we send them pictures of the build, step by step by step. Then we invoice them for the next piece, like an engine or transmission. We build that and send the more pictures."
At the very end, Edwards has an MCO issued – a Manufacturer's Certificate of Origin. It's like a title, with a vehicle identification number that North Carolina honors.
"All of the cars we build are road worthy. They're inspected by DMV, and we've never had one fail," Edwards said. "Basically all the owner has to do is turn the key and go get their tags and paperwork."
The shop
"Welcome to the well-organized trim shop. I know where everything is, but nobody else would ever find anything. We don't mess around," Edwards said. "And this place is bigger than the last two places. If we had a coliseum, it would still be too small."
Leading the way through a pig path, he points out boxes of parts, each labeled with someone's last name.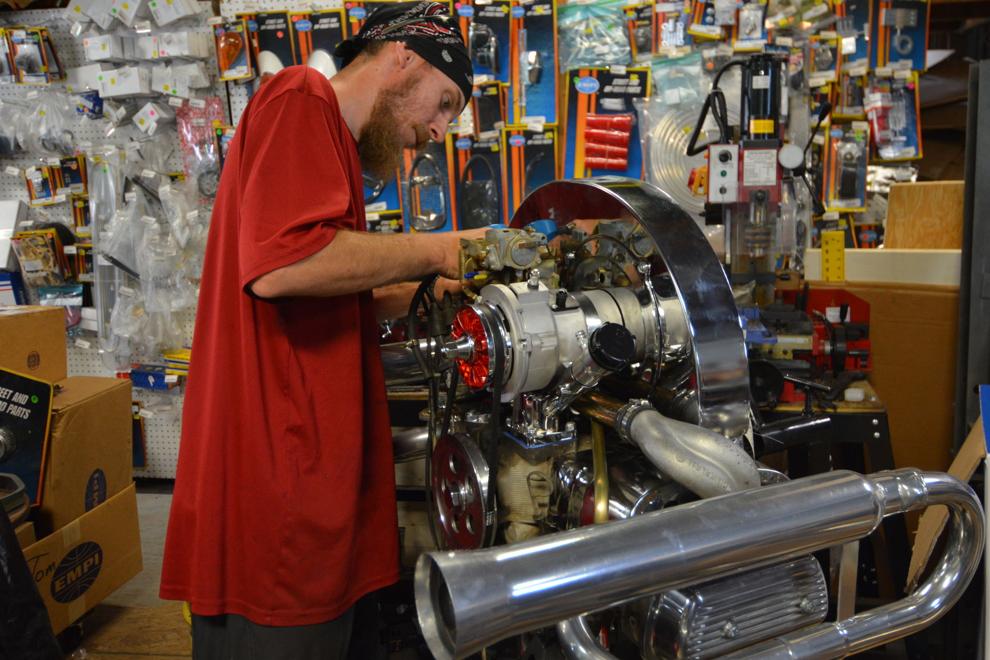 The garage, located on a gated property in the steep curve of Moncure Street, is a former oil company. The first winter was tough, working atop an old drafty oak plank floor. Edwards had about six cars inside, including a Porsche and a VW Karman Ghia. They began clearing the floor four feet at a time, installing a solid wood floor, and waiting three days for the light gray paint to dry before moving their stuff back into that area.
"We got the whole floor laid down with cars and engines and tools in here," Edwards said.
"We build engines. Lots and lots of engines," he said. "I think I'm at 27 engines. Every time one goes out, two more come in."
Edwards said he and his mechanics get the engines up to about 635hp.
"At 110hp in a dune buggy, you can outrun all the Mustangs and Camaros. Right around 220-300, that gets all the Corvettes, because Corvettes are 650hp are 3,200 pounds. We're only 1,200 pounds, so we only need a third," Tony says. "Then the 650hp dune buggies, it takes out all the Lamborghinis and Ferraris."
He motions to a 350hp motor, and says a Corvette would need 1,000hp to keep up.
Carolina Dune Buggies does chroming, machine work, builds engine and transmissions. Every engine is run at least 40 minutes before it's crated and shipped; destinations include all 50 states and across the world.
Starry-eyed
The blue dune buggy at the front of the shop came in with about 250 holes. Edwards did Fiberglas repairs, and had it painted at Joyner's, a nearby garage. It came back to the shop for seat and carpet installation. "We've been driving it around town a little bit. At 350hp, it will definitely pull the wheels off the ground. The wheelie bars are on there for a reason," Edwards said.
That buggy was one of several Edwards' team took out for a drive on a recent Saturday morning to a Cars and Coffee event in the parking lot of Family Video near downtown Leaksville. And part of his entourage was a film crew.
Edwards explained that during one of the weekly meetings of a local networking group called Leads, he was talking with his friend Mark Hall, a videographer from Rockingham County who lives in Burlington.
"I told him, 'I was watching Street Outlaws and West Coast Customs and all these shows, and [realized] dang, we could do one of those TV shows because we do all that crazy stuff,'" Edwards said.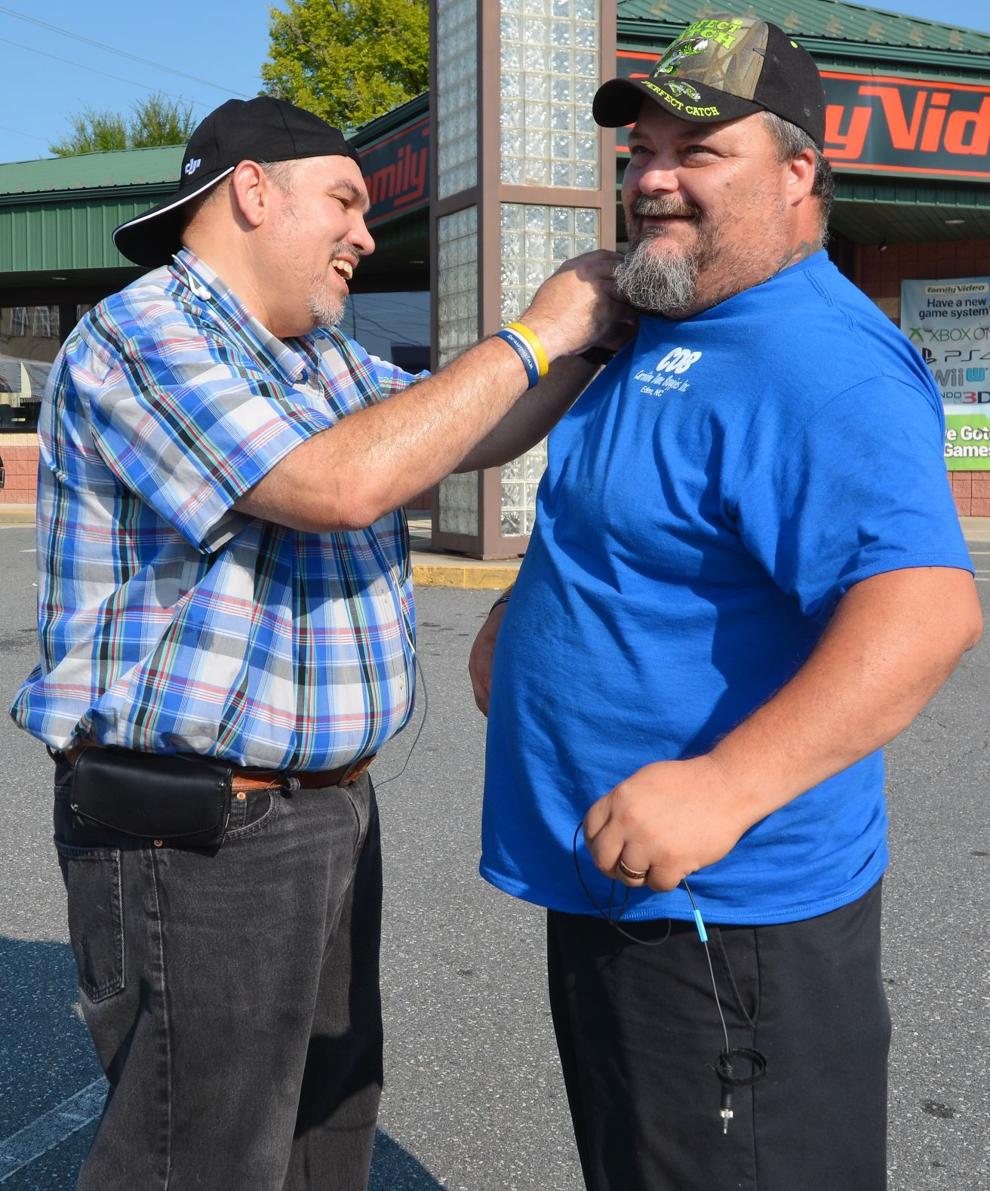 Following the Leads meeting the next week, he was approached by Hall's friend Chris Laforet, who soon came by the shop to shoot drone footage.
"He calls me the next week and says, 'Man, you really have something. We've done research, and there are no dune buggy car shows,'" Edwards said. There have been TV shows that had a dune buggy episode, but no one who is a dune buggy expert.
The film crew returned, set their camera on the ground and shot footage of Edwards driving up and down the roadway in a dune buggy. Then they put cameras on the side of the car and inside and had him drive downtown, across the Leaksville bridge, down to the boat landing and back. At the shop, the crew questioned Edwards and the mechanics.
The film crew told Edwards he has some great characters at the shop.
"They called back a week later and said, 'You really have something. You've got something much bigger than you think you do. We're going to shoot it in 4k," Edwards said.
They went to Burlington and met with Christopher Powell, who has an independent full feature film studio. On his advice, Edwards, Hall and Laforet formed CDB Film Productions LLC, to ensure nobody else tries to produce a show based on what Carolina Dune Buggies does.
"They began to shoot, shoot, shoot everything. They started shooting Wednesdays and Saturdays. Then they added other days. Then they started following us everywhere," Edwards said. "Two camera crews came with me up to Pennsylvania and shot me for 15-and-a-half hours one day. Last week they followed us in a chase car with me and John [Totten, a mechanic] miked up."
The duo was filmed buying a car and delivering another.
Then Burlington filmmaker Starr Jones expressed interest in the project.
"They've got a two-hour pilot that I've already seen," Edwards said. "It's hilarious! We don't even remember half the stuff… they just mike us up."
By late summer, the film crew was working on "a really polished, grab-you-out-of-your-seat-and-twist-you-out-of-your-seat trailer," Edwards said. After that, work will begin on the first episode, budgets, and the TV show will get pitched.
"Right now it's a potential TV show and right now it's in the works and everything is on track. They're shooting locally and I'm trying to involve as many local companies and local people that I can, that have anything to do with us," Edwards said.
That effort has led filming of Edwards' former business partner Higgs, Neil Fair and his dune buggy, Iron Eagle where tires are mounted, Chameleons upholstery shop, Eden Chamber of Commerce, car shows, Freedom Park, Tractor Supply, an Eagle Scout, the animal shelter, and more.
"My mom feeds all of us lunch on Saturdays. They got there an hour before I did and had lights everywhere. We cut up the whole time, around the round table. My mom seemed to be a pretty good actor, and went along with it," Edwards said. "We'll get permission to block some roads to film some high octane cars. They've shot at drag strips, and want to go to the beach.
The filmmakers told Edwards to be patient, that it might be 2019 before it's done, and that a whole year's worth of episodes would be nice, and enough episodes to do 10 years.