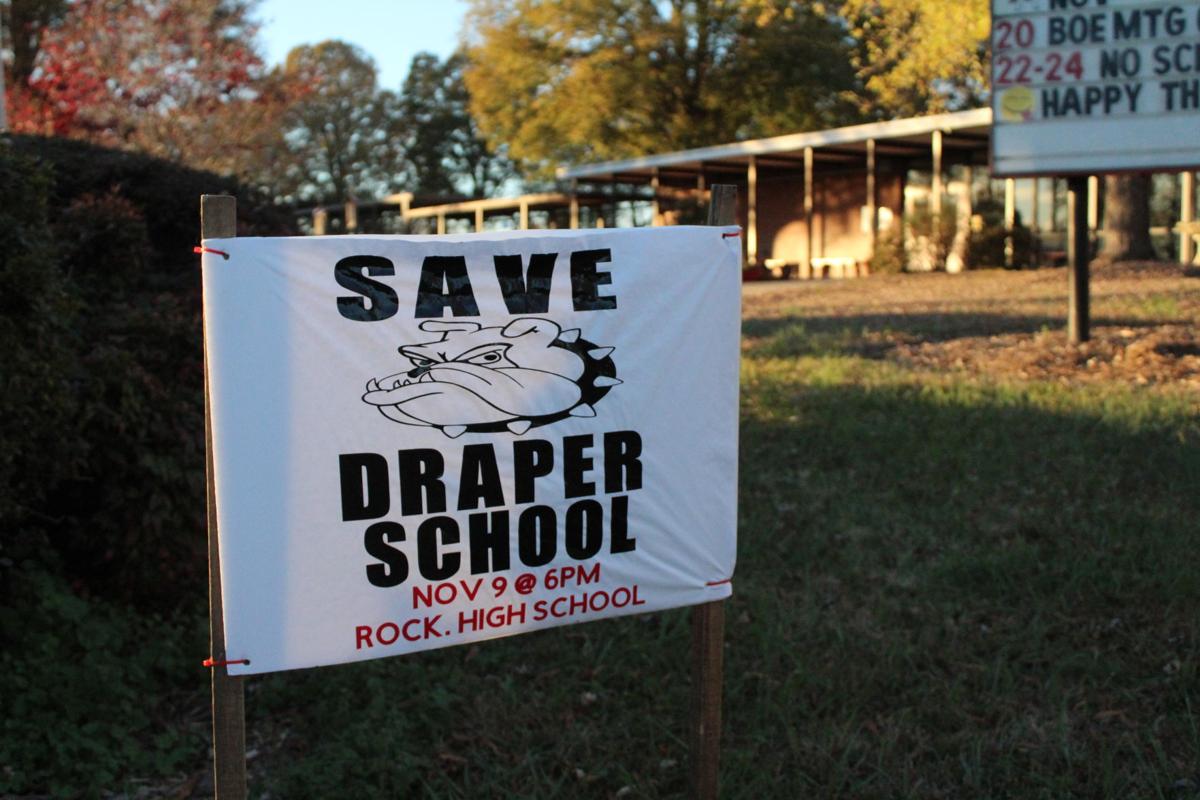 EDEN — Dillard Elementary School students will not move in fall 2018, and Draper Elementary School students will transfer to Lincoln and Central Elementary Schools.
Beginning for the 2018-2019 academic year, the New Vision School of Science, Math and Technology will move into the Dillard facility and will lead both a year-round and traditional calendar school program under one roof. The year-round program will continue to operate as a magnet school and the traditional calendar program will use the same attendance zone that Dillard currently uses.
The Rockingham County Board of Education on Monday voted unanimously on the superintendent's recommended Draper reassignment plan, but the Western Rockingham County two-schools-in-one solution came with controversy.
The board voted 6-2 to go with the two-schools-in-one solution contrary to Superintendent Rodney Shotwell's recommendation.
Once the motion failed for Shotwell's initial recommendation to reassign Dillard students to Huntsville and Stoneville elementary schools, Board Member Bob Wyatt moved to assign current Dillard students to the same facility they are currently in and leave these students on a traditional school calendar.
The board approved the proposal with Board Chair Amanda Bell and Board Member Lorie McKinney voting opposed. Board Member Wayne Kirkman was absent.
While board members had previously heard requests from the public for a two-schools-in-one solution, the district did not have research on the topic to present to the board for the Dec. 11 vote.
"There are a lot of things that will happen if you allow this to happen," Bell said to the board. "There won't be any point in trying to redistrict simply because you won't be saving money. Not in a school within a school. I've had plenty of experience with that. Plus the buildings will not accommodate totally. There is a possibility you may need mobile units. That's an additional expense that the school district will incur."
Board Member Virginia Hoover responded to Bell, "If we are going to move New Vision and Dillard together,  that will be one less building that we'll be operating in regards to New Vision. That should save a dollar. It may not be a million, but it should save."
Based on a study conducted earlier this year by North Carolina State University's Operations Research and Education Laboratory, Dillard has a 562 capacity with Dillard's projected 2018-2019 enrollment at 222 students and New Vision's at 352. By that data, this plan would put the planned two-school facility over capacity by 12 students.
The following year, however, projections suggest enrollment would drop, leaving the two-in-one school under capacity by six students, with enrollment continuing to decline each year through 2027.
According to Shotwell, this plan will necessitate about 28 teachers at the school counting both calendar programs. Dillard houses 26 classrooms.
"There's an art room and a computer room that could potentially be used for a classroom," he said to the board. "They're not quite as big as the regular classroom but they are available there, so you'd have art on a cart and of course most of the schools now have the Chromebooks, so really the need for a computer lab is not there."
He added that issues may arise due to the number of months that school employees are contracted to work. 
"The P.E. teacher still is going to be a 10-month employee and so whatever time they give to the year-round students during that particular time or the art teacher or the music teacher, that's time they're going to have to take off at another time during the traditional year so that they can work their 215-day contract, so both of them are going to be without some of the specialties at some point in time during the year," Shotwell said.
With the transfer of students to new facilities, teachers and teacher assistants will follow those students to their new schools.
Because the New Vision principal will oversee both the year-round and traditional calendar school at the Dillard site, Dillard Principal Trina McCoy along with Draper Principal Christy Bailey will lose their schools.
That said, Shotwell intends to do whatever he can to keep them in administrative positions within Rockingham County Schools. These two principals may be able to transfer into administrative vacancies at other local schools.
Feeder patterns for relocated Draper students will not change.
This means that, at Lincoln Elementary, Draper zone students will graduate into Holmes Middle School and Lincoln zone students will graduate as usual into Rockingham County Middle School.
Draper students relocated to Central will graduate into Holmes like the rest of the Central student body.
Once students are moved out of the Draper and New Vision facilities, those buildings may be used for smaller programs that would require less funding from the district than a fully operational school, such as pre-school or Rockingham County Head Start classes.
After the New Vision site is vacated, that facility may become home to a parent resource center.
Other schools in the area will continue to use the gymnasium at the old New Vision campus.
Later this week, principals will meet to discuss transition activities to get students comfortable with their new facilities. These activities may include classroom-to-classroom pen pals, school tours, invitations to the school's step up night and more.
For more information on the Rockingham County Schools redistricting process, visit www.rock.k12.nc.us and click on RCS Pathway to Transparency.
Contact Justyn Melrose at (336) 349 -4331, ext. 6140 and follow @JMelrose_RCN on Twitter.
Be the first to know
Get local news delivered to your inbox!