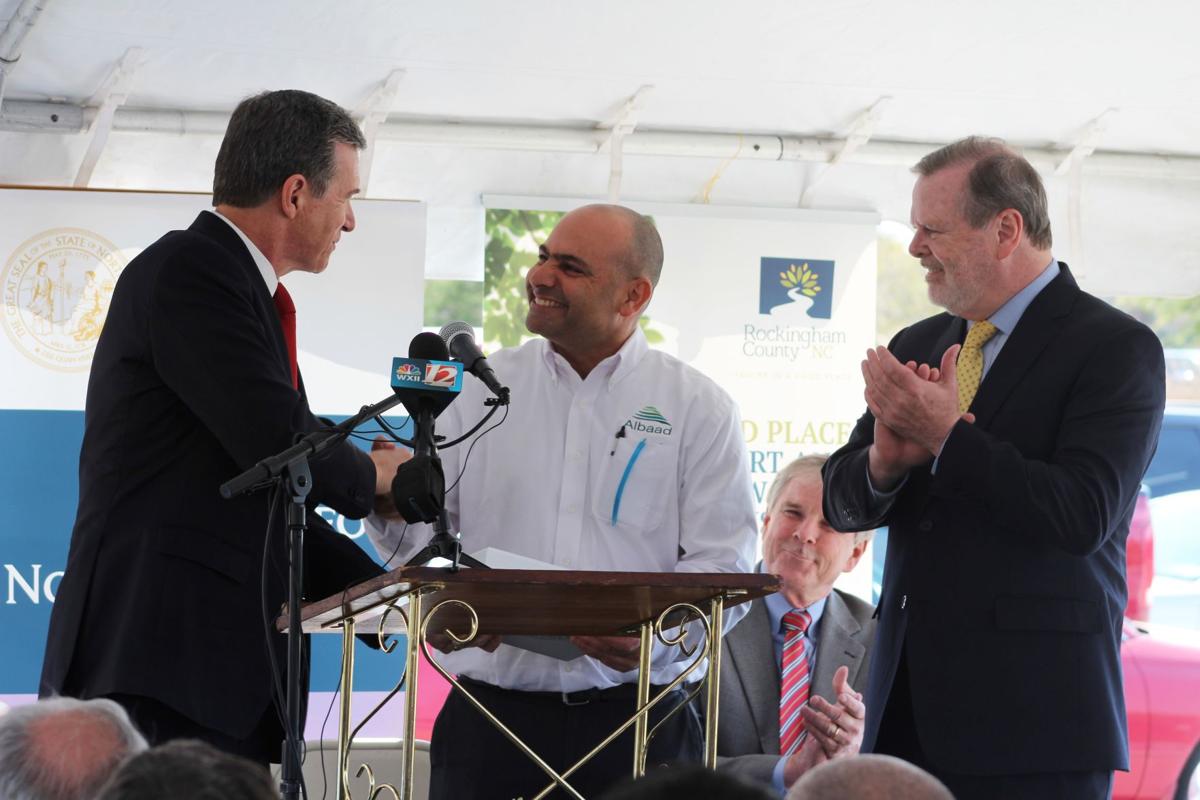 REIDSVILLE — In celebration of growing opportunities in Rockingham County and North Carolina, Gov. Roy Cooper joined a global manufacturer in announcing a major expansion in Reidsville.
"I am honored and excited to be here to announce that Albaad, which is a global manufacturer, has chosen the city of Reidsville and the county of Rockingham to expand its operations, investing $45 million in creating 302 new, good-paying jobs over the next three years," Cooper said at the April 10 news conference.
Albaad USA, which produces products such as wet wipes and tampons, operates from its headquarters at 129 S. Technology Road in Reidsville.
"It's a three-year period of time, and this company will be working and beginning its process of sending out notices that jobs are available," Cooper said after the conference. "They're obviously going to start a second facility here so that's all in the works soon."
Albaad is in talks to purchase a facility at 1900 Barnes St. from Ball Corp.
Albaad plant manager Gidi Tenne offered a promise at the press conference that, with the community's support, the company will be able to bring more business to the area.
"Truly what we did in the last two years is to give the proof to anyone that we can do it, and it's starting not just with Albaad," Tenne said. "It's all the support that we got from our employees, from the city of Reidsville which is an amazing city. … I'm proud to lead Albaad activities in North Carolina, so thank you very much for your support."
In his address, Cooper emphasized the importance of a strong workforce to keep and grow business.
"The real reason it's happening is because of you folks here in Rockingham County and the kind of workforce that this global company knows it has here in this area," he said. "When you think of Albaad, you can think of a company that could have located anywhere in the entire world, but they chose right here and we are fortunate that in North Carolina we have a quality of life that is next to nobody. We have a workforce that is prepared and skilled and diligent."
Cooper added that North Carolina must continue to strengthen the workforce to keep up with innovation.
"We're in a race with innovation, and, with this advanced manufacturing, the people who are going to be working here are going to need special skills and we need to provide those kind of skills for them. We need to do it by lowering the bars to educational attainment, making sure that young people in our middle schools and high schools know that you don't necessarily have to have a four-year degree to get a good paying job, that you can get certifications and that you can get associate degrees and that those opportunities are available."
North Carolina Senate leader Phil Berger similarly focused on Rockingham County's workforce in his remarks.   
"The current employees and the people of Rockingham County and surrounding area deserve a great deal of credit, because your credibility as a strong workforce has had a great deal to do with this decision being made," Berger said. "This represents a cooperative effort from state officials, from local officials and from citizens of the local area and it's the kind of thing that North Carolina does best and we intend to continue to do that because while 302 jobs is great, we want to see more in Rockingham County and in North Carolina as a whole."
In addition to Cooper and Berger, the conference was attended by North Carolina Secretary of Commerce Tony Copeland, state Rep. Bert Jones of District 65, Rockingham County commissioners and officials from Madison, Eden and Reidsville.
On behalf of the people of North Carolina, Cooper presented Tenne with a plate featuring the state seal and the motto, "Esse quam videri," which means "To be rather than to seem."
Reidsville Mayor Jay Donecker also presented Tenne, Cooper and Berger with pictures commemorating Albaad's expansion announcement.
"There've been a lot of people who've made this possible, but it had to start with a corporation such as Albaad that was willing to look beyond convention," Donecker said. "That started with their patent … and that patent is going to drive this business in the United States for years to come, and I'm just proud that Reidsville will be part of it in Rockingham County. It's going to make a difference for all of us."
Contact Justyn Melrose at (336) 349 -4331, ext. 6140 and follow @JMelrose_RCN on Twitter.