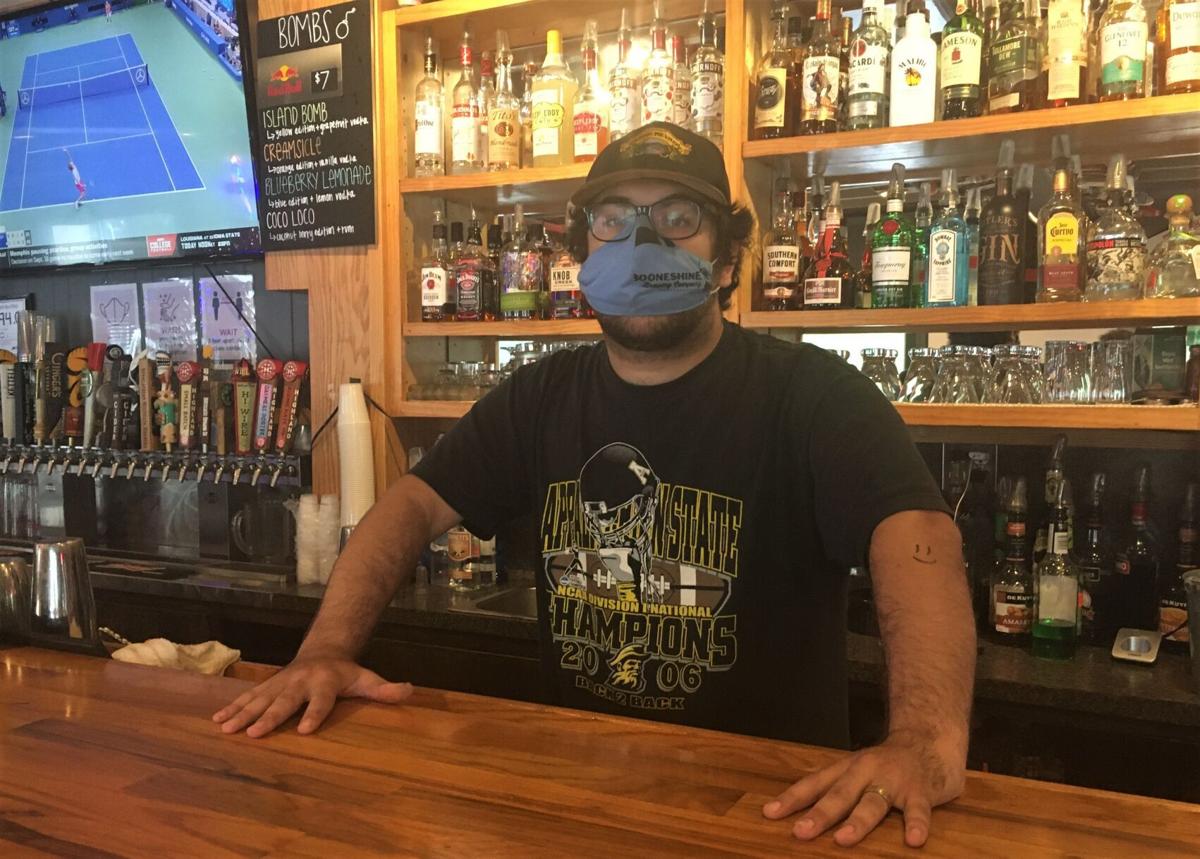 BOONE — It's 20 minutes until kickoff, and four parking spots are still open in the skinny little 22-space lot in front of the low-slung building on Hardin Street that's home to the TAPP Room, the TAPP Annex and Blue Sky Vape & Tobacco.
On a typical Appalachian State game day, those open spaces would be nothing short of a miracle.
But this game day is anything but typical.
It's a gray, rainy Saturday in football-crazy Boone, and the mountains surrounding the town are shrouded in mist. On the sidewalks, knots of Appalachian students clad in black-and-yellow walk in groups of three or four, most wearing masks in this odd autumn of pestilence.
On a typical game day, most of them would be headed for Kidd Brewer Stadium, where their Mountaineers are hosting Charlotte in the season opener for both.
But not today. The Rock is closed to fans, as are all the parking areas on campus that normally teem with tailgaters.
In an email to its members, the Yosef Club, App's alumni booster club, designated the TAPP Room as one of six gathering spots to watch the game.
Gimme shelter
Matt Manely, the general manager at the TAPP Room, has tennis on the 13 TVs inside the bar and grill, counting down the minutes until all those screens will show the App game.
"We've adapted. We've changed the way we have to do things," Manely says, his glasses fogging each time he exhales into his Booneshine branded face mask. "You can't compare this year to last year. You just can't. There's no way to compare this year to any other year. But we've tried to come up with a formula that works. I used to be able to hold 106 people in this bar. Apparently, I can hold 80 today."
The booths and tables are occupied, but under Phase 2.5 of the state's coronavirus regulations, no one is allowed at the blonde-wood bar.
"On a regular game day?" Manely says. "You would've had to wait in line to get in the door. We have two to three bouncers at both doors, and we have three or four bartenders working. You'd have people standing two- or three-deep at the bar waiting for service instead of sitting at tables. Right now, we're all table service. Nobody can come to the bar for a drink; we go to them. And that's completely changed our dynamic. Our team is used to cracking beers open and sliding them to customers. 'What do you have? What do you have?' Like that, you know? It's definitely different now."
The 20 microbrews on tap behind the bar are the same. The food menu is the same.
But the vibe is definitely different. There are quiet conversations at the tables. Through the open doors you can hear the steady drizzle falling outside.
On the bar's sound system, Creedence Clearwater Revival's "Have You Ever Seen the Rain?" gives way to the Rolling Stones' "Gimme Shelter." Someone has a sense of humor.
Tailgaters
Just short of a mile away up Rivers Street, old friends Josh Woodstock and Bruce Canton have room to spread out.
They're the only tailgaters in the paved lot in front of the Rivers Street Ale House, another place on the Yosef Club's list.
Woodstock and Canton are sipping Miller Lite from cans, standing beneath a canopy set up behind a white Chevy Silverado pickup.
"We'd like to be in the stadium, but at least we can do this right here," Woodstock says. "Normally this parking lot right here would be nothing but tailgaters, and if you were going down Rivers Street, the bike lane on the right is always full of parked cars, nothing but tailgaters from here to the stadium. This town is all about football and tailgating."
On this odd game day, they've got the lot to themselves.
"We love Appalachian football," Canton says. "That's why we're here."
Epilogue
Manely, the TAPP Room manager, is an App alumnus. He has made the walk from The Rock down Stadium Drive, hanging a right to the place he now works.
Manely hopes it's a walk people can take at some point this season.
"If we get to the point fans are allowed in the stadium, then we're probably going to be moving into Phase 3, and that means 75 percent capacity. I really think that's all going to be tied into one package," he says. "At that point, we may be able to have people waiting in line at the bar, but obviously we'll still be in full-mask regalia. The more important thing is there will be more people coming up the mountain into town to hang out on game day. That's (Boone's) biggest loss right now. If you can only watch at home or in a bar, you're going to find a local bar."
Be the first to know
Get local news delivered to your inbox!