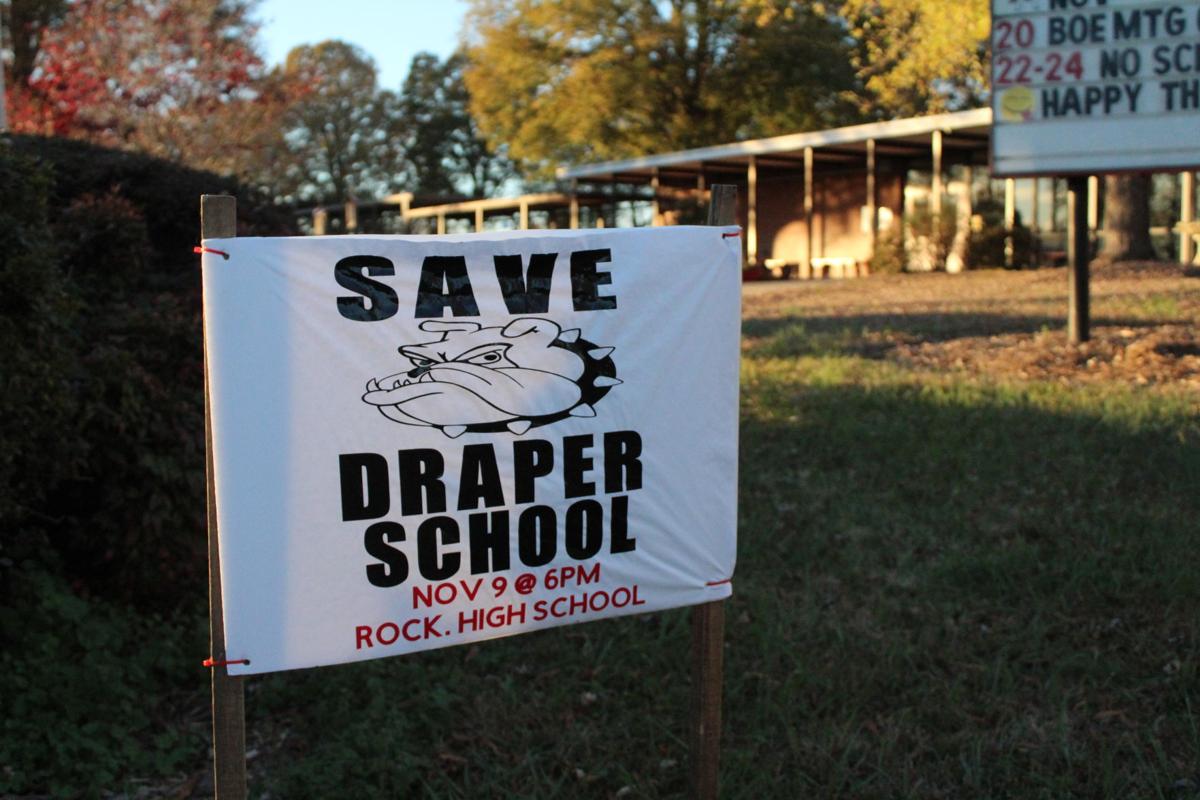 EDEN — Superintendent Rodney Shotwell has addressed some of the lingering questions following the school board's Nov. 20 decision to close two schools.
Based on the school board's decision, Draper Elementary School in Eden will close and New Vision School of Science, Math and Technology in Madison will move out of its building and into the current Dillard Elementary School building, less than two miles away.
The school board has not yet decided on three proposed options for Draper student reassignment or two proposed options for Dillard students.
Shotwell expects the board to address student reassignment within the next few months.
"I'll have to talk with the board leadership and make a decision when they would like to have that brought before them, but… it would probably be either December or January," Shotwell said.
At that time, the board would also formally decide when the schools will close.
Shotwell's formal recommendation would be for the fall of 2018.
Where will Draper students go?
Shotwell recommends dividing Draper students between Lincoln and Central elementary schools. This proposal was initially presented as Eden Scenario 3 as a compromise between two other scenarios.
Scenario 1 proposed altering the attendance zones for all northern and northwestern elementary schools in the county. Draper students would go to Central. Some Central students would go to Leaksville, and some Leaksville students would attend Douglass.
In Scenario 2, nearly all current Draper students would transfer to Lincoln, which would require adding mobile units to the Lincoln campus. The other schools in the Eden zone would remain untouched.
Should Draper students be moved to Lincoln, they would continue their current feeder pattern.
This means that Draper zone students attending Lincoln would graduate into Holmes Middle School. Lincoln zone students attending Lincoln would be graduated into Rockingham County Middle School.
Draper students relocated to Central would also graduate into Holmes Middle like the rest of the Central student body.
Where will Western Rockingham students go?
For western Rockingham County, the school board discussed two possible scenarios.
Shotwell recommends transferring Dillard's students to Huntsville and Stoneville elementary schools. The New Vision year-round school would then move into the Dillard campus.
Dillard students would have priority in applying to the year round school.
The board has also discussed the possibility of Dillard's traditional students sharing the facility with New Vision's year-round students. Both programs would operate side-by-side under one roof with one principal.
This idea stems from comments made by parents and teachers.
In this two-in-one school concept, the school would technically be New Vision but with an added traditional calendar year option.
One potential challenge of a dual year round and traditional calendar school would be staffing. New Vision operates on the same number of days as the traditional schools in the county, but on a different schedule. The primary difference is when vacations take place and for what extent of time. This would in turn increase staffing needs.
Either way, the district will look for a way to preserve the John W. Dillard name.
Because students will end up attending new schools, the district plans to make efforts to ease the transition.
"We're going to be meeting with all the receiving principals, the principals of the schools and looking at ways that we can start having some activities so (students) can start feeling part of the school they've been assigned to, so that they're not just going in there cold turkey on the first day of school next year," Shotwell said.
What about the buildings?
With the closure of Draper and the movement of New Vision into the Dillard site, two buildings will no longer house schools, but they may continue to serve the school district.
New Vision may become home to a parent resource center.
"We've traditionally had a parent resource center in Eden and Reidsville, and so we would like to have one of those also available for our parents and families over on the western side," Shotwell said.
In addition, the district will consider moving some pre-school or Rockingham County Head Start classes into the old buildings.
"When you put kids into the building and you increase the enrollment, sometimes the space to have the pre-K or the Head Start classes might have to be relocated, which is what happened with Moss Street," Shotwell said. "We had some Head Start classrooms in there and then we moved those to Lawsonville when we merged those two schools together."
Shotwell specifically named the New Vision building where fifth graders and kindergarteners attend class as a contender.
Other schools in the area will also continue to use the gymnasium at the old New Vision campus. 
How does this save money?
Because school closure is intended to save the district money, some parents ask how the district will save money if they continue to use the buildings.
According to Shotwell, the savings come from using a limited portion of the building and employing fewer people.
The district would no longer need principals, bookkeepers, data managers, guidance counselors and some custodial staff – saving roughly $450,000 to $500,000 per year, Shotwell said.
Even if Head Start programs are moved into the closed schools, those programs would be self-sufficient, he said. Also, only part of the buildings would be used, which would reduce costs related to heating and lighting.
What will happen to the staff?
The teachers and teacher assistants will follow the students.
"One of the biggest concerns (from parents) is just that they're worried about their kids going to a school and they're not going to recognize any of the teachers that are there," Shotwell said. "Those teachers that are with those kids are going to follow the kids."
While the New Vision building is the one that's closing in western Rockingham County, it's the Dillard Elementary School program that is ending. This means that Dillard Principal Trina McCoy along with Draper Principal Christy Bailey will lose their schools.
That said, Shotwell intends to do whatever he can to keep them in administrative positions within Rockingham County Schools.
"They've definitely done a good job for us and we don't want them going anywhere," he said.
"One of the things that the State of North Carolina does is, when you close a school, they give you the principal's salary for a period of time so that, when this happens, folks don't lose their jobs," Shotwell said. "They'll be reassigned, but the funding for their principal's position from the state – not local – will continue for, I believe it's 24 months."
Over the course of that 24 months, positions will likely move as usual and these two principals may be able to fill the local positions of other principals who leave.
For more information on OREd studies at Rockingham County Schools and redistricting options and maps, visit www.rock.k12.nc.us and click on RCS Pathway to Transparency.
Contact Justyn Melrose at (336) 349 -4331, ext. 6140 and follow @JMelrose_RCN on Twitter.