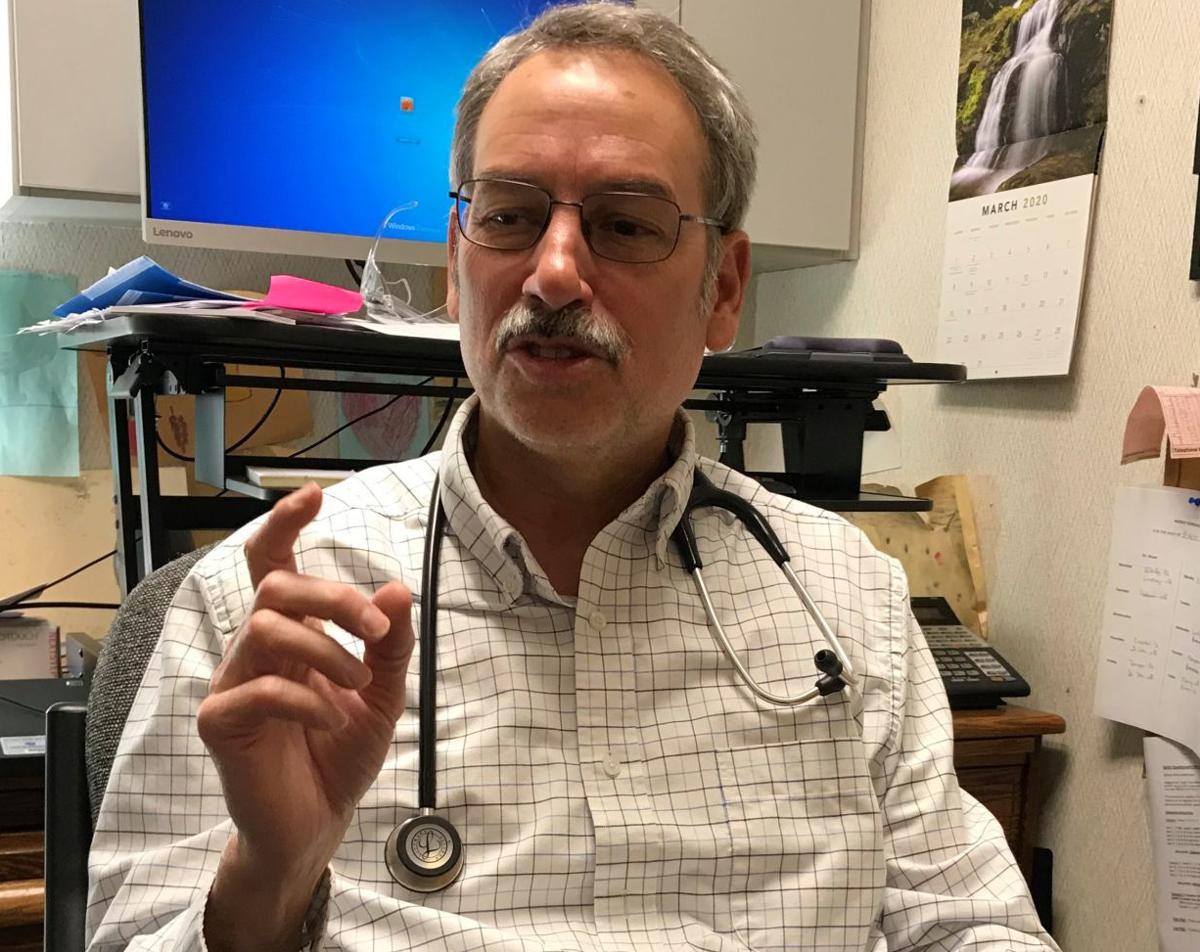 Editor's Note: RockinghamNow has invited top local experts to speak to the COVID-19 case increases in Rockingham County as part of our "Telling It Straight" series. As the state and nation grapple with a major surge in coronavirus cases, Dr. William S. Luking of Reidsville, a longtime family medicine practitioner and former chief of staff for Annie Penn Hospital, tells it straight.
I thought it would be helpful for the community to hear an update on the coronavirus from a family doctor's perspective. We still have considerable challenges ahead, and I wanted to relay to you my perspective and the latest scientific information.
We are currently surging
At our practice, my brother and I care for several thousand patients, young and older. Our practice has diagnosed far more cases in Rockingham County in the past 21 days than in the prior 100 days since the start of this pandemic. On Friday alone, I spoke with three different patients/families over the phone regarding new positive tests. I also spoke with a concerned mother regarding her previously diagnosed child who was getting clinically worse.
As of Tuesday, Rockingham County had 276 positive tests. Most experts state, because of asymptomatic younger folks and folks with mild illness who are not seeking testing, that the actual number is roughly 10 to 20 times the number of positive tests. In our county, that likely means 2,700 to 5,000 residents have experienced the virus.
Statewide we have seen in recent weeks a substantial increase in positive tests, along with a higher percentage of positives per 100 tests. This is NOT simply a result of more testing. If that were the case, we would not have seen a 50% rise in hospitalizations over the past five weeks throughout the state.
The upward trajectory within the state is very concerning; if we stay on this same curve, we could face challenges like other states in crisis, such as Arizona, Texas, Georgia and Florida. This demands urgent intervention by our leadership in Washington.
Nasal swab testing is not ideal, tests can be unreliable
Many patients are unaware of the fact the test is occasionally unreliable. One out of four patients who has the disease gets a "negative" result back on their first swab.
For instance, I saw a young lady via telemedicine who had a known exposure to a COVID-19 patient. She had sudden loss of taste and smell, body aches, fever, sore throat and cough, basically a classic case. Her test returned negative and her first question was could she return to work, a job with the public? My answer: "Heck no, you've got the disease. You need to quarantine yourself the full 10 days to avoid spreading this virus."
Physicians and patients cannot rely 100% upon negative results to make appropriate decisions — yet another challenge in the management of this illness.
Positive tests are generally reliable. If a test says positive, you have a high likelihood of having the disease.
Antibody testing
There is a fairly accurate blood test which can tell you whether you have been exposed to the virus in the past. This test measures a delayed response ( the formation of antibodies) and has no place in the acute diagnosis and management of a patient.
On a positive note, though there was uncertainty early on, it does look like the high majority of patients who have experienced infection (either symptomatic or asymptomatic) have protection from the coronavirus and likely will not get sick again with it anytime soon. The problem is, however, we do not know how long this protection lasts.
Wake Forest is conducting a useful ongoing study to look at the antibody presence within the community. They currently report a 10% presence of antibodies within the Triad at large, but it appears that rural patients are somewhat underrepresented. The data shared with the public does not differentiate between rural and urban test results. I'd bet we are probably closer to 4% to 5%, compared to the urban areas.
Cause for hope
First, be thankful you live in a state where the governor is thoughtfully aware of the crucial role of government during a public health crisis and relies upon science-based decisions regarding the reopening of the state. I can't emphasize this enough. If we had reopened willy-nilly with minimal guidelines as some have, I am certain we'd be facing a more dangerous surge at the level other states are seeing now.
Secondly, we live in a community where folks really look out for each other. Time and again, I've interacted with vulnerable patients and they've told me how family members, neighbors, fellow church members and others have stepped up to help them during this time of need.
Our health care workers, police, EMS and first responders, long-term care and essential daycare facility workers are all working hard to protect the vulnerable. And I extend a big "thank you" to all the local essential workers staffing our stores and restaurants. I must thank the nursing home workers for their hard and heroic work helping protect some of our county's most vulnerable patients.
Management of the disease has improved
Thirdly, the management of COVID-19 has improved in the hospital setting in recent months. Intensive care specialists have learned not to be as quick to place folks on ventilators, instead repositioning patients in the prone position, or on their chests, to improve their oxygenation and reduce ventilator-associated complications.
Though some interventions have fizzled (hydroxychloroquine is not only useless, but potentially deadly), other interventions have proved useful.
Steroids by IV reduce mortality, and the antiviral drug remdesivir shortens hospitalizations, freeing up crucial hospital beds. And so-called "convalescent antibodies" from patients who've recovered from the disease, as well as artificial antibodies, are also helping severely ill patients. The mortality rate has improved in the hospital setting, which is good news.
Vaccines are in the pipeline
Fourthly, vaccines are in the pipeline and the initial trials are looking optimistic. However, most experts say we will not see widespread availability until sometime next year.
COVID-19's still very contagious and deadly
A couple weeks ago I was calling daily to check on a vulnerable patient with COVID-19, only to discover each day that a new family member had signs and symptoms of the disease until all were sick. This happened despite the fact they took all the precautions. Folks, this is a very contagious virus. (I tested none of the children since they had only moderate symptoms and were under quarantine anyway, so they weren't counted in the official tally.)
The latest Columbia University studies show, even taking into account the improved care of hospital patients and the presence of asymptomatic patients in the community, the mortality rate in the U.S. from this virus appears to be around 1.4 % thus far. That rate means COVID-19 is nearly 40 times more lethal than a typical flu infection!
Another study by James Cook University in Australia recently concluded the death rate is 0.7% — still 20 times more deadly than the flu. And yet one of my patients last week told me they believe this virus is nothing more than the common cold.
Public school this fall?
We are six weeks from the start of the planned school year. This past week the American Academy of Pediatrics recommended that all school systems "start with a goal of having students physically present in school this year." From an educational, nutritional, cultural, economic, and physical and mental health standpoint, there are numerous reasons why this is a worthy goal.
But, when I read the details and listened to the president of the AAP and one of the chief authors try to support this plan in two recent interviews, I came away skeptical.
There are many factors which do not predict success: A very contagious virus means some children will face potentially serious complications. In Rockingham County, multiple schools share one nurse. And the recommendation that children over age 2 wear masks all day and maintain 6-foot distance from others is unrealistic.
It's understandable that parents, teachers, aides, cafeteria workers and bus drivers feel anxious. Many may have chronic illnesses or be approaching retirement age with increased susceptibility to disease. And without adequate testing in place, diagnoses could be delayed. Vulnerable grandparents with preexisting conditions called comorbidities must also be considered in school plans because many of these seniors care for grandkids.
Some of the pediatric leaders cited studies which showed possibly less transmission to older adults from kids carrying the virus. I dove into the research this weekend and emerged very unimpressed. For every expert stating this, there is another who states this is not the case. In my 30-plus years of experience, schools have always been a key vector that helps spread the flu through the community. There is no scientific reason to expect another respiratory virus like COVID-19 to behave differently. If anything, the high number of kids with asymptomatic or minimally symptomatic infection could put teachers and adult relatives at higher risk of exposure.
If the governor delineates a public-school option which allows our local school board room to choose, I will not envy the school board and administration as they struggle with this. If this virus continues to surge, there will be challenging decisions.
How to protect yourself, family and the most vulnerable
For gosh sakes, wear a mask already! Studies show if both folks in an interaction wear a mask, we cut the risk of spread by a full 80%. Come on folks, this is not rocket science.
How on earth this has become a political issue is beyond me. This is not either/or, the pandemic vs. the economy. Until we fix the pandemic, the economy will suffer. I am no fan of the national leadership on this matter. As for some state and local leaders, elected or otherwise, who choose to compromise the importance of wearing masks by kowtowing to political considerations and sending mixed messages, shame on you. You are not protecting your constituents; you are certainly not protecting the vulnerable.
If you care about yourself, wear a mask. If you follow the tenets of love thy neighbor or proclaim you do, wear a mask — you may have the virus and not know it. If you don't give a flip about yourself or others, at least wear one so we can get back to a full economy sooner!
Where possible, maintain safe distances. Wash your hands. Avoid unnecessary trips into buildings and public spaces. As we surge, think twice about hanging out in restaurants (order takeout). Utilize online shopping from local merchants with delivery to the parking lot. Many groceries and local stores provide this service free of charge. My wife with asthma has not been inside a business for months, and I go inside stores less than once per month. Reach out to vulnerable neighbors and loved ones and offer to get groceries and run errands. Reach out to lonely or isolated folks in your neighborhood; a regular visit from the porch at a distance is safe and will help immensely. Keep family get-togethers small and maintain safe distances. Vacation wisely or do a staycation. Ask your minister to hold services outdoors where possible. Ask your physician to see you via telemedicine, and avoid unnecessary lab trips. Ask your dentist if the intervention is necessary. Ask all professionals how they maintain a safe environment.
Please get a flu shot and encourage family members to do so. Flu shots are more helpful some years, but they are always more beneficial than nothing. The last thing you want to do is hang out in the emergency room with a sick child with the flu this winter because you didn't vaccinate your kids.
Susie C. Spear is a staff writer for RockinghamNow. She can be reached at 743-333-4101 and on Twitter @SusieSpear_RCN.