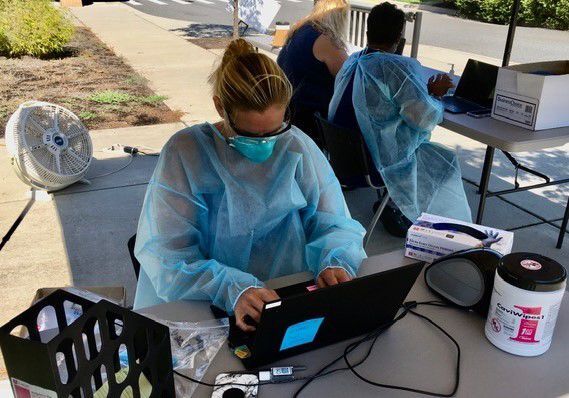 WENTWORTH — The county reached two grim milestones on Tuesday when COVID-19 cases reached 500 and an eighth victim was penned on the list of those to die from the coronavirus.
In the largest weekend case climb to date, the Rockingham County Department of Health and Human Services reported 31 new lab-confirmed COVID-19 cases between Friday and Monday morning — a jump from 463 to 494.
Since last Wednesday, when cases numbered 446, the county of 91,000 has experienced a 12% spike in reported infections, RCDHSS statistics show.
Cases are highest among 18-year-olds, followed by those in their mid-20s and 40s, Susan Young, the county's interim public health director, told the Rockingham County Board of Commissioners during their Monday night meeting.
The county's citizens simply aren't complying with orders to stay at home when they are sick and contagious. And citizens are defying public health orders to wear masks to curb the spread of the virus, Young said during the meeting.Since July 17, when the county's illness count was 356, the rural region has witnessed a sobering 40.4% case surge.
It is important to note that while proven infections stand at 500 patients, there are likely at least 10 times more infected individuals in the county, experts agree.
Many people here and nationwide, are likely asymptomatic and experience the disease with no obvious signs, but are able to spread the highly contagious virus nonetheless.
Other individuals may not get tested or report their illness to doctors, preferring to ride out milder forms of the disease on their own.
The death toll for the county has increased by six over the last two weeks — a big jump after a 16-week stretch with no casualties and low numbers of hospitalizations.
The first six of the county's victims were described as being between 60 and 95 and all with underlying health conditions. The seventh, who died last week, was characterized as a patient between age 60-70. The age of the eighth victim was unavailable at press time.
Looking back to June 23, when the county's sick roster numbered 177, shows county cases have grown by 182%.
Of the county's 500 patients, 369 have recovered, while 109 are at home recovering quarantined, RCDHHS officials reported.
Nine patients were hospitalized on Tuesday, a higher than average number for the rural county that typically sees one or two COVID-19 inpatients per week. The county reports three patients as asymptomatic, meaning that while they do not show symptoms of COVID-19, they may still spread the disease.
County testing centers and doctors' offices have administered 8197 coronavirus tests, discovering a positive rate of 6%, statistics show. Last week's rate was 5.6%. The relatively high rate is likely due to the fact that the county has done far less testing than larger urban areas where positive rates compute much lower.
While 255 of the county's patients are over 40, RCDHHS statistics show 235 are younger.
Statewide, 126,532 people have contracted COVID-19 and 1,982 have died from the highly contagious disease.
Individuals who suspect they might be experiencing symptoms of COVID-19 should call their primary care provider to discuss their symptoms so appropriate steps can be taken to protect themselves and others. Testing sites are available throughout the county.
Susie C. Spear is Editor of RockinghamNow. She can be reached at 743-333-4101 and on Twitter @SusieSpear_RCN.
Be the first to know
Get local news delivered to your inbox!