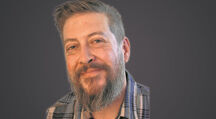 The message is clear: Do not plant free Chinese mystery seeds. Also, do not eat free Chinese mystery seeds. In addition, do not feed free Chinese mystery seeds to a goat named Jasper.
According to multiple media reports, people in at least 30 states have recently found a surprise in their mailboxes — mysterious seeds in packages with Chinese writing. It's a surprise because no one can remember ordering free Chinese mystery seeds, just like those Amazon packages that arrive on Tuesday that no one can remember ordering on a particularly bleary-eyed Saturday night.
In a news release, the N.C. Department of Agriculture and Consumer Services said the seeds are part of a scam and urged anyone getting them not to plant them, since they could introduce invasive species, insects and plant diseases.
In a worst case scenario, it could be a plot to produce a hideous cross between the soul-sucking kudzu plant and a giant, fire-breathing monster — I'm thinking Kudzilla — to bring about the downfall of the United States. To be clear, that is strictly my theory and not that of the fine folks at the N.C. Department Agriculture and Consumer Services.
Phil Wilson, director of the Plant Industry Division, explained the scam.
"According to the Better Business Bureau, foreign, third-party sellers use your address and Amazon information to generate a fake sale and positive review to boost their product ratings," Wilson said. "Seeds are just one of the items used in this scam, however, you could receive other inexpensive items such as rubber bands, plastic toys, or empty bags."
I'm sure my loyal readers, both of them, have plenty of questions about free Chinese mystery seeds. As the interim senior consumer services/Kudzilla correspondent for this award-winning publication, I'm here to help.
Q: Hey, Scott. Thanks for taking my question. Really, though how bad can these free Chinese mystery seeds be? I mean, I heard about this ol' boy, he traded a cow for some magic beans. His momma about tore his hind-end up when she found out. But lo and behold, they were magic and a vine grew right up to the sky. After that was a lot of fee-fi-fo-ing, giant-killing and such, but it worked out great. For the boy, not the giant.
Answer: That's the old English fairytale Jack and Beanstalk. These seeds are real and could eventually do ecological and economic damage. Do not plant the seeds.
Q: Let's say I go out to the mailbox this evening — I always throw up my hand and wave if Mrs. Barnsby is on her porch snapping beans even though that old biddy can't keep her dog out of my yard — and there amongst the light bill and credit card offers is pack of free Chinese mystery seeds. If I can't plant them, what in the Sam Hill am I going to do with them?
Answer: According to a USA Today story, the USDA urged the public to contact their state's plant regulatory official or state's animal and plant health inspection service.
"Please hold onto the seeds and packaging, including the mailing label, until someone from your state department of agriculture or APHIS (Animal and Plant Health Inspection Service) contacts you with further instructions," the statement said. "Do not plant seeds from unknown origins."
Q: That sounds like a lot trouble to go to. I don't have time to keep up with free Chinese mystery seeds. I think I'll just feed them to my goat, Jasper. He'll eat anything — kudzu, tin cans, a role of nickels, the side mirror off Mrs. Barnsby's Oldsmobile. It don't make a hill of magic beans to Jasper. He'll eat it. What's the worst that could happen?
Answer: And that's how we get Kudzilla, the horrific demon spawn of kudzu, monster and goat. Who would have thought 2020 could get any worse?
Catch the latest in Opinion
Get opinion pieces, letters and editorials sent directly to your inbox weekly!