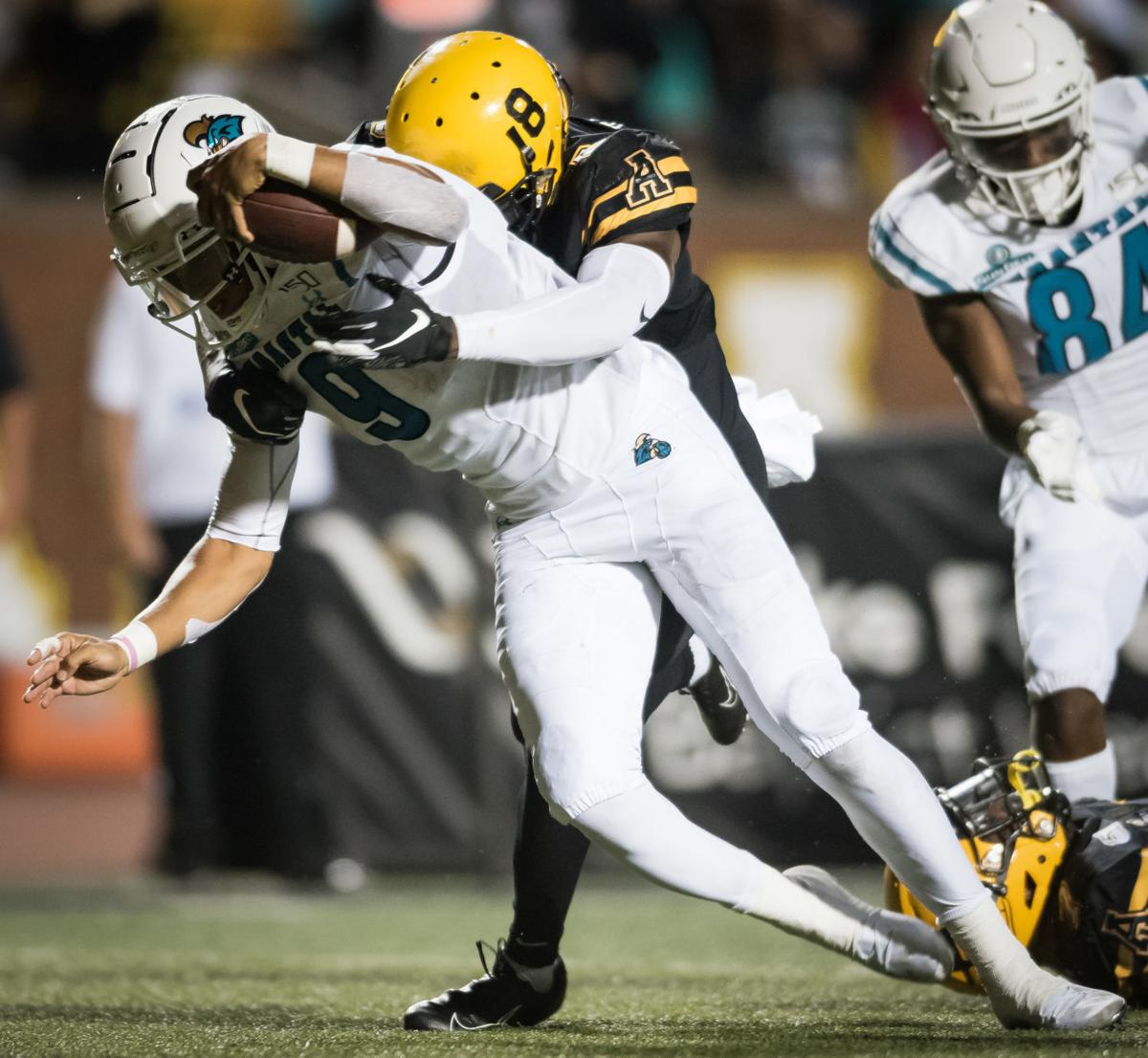 Here's a notebook for Appalachian State football as it opens its fall camp for the 2020 football season:
Back on the field
Friday meant the start of fall camp for Appalachian State football.
The day before, senior defensive back Shemar Jean-Charles seemed excited just talking about the idea of a first football practice.
App State has lost three non-conference games already — its two big matchups against Power Five schools Wisconsin and Wake Forest, as well as its season opener against Morgan State — and the college football landscape keeps shifting in every direction.
So Jean-Charles sounded almost relieved on Thursday, during App State's media day, to think about the chance to have football with some form of organization again.
"For the most part, that's why we're up here," Jean-Charles said. 'We want to play football so we're going to take those right measures off the field that we have to do to make sure that we could play on the field.
"It's refreshing knowing that we could just be out there on the field competing again."
App State had 13 wins last year, and this year's team features a mixture of talent that could maintain the same results that have won the past four Sun Belt Conference titles.
The return of a voice on the defense
When App State head coach Shawn Clark mentioned his defensive line, he talked about bringing back three starters to his three-man front.
That group consists of UNC slayer Demetrius Taylor, tried-and-true nose tackle George Blackstock and Elijah Diarrassouba, who has returned to the team after a short retirement after the 2019 season.
"When he walked away I told him the door was always open for him," Clark said. "Once a Mountaineer, you're always a Mountaineer.
"He was always welcome back. We talked after that and he said he wanted to play football again."
Diarrassouba originally decided to retire in March after an ongoing hip issue. He has since opted to return, bringing back more experience to a strong D-line.
A vocal leader for App State, the Greensboro Page alumnus played 25 games in the Mountaineers' last two seasons.
Working with experience, youth on offense
New offensive coordinator Tony Petersen has a ton of talent to work with.
The guy he calls "the best player in the conference" at quarterback in Zac Thomas, a slew of options at receiver, running back and tight end, and an offensive line with four senior starters are at Petersen's fingertips.
For those older guys, Petersen said he hopes to help them fine tune their skills for the most productive seasons. But he's also been very clear for the need to build up depth in the younger players, too.
That's incredibly crucial at quarterback, where both Thomas and backup Jacob Huesman are both seniors. The quarterbacks behind them are two freshmen: David Baldwin-Griffin, who redshirted last season, and Navy Shuler, a member of the 2020 recruiting class.
Petersen said it's a tough balance to play between getting older guys reps while providing development with the young guys. But eventually, those younger players will grow and learn as the season goes on.
"What's hard right now with us is my starting quarterback is a senior, and my backup's a senior. And they've both been here a long time," Petersen said. "And it's hard now to start working, seriously working, a third and fourth quarterback. That just doesn't happen.
"So I'm going to be in a situation where really that position's not going to truly start developing probably until next spring because you just don't have the reps to start working third and fourth quarterbacks."
Be the first to know
Get local news delivered to your inbox!