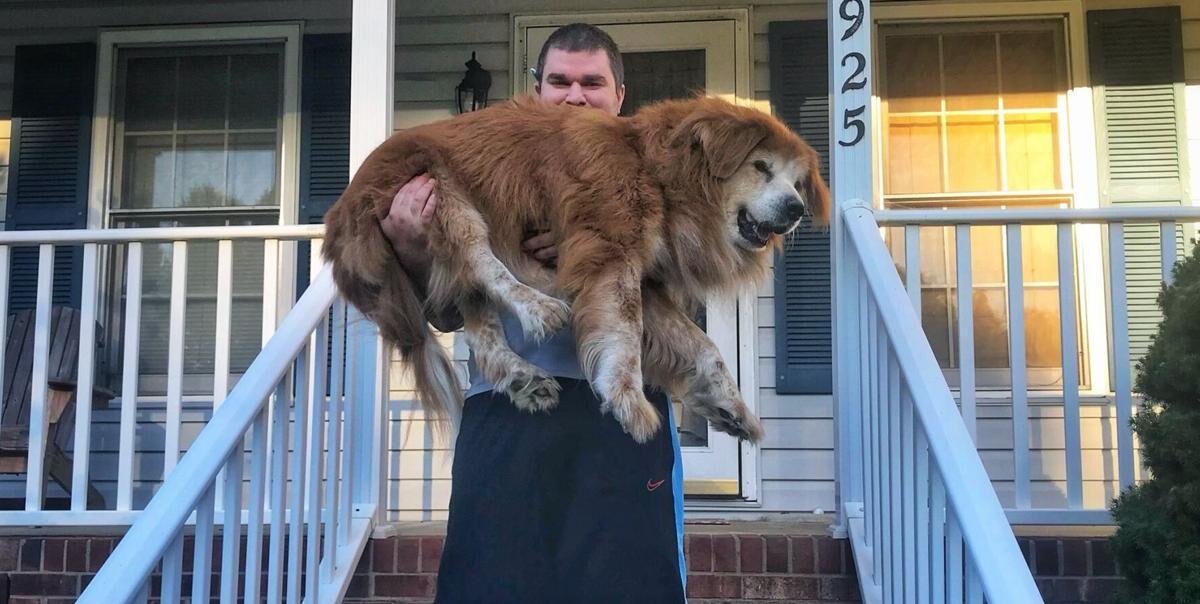 We'll get to the film review of Clemson-Wake Forest. But first:
Have you ever noticed that everybody who posts on social media thinks their dog is the best dog and thought to yourself, if only for a second, "Well that's nice but your dog can't actually be *the best* dog because my dog is the best dog."
But it's something that came to mind this week. Because I've certainly had that thought, that so-and-so's dog can't be the best because my big, fuzzy, lovable goofball King is the best dog.
I was wrong. King isn't — wasn't — the best dog. But he was the best dog for me. A perfect fit.
Five years ago I adopted a golden retriever with a lot of other stuff in him — it's been suggested to me he's got everything from chow to husky — and immediately bonded to him. The description from Triad Golden Retriever Rescue was, "will chase a tennis ball until he falls over," and that was 100% true.
He was my guy and I was his — that didn't stop Friday afternoon when I had to have King put to sleep.
I'm not sure if King was much of a Wake Forest fan. After all, most of the time I spent away from him was because of Wake Forest and for a dog who was attached to my hip when I was home, time away was #NotGoodDino. Then again, when I lived alone in Burlington, a diehard Wake Forest fan and friend, Liz Hill, took care of King when I had long days. She might have planted Deacons fandom in him before I even got the job here.
The only time I can honestly say I was frustrated with him was the first Thanksgiving we were together and King decided an apple cake my mom brought was on his menu for dinner. The only thing left was the plate.
Frustration might have lasted 10 seconds. My family still laughs about references to that, a fair tradeoff.
The last couple of months were rough for King. It'd been weeks since he last stood on his own. Stairs were never his friend, but at some point he stopped even trying to go down them. I've actually taken solace in working from home for almost all of the last six months, as it gave me so much more time with him.
You know, no matter how many times you tell yourself or others tell you you're doing the right thing, it's still gut-wrenching.
One of the ways that he's still amused me, though, is in his sleep. Sitting on a Zoom and half-listening to whatever Zoom interview is going on, there's immeasurable joy that comes with looking down and seeing King asleep, his legs gyrating and kicking and twitching.
I can only imagine how fast he was running in his dreams. Just like I can only imagine where he is now, hopefully with all of the tennis balls he could ever ask for.
And apple cake. That would be perfect.
Here's what I saw while re-watching Clemson-Wake Forest:
• I don't know who needs to hear this, but: Stop falling for Florida State.
• I missed that Boogie Basham came out of the gate holding a "Black Lives Matter" flag. I didn't see a picture until I got home after the game, and the picture that Journal photo editor Walt Unks snapped is a good one.
Now I understand a little better why I missed it when it happened: More than half of the team had already come onto the field. I wish I hadn't missed it, but it's not like he was leading the team onto the field with it.
• So let's get this out of the way now: If that makes you uncomfortable, I'd recommend finding a new team. The helmet stickers with clenched fists weren't just there for one game (to my understanding). The "BLACK LIVES MATTER" across the back of helmets isn't going to be erased. If that drives you to renounce your fandom — which, btw, stealing this from OGB/Facebook, "it's not like an airport, you don't have to announce your departure" — it's probably time to go shopping at WalMart for some team gear.
Oklahoma State's coach probably espouses the same values you hold near and dear.
Also, miss me with your "keep politics out of sports" nonsense. Human rights battles aren't political. It's not political to ask why the cops who killed Breonna Taylor still haven't been arrested. Sports and politics have always been entwined, that's not changing.
• Now, finally, on to football.
• Jack Crane might have had the cleanest debut of a Wake Forest transfer in quite some time. If he's able to consistently kick touchbacks, he'll be a welcomed addition.
• Ha! Forgot Trevor Lawrence's first throw was an incompletion because Amari Rodgers slipped coming out of a break.
• Coverage sack on the third play, along with an incredible closing burst by Basham.
• Hell of a first two plays by K.J. Henry: tackle East Forsyth rival Christian Beal-Smith on Wake Forest's first play, and sack Sam Hartman on second one.
• Beautiful throw and catch on third-and-18 for 28 yards to Donavon Greene. Sharp throw, quick release, Greene got separation.
Man, a few things happened in this game in the first two minutes that never happened for the rest of the meaningful minutes of this game.
• Ooh, the deep shot to Jaquarii Roberson down the seam was 100% pass interference. I didn't realize it was that blatant at game. That has to be what Dave Clawson was referring to here:
"I thought there was another one that perhaps we should've had a P.I. that we didn't get, but that's going to happen," Clawson said.
• Hartman simply cannot take a sack here. Third-and-6 from the 33 is where you always Wake Forest content with picking up 2-4 yards and going for it on fourth down — I'm actually surprised it wasn't a delayed handoff.
• Also: Wake Forest won't have to worry about Lawrence or Travis Etienne ever again … but the Deacons will need to figure out how to block Bryan Bresee and Myles Murphy for at least two more games.
• Really good first career punt for Ivan Mora. Feel like other than one 25-yarder, he had a solid night.
• Lawrence's first completion of the game is his first "he might be one of five QBs in the country who can make this throw" moments. Traveon Redd isn't blanketed on Rodgers, but Lawrence puts it over his shoulder where it almost looks like Rodgers is wide open.
• Our first look at Nasir Greer playing cornerback … ever, for me. He's been on campus since January 2018. On his second play there he misses a tackle on a bubble screen.
So to recap: Greer missed the Pinstripe Bowl and Essang Bassey had to play safety in his absence; now Bassey and Amari Henderson are in the NFL and Wake Forest was missing three of its four freshman DBs, so Greer had to play cornerback in their absence.
• Zion Keith's first of his game-high 12 tackles on a first-down run by Etienne.
Feels like Keith would've been the subject of a fall camp feature under normal circumstances.
• Looks like DJ Taylor is the No. 2 MIKE linebacker, though Jaylen Hudson was unavailable. As noted on Twitter, this was Taylor's first game since the Birmingham Bowl — he spent a lot of time in the pit.
• Ja'Cquez Williams has to get Etienne on the ground before he breaks to the outside on a 13-yard run.
• Really nice play by Taylor to track down Rodgers.
• Clemson goes hurry-up before Lawrence's touchdown jog. Wake Forest's defense seemed to be slow to get aligned — which is as much of a peak into how seldom they've gone "team-fast" in practices compared to normal years.
• Nine-play, 92-yard drive that was on Wake's side of the 50 in two plays. The only third down was third-and-1, picked up pretty easily by Etienne.
• Two carries, 13 yards for Christian Beal-Smith to start Wake's second drive. I stand by this:
Be the first to know
Get local news delivered to your inbox!