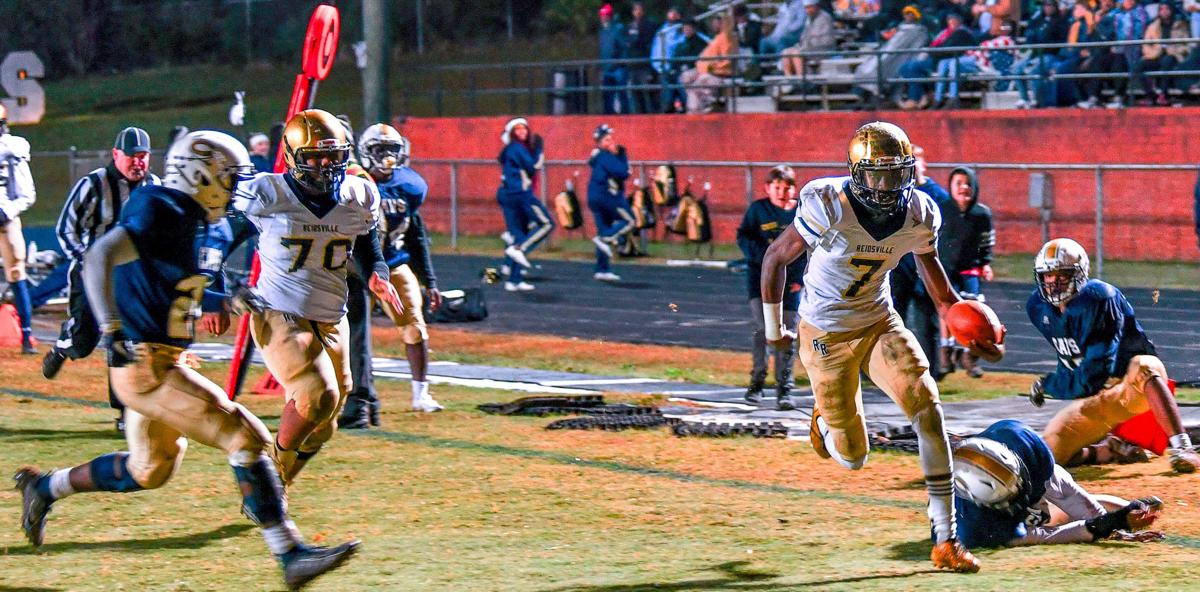 No. 2 Reidsville 34, Cummings 0
Burlington
Why the Rams won
Reidsville's defense had their sixth shutout of the season and the Rams were able to use a balanced rushing and passing attack to notch the victory.
Why the Cavaliers lost
Cummings couldn't move the football with any consistency and once Reidsville took the lead, their defense didn't allow the Cavs much of a chance to cut into the margin.
Stars
Reidsville — Running back Lionel Long scored a pair of rushing touchdowns and picked up 84 yards on 13 carries.
Quarterback Kyle Pinnix had a pair of passing touchdowns and rushed for one more. He had 214 yards passing.
Ki Rankin and Jiheem Hooper each had nine tackles to set the tone defensively.
The big play
Senior wide receiver Colby Johnson hauled down a pass from Pinnix in what turned into a 71 TD to bump the lead to 14-0 late in the first quarter after the 2-point conversion.
Three things we learned
1. Reidsville not only looks to clinch the outright Mid-State 2A Conference regular season title next week at Bartlett Yancey, but also hopes to boost their impressive 9-1 overall record, clinch a top NCHSAA playoff seed and home field advantage when the post season begins the following week.
2. Unlike the past several years, the Bucs look tough enough to pose a threat for the Rams. They are 2-1 in league play and 9-1 overall just like Reidsville. It will be senior night in Burlington and BYHS is looking confident enough to upset the Rams after coming off of an impressive 42-6 win over Carrboro on Nov. 1.
3. Even on a relative off-night for Pinnix, where he completed just 11 completions on 21 attempts, he's got enough receivers and other options to keep the offense moving the chains.
Records
Rams: 3-0, 9-1.
Cavaliers: 1-2, 1-9.
Up next
Reidsville: At Bartlett Yancey, 7:30 p.m. Friday.
Cummings: At Graham, 7:30 p.m. Friday.
Scoring summary
Reidsville 14 0 20 0 — 34
Cummings 0 0 0 0 — 0
R Breon Pass 42 pass from Kyle Pinnix (kick failed), 10:15 first quarter
R Colby Johnson 71 pass from Pinnix (Auldon Edwards run), 1:45 first quarter
R Lionel Long 1 run (Anthony Franson kick), 6:31 third quarter
R Long 7 run (kick failed), 2:14 third quarter
R Pinnix 1 run (Franson kick), 0:09 third quarter
Contact Jim Sands at 336-314-1058 or on Twitter @jimsandsRCN.