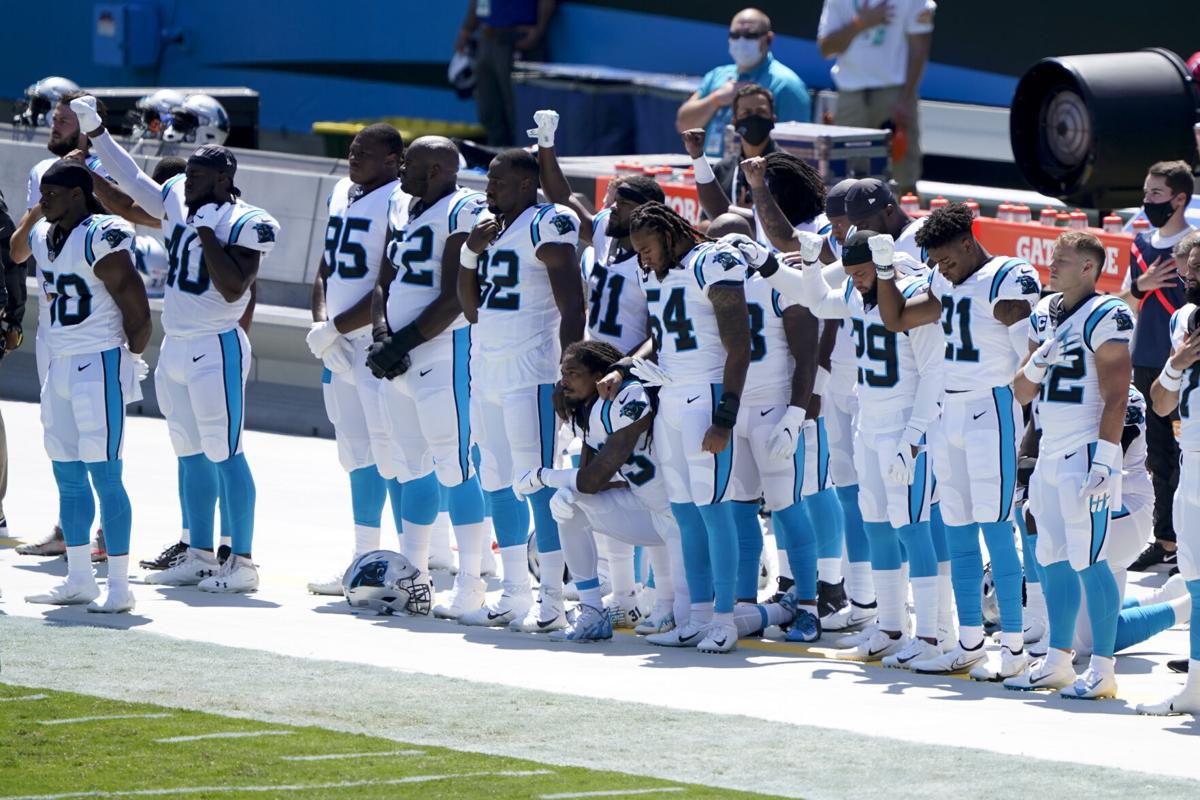 CHARLOTTE - One of the most frustrating days ever for Carolina Panthers fans just might have been the prelude for one of the longest seasons they've endured.
Carolina's 34-30 loss to the Las Vegas Raiders in a spirited debut is a game on which the Panthers can build. But it ended badly for first-year head coach Matt Rhule and his hot-shot offensive coordinator, Joe Brady.
Needing a couple of inches to get a first down and keep hopes alive for a last-minute win, the call came in for a fullback plunge. Alex Armah, not Christian McCaffrey, ran the last-gasp play for the Panthers, and even the piped-in fake fans booed.
Carolina's usual zealots were all home watching on television, likely screaming. The Monday morning quarterbacks are circling.
"We were a play away," Rhule said.
Meanwhile, in New England ...
This season, and for seasons to come, Carolina fans will bemoan the decision to cut franchise quarterback Cam Newton.
The Panthers' football staff and their medical people deemed Newton finished as an effective football player, a gamble too expensive to take.
Newton was his old self Sunday in the Patriots' 21-11 win over Miami. The 6-5, 265-pound superstar ran 15 times for 75 yards and two touchdowns. He completed 15 of 19 passes for 155 yards with no interceptions.
So for Panthers fans, it wasn't the insult of McCaffrey not getting the ball on the most important play of the game, but that what the Panthers really needed was a big ol' quarterback just reaching the ball across the line for a first down.
Rhule blamed it on himself, and both McCaffrey and quarterback Teddy Bridgewater backed up the play call. But there were a lot of play calls that seemed odd. With the Panthers down only 17-12 in the third quarter, they stopped giving the ball to McCaffrey for long stretches. And when they needed him most, McCaffrey brought the Panthers back. They fell behind by 12 with McCaffrey all but invisible, then he brought them back by himself, finishing with 96 yards rushing and two touchdowns.
It was a game Carolina should have won without coming down to a few inches and a botched play call.
Meanwhile, in Atlanta ...
Greg Olsen is still in the league too. He caught a touchdown pass, helping the Seahawks to a 38-25 win over Carolina's biggest rival. While becoming the first team in NFL history to lose to Las Vegas, the NFL seemed almost normal outside of Charlotte.
Bridgewater referred to the Raiders as "Oakland" several times in the post-game interviews.
Meanwhile, in Washington ...
Ron Rivera is still in the league, too. He's still the most popular coach in Panthers' history, but he was deemed over the hill and not ready for a rebuild. So he went to Washington, which is also in a total rebuild, fell behind Philadelphia 17-0 in his first game, then coached his team to a miraculous comeback.
It was a bizarre day to watch the Panthers on television with fake fans cheering at the wrong times and the heart and soul of the team they've watched for all these years playing and winning elsewhere.
It was all too much as reports kept streaming in from New England, where it was apparent the Panthers had let the best player they ever had walk away, or Washington, where their beloved coach is battling cancer and beating the Eagles, or Seattle or Atlanta, where constant reminders of the Super Bowl run of 2015 tortured them while watching a new team and new coaching staff blow a potential win when everyone in America knew McCaffrey should've gotten the ball.
Meanwhile, in Charlotte ...
The reality set in that this was a game Carolina could have, should have won. And make no mistake about it. Panthers fans also knew who should have had the ball in his hands on the most important play of the game.
This could be a long, long season.
Be the first to know
Get local news delivered to your inbox!