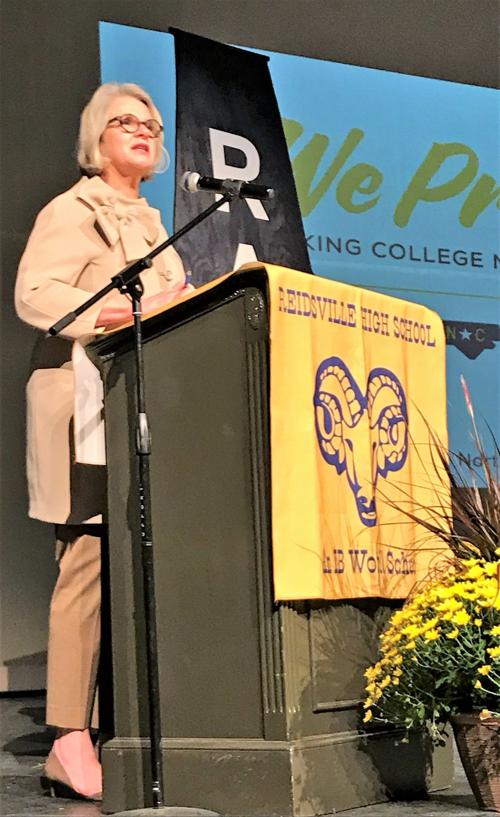 REIDSVILLE – University of North Carolina System President Margaret Spellings on Friday urged Reidsville High School students to take advantage of the N.C. Promise campaign, which lowers tuition at three state campuses to $500 per semester and locks in tuition prices on the first day of college at any UNC institution.
Spellings, who announced her retirement in late October, led the "We Promise" ceremony along with VIP guests University of North Carolina at Greensboro Chancellor Dr. Franklin Gilliam and N.C. Sen. Phil Berger (R). The $51 million initiative, made possible by the N.C. General Assembly, could serve to boost college attendance by students in Rockingham County, where only about 14 percent of citizens 25 or older hold bachelor's degrees or higher.
That figure puts the county 50 percent below the state average of 29 percent. Similarly, around 30 percent of folks across the nation within that age group have completed a bachelor's degree or higher, according to educational statistic clearinghouses.
The N.C. Promise program would invite in-state students to apply for the reduced tuition rate at three of its campuses – Western Carolina State University, UNC Pembroke and Elizabeth City State University.
When the program was unveiled in August, the featured campuses saw leaps in enrollment numbers.
At WCU, it climbed  by nearly 7 percent for fall 2018, while UNCP saw a 14 percent enrollment increase, and ECSU saw a 19 percent jump.
N.C. Promise will reduce the annual cost of attending the three universities to $1,000 per year for in-instate students, while those enrolling from out of state will enjoy a lower annual price of $5,000.
The second element of the cost-saving plan is the pledge by the UNC system to allow students to lock in to a first year price for all four years of college – as long as they are committed.
"If you enroll at a UNC institution, the price you pay on day one is the price you pay on the last day, assuming you stay continuously enrolled," Spellings told students and teachers at the forum, sponsored by the Rockingham County Education Foundation and the high school.
"You've got to stay focused, stay committed, stay enrolled and get to the finish line as quickly as possible," said the former U.S. education secretary under President George W. Bush.
"The legislature has put some real incentives in place to make sure it's more attractive for you to do that."
Spellings, who assumed her post in 2016 after the ouster of former UNC head Tom Ross by the Board of Governors, will step down March 1. Her seat will be filled by UNC Health Care CEO Dr. William Roper, chosen by the board last week as interim president. Spellings will walk away from her contract with a $500,000 separation payment from the board.
Calling the program a "national model," Spellings said, "I encourage you to seize the opportunity. North Carolina is leading the way as an affordable place for higher education. Without higher education, you will not be able to access the opportunities that are really tremendous..."
UNC-G Chancellor Gilliam offered another incentive to students with an offer of dual enrollment in Rockingham Community College and UNC-G.
By participating in the program, RCC students could utilize all of the facilities on the UNC-G campus, and after two years of continuous attendance at RCC, they would automatically earn enrolled status at UNC-G, Gilliam said.
The 207 students from Rockingham County currently enrolled at UNC-G receive an average of $8,100 each in grant money," Gilliam notes. Fifty-two freshmen and 38 transfer students are within that number.
"The pathway to a full life often goes through the higher education experience," he said. Reminding students that they have an opportunity through college to build meaningful networks and friendships, Gilliam said, "We hope you find your way here."