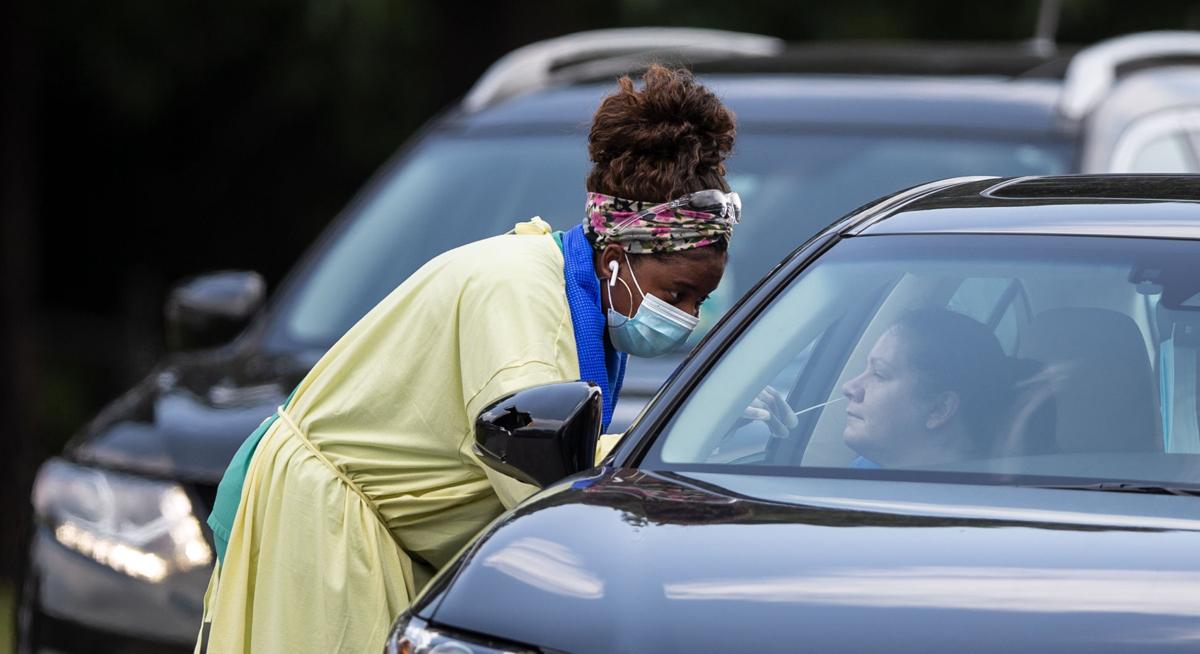 Expanded COVID-19 testing is being offered by several groups this month. In each case, there is no out-of-pocket-cost to the patient, but insurance, if available, will be billed, the release said. You don't have to have insurance to be tested.
People without symptoms but who may have been exposed to COVID-19 should get tested, especially those from historically marginalized communities, including Latinx/Hispanic, African American, and American Indian populations, each testing group says. In addition, testing is a priority for anyone who has symptoms or those who may have been exposed to COVID-19, including:
Anyone who has attended a mass gathering including a protest
Anyone who works in a setting at higher risk of exposure such as a grocery store, restaurant, gas station, or child care program
People who live or work in high-risk settings such as long-term facilities, homeless shelters, correctional facilities or food processing facility
The N.C. Department of Health and Human Services has approved a third vendor to to expand free COVID-19 testing for historically marginalized communities with limited testing sites.
NC Community Health Center Association joins Vidant Health and Orig3n Inc., which have coordinated more than 60 testing events through this initiative, the news release said. NCCHCA will provide testing in 23 ZIP codes as part of NCDHHS' effort to provide testing for African American, Latinx/Hispanic and American Indian communities. As many as 300 temporary testing events will be deployed by the vendors in July, including drive-thru and walk-up sites in more than 130 ZIP codes, the release said. A disproportionately high percentage of North Carolina's confirmed cases of COVID-19 have occurred among historically marginalized populations, the release said.
Greensboro events this week include:
July 22: Episcopal Church of the Holy Spirit (Cone Health mobile testing), 3910 Yanceyville Street, Greensboro, 4-6 p.m. 336-890-1149.
July 22: East Market Street Seventh-day Adventist Church, 1804 E. Market Street, Greensboro, 10 a.m.-2 p.m.
The Guilford County Division of Public Health is working with the City of Greensboro Parks and Recreation Department and High Point University to host testing events on their properties.
Community testing sites operated by GCDPH this month are:
July 22 and July 24: Griffin Recreation Center, 5301 Hilltop Road, Greensboro, 10 a.m.-2 p.m. (indoor)
July 27, 29 and July 31, High Point University Community Center at Oak Hollow Mall, 921 Eastchester Drive Suite 1230, High Point, 10 a.m.-2 p.m. (indoor)
Walk-ins will be served, but the wait may be longer, the news release said. Make an appointment at 336-641-7527. Confidential pre-screening will take place during the call to confirm a person is a candidate for testing. Testing is available regardless of insurance status. If the individual has private insurance, Medicaid, or Medicare they will be asked to bring their insurance card. and people without insurance can be. If a person is uninsured, testing can still take place. The testing event is open to all Guilford County residents.
Those who are planning to come to a testing site are asked to please wear a face covering.
In addition, StarMed of Charlotte is partnering with Trinity AME Zion Church, 631 E. Florida St., to offer testing twice weekly. The free drive-thru testing is offered from 10 a.m. to 2 p.m. July 24, 27 and 31. Advance appointments are requested, and children can also be tested.
To complete a virtual visit and make an appointment, visit www.starmed.care and click on the box that reads "NC County Testing." For questions, call 704-225-6288.