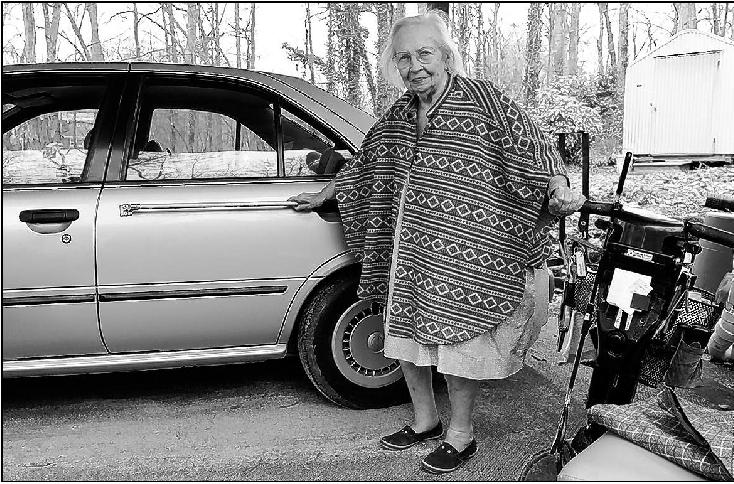 WINSTON-SALEM —Craig Mock remembers well the day Catherine Pitts called him last month to ask if he knew of anybody who could install what she called "grab bars" on her 1996 Nissan Sentra.
"Mrs. Pitts, she's always kind of thinking outside the box," said Mock, who is the owner of the Mock Tire store on Peters Creek Parkway near Southpark shopping center.
Pitts, who is 91, said she is somewhat disabled.
"I live on a three-wheel scooter," said Pitts, a widow. "I have a bad knee and an operation is not an option. So I have to live with it."
Whenever Pitts was ready to drive someplace, mobility typically became complicated after she put her scooter on a ramp on the back of her car. She dreaded falling.
"I had nothing to hold to, to get from the back of the car to the front of the car to get in the car to drive it," Pitts said.
Then she got the idea to use grab bars. After all, she already had them in her bathroom.
Then a friend mentioned that truck drivers held on to bars to get into the cabs on 18-wheelers. So she ordered a $50 pair of stainless steel truck grab handles online.
At first, Mock wasn't sure grab bars would work on Pitts' car.
"I called a couple of body shops, and they wanted no part of it," he said.
Mock replaces tires and brakes, and he really doesn't do body work.
But he told Pitts, whom he has known since the 1990s, that he would do what he could for her.
After giving Pitts' request some thought, Mock decided to use pop rivets to secure a bar to the rear door on the driver's side of her car and another bar over her car's gas cap area on the same side.
Because the bars were fairly short, Mock's mechanic polished and cut some galvanized pipe in two pieces to extend the grab bars.
The bars were installed in late February, and Pitts is thrilled to use them.
"I suspect I'm the only car in the United States that's got grab bars on it other than the heavy trucks, the 18-wheelers," she said.