Alamance County sheriff Terry Johnson says he will enforce Gov. Roy Cooper's Phase Two order Saturday at Ace Speedway, which means a limit of 25 spectators.
Cooper's office on Friday relayed a four-page letter expressing concern that the track failed to follow those guidelines, signed May 20 as part of North Carolina's reopening process to halt the spread of COVID-19. Ace Speedway returned to racing May 23, reporting that it drew 2,550 spectators and featured several drivers who normally compete at Bowman Gray Stadium, the city-owned site in Winston-Salem that remains closed. 
"After getting the letter from the governor's office, I met with the county manager, county attorney, county commissioner," Johnson said Friday. "We talked, and they told me to go on — I even met with the district attorney. We are prepared to issue a citation, as the governor ordered me to do.
"I don't agree with it, under the circumstances under the orders that have come out and what exists at this time. But I intend to follow the order." 
Failure to comply with Cooper's order results in a Class 2 misdemeanor, according to the letter. Johnson said that would be issued to the track owner. 
Johnson said he received the letter from Cooper's office Thursday night and convened with his administrative staff Friday morning with Alamance County manager Bryan Hagood. The meeting included Clyde Albright, the county attorney, along with county commissioner Amy Galey.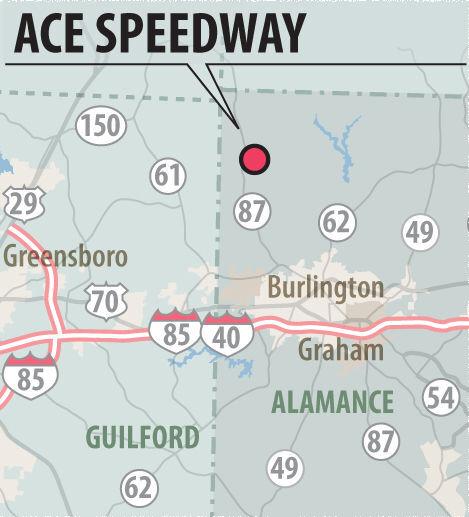 Ace Speedway announced via social media Friday afternoon it would postpone its races, scheduled for Friday night, to Saturday because of the threat of rain.
Galey deferred questions to the Alamance County Sheriff's office, citing it as a law enforcement issue. Jason Turner, the co-owner of Ace Speedway along with his father, Robert, declined to comment on the letter from the governor's office.
According to Johnson, the speedway aimed to host what he described as a "unity race." The event, he said, was geared toward rallying the community after the death of George Floyd on May 25 in Minneapolis. Johnson argued the race at Ace Speedway is no different than Cooper marching with a crowd of protesters outside the Executive Mansion on June 1 with his mask down, exposing his face. 
"What's the difference between them having a unity night to try and bring our community together after the shooting of Mr. George Floyd to work together to have some of these issues dealt with?" Johnson said. "That's no different than the governor marching with 2,000 people in downtown Raleigh. And it's hard for me to sit there and say, 'Sir, I know but I don't have nothing to do with that,' when the governor is issuing the order to write a citation. 
"It puts me, as the sheriff, in the middle. And I've told my staff and the county officials, 'I feel like a hockey puck being knocked all over the floor.'" 
William C. McKinney, general counsel for the governor's office, sent the letter to Galey, in addition to Johnson, and copied it to Albright and owner Robert Turner. Cooper, on May 26, called the decision to host a large crowd at Ace "dangerous and reckless."
"To date, it appears that some Alamance County officials have not sought to enforce the Order against Ace Speedway, notwithstanding that, as further explained below, Ace Speedway has continuously and flagrantly violated the plain and unambiguous language of the Phase 2 Order," McKinney's letter read. "Those violations pose a serious risk to the health of people in Alamance County and throughout the State." 
Burlington was listed by the New York Times in late May as having the highest daily growth average of deaths from COVID-19. Ace Speedway held its second race May 30. 
Johnson noted Cooper's initial order exempted religious gatherings and additional events, in which First Amendment rights were exercised. He said clarification was requested on those events through a letter sent by Albright. He said another request was made during a conference call that included Cooper's staff. According to Johnson, Thursday night's letter was the first clarifying correspondence he's received, aside from a call from the governor's office last week.
The Times-News of Burlington first reported that Johnson, at Cooper's request, appealed to Turner to call off the May 30 races about 5½ hours before the green flag. Johnson recalled Friday that he ventured to the track about 1 p.m., delivered the message and left.
He said Saturday's races fall under the First Amendment. 
"They were going to have signs," Johnson said. "From my understanding, they were going to have the pace car would go around and asking for unity of our nation for what is going on. You know, the fires, the tax on law enforcement, burning of buildings and stuff. 
"And, by doing that, to me, that gives them the First Amendment right to protest peacefully."