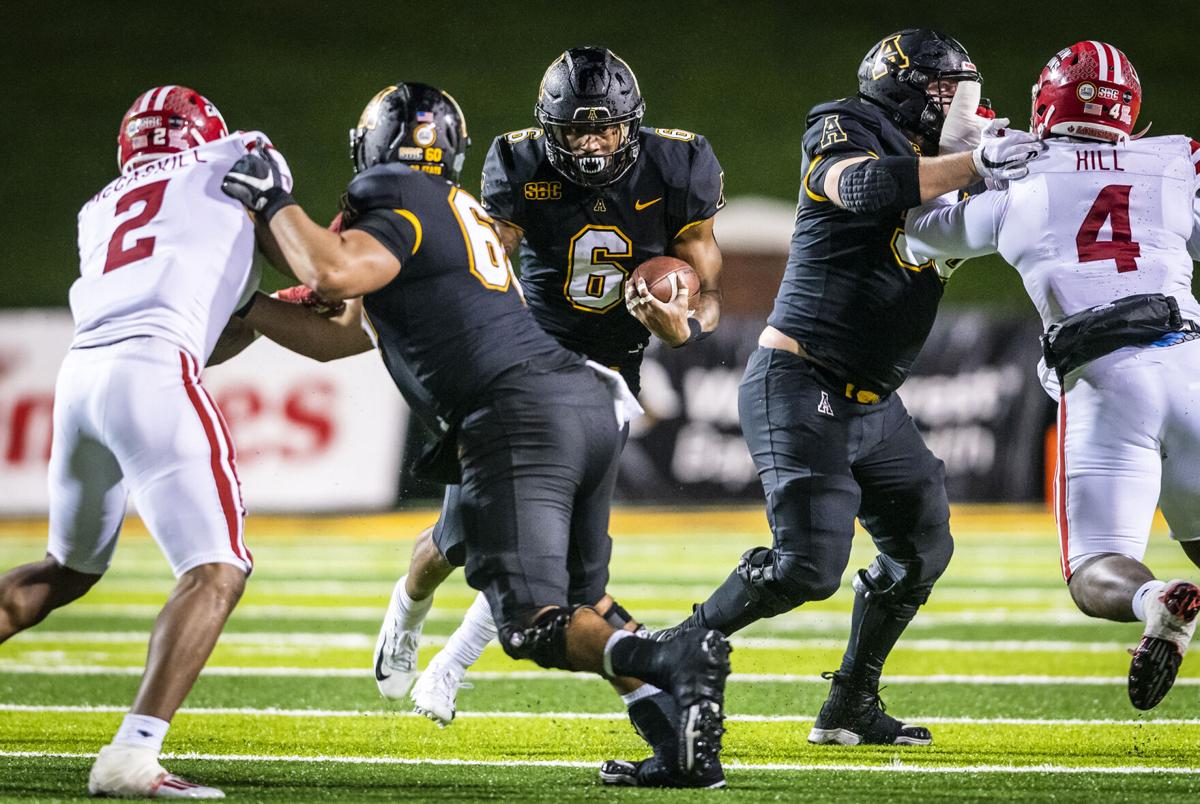 Appalachian State's football team has been selected as the co-favorite to win its division in the Sun Belt Conference. 
Nine Mountaineers are predicted to land places on the All-Sun Belt team: six on the first team and three on the second team. 
App State and Coastal Carolina were picked as the likely East Division winners, earning 44 points each in voting by the 10 head coaches and a journalist who covers each of the schools. The Chanticleers garnered six first-place votes, while the Mountaineers had four. 
Coastal Carolina, which went 11-1 in 2020 and finished at No. 12 in the final College Football Playoff rankings, defeated App State 34-23 last season. The teams will meet in Boone on Oct. 20.
Running back Cam Peoples, offensive linemen Baer Hunter and Cooper Hodges, defensive lineman Demetrius Taylor, linebacker D'Marco Jackson and defensive back Shaun Jolly represented App State on the first team. 
Running back Daetrich Harrington, wide receiver Thomas Hennigan and linebacker Brendan Harrington are predicted to make second team. 
Six of those nine are either seniors or super seniors. Hunter, a West Forsyth grad; Taylor; and Hennigan opted to return for one more season with the NCAA granting another year of eligibility for the 2020 season.
Louisiana is the heavy favorite of the West Division, getting nine of the 10 first-place votes.
Coastal Carolina quarterback Grayson McCall is predicted to win player of the year, and Troy linebacker Carlton Martial is the favorite for defensive player of the year. 
The Mountaineers will open the season at 7:30 p.m. Sept. 2 at Charlotte's Bank of America Stadium against East Carolina.
2021 ALL-SUN BELT CONFERENCE PREDICTIONS
T1. Coastal Carolina (6) – 44
T1. Appalachian State (4) – 44
2. Arkansas State (1) – 38
Offensive Player of the Year
Grayson McCall, Coastal Carolina
Defensive Player of the Year
QB – Grayson McCall, Coastal Carolina
RB – Camerun Peoples, App State
RB – Destin Coates, Georgia State
OL – Baer Hunter, App State
OL – Shamarious Gilmore, Georgia State
OL – Cooper Hodges, App State
OL – Austin Stidham, Troy
OL – O'Cyrus Torrence, Louisiana
TE – Isaiah Likely, Coastal Carolina
WR – Jalen Tolbert, South Alabama
WR – Jaivon Heiligh, Coastal Carolina
WR – Sam Pinckney, Georgia State 
DL – Jeffery Gunter, Coastal Carolina
DL – CJ Brewer, Coastal Carolina
DL – Demetrius Taylor, App State
LB – Carlton Martial, Troy
LB – D'Marco Jackson, App State
LB – Silas Kelly, Coastal Carolina
DB – Derrick Canteen, Georgia Southern
DB – Shaun Jolly, App State
DB – D'Jordan Strong, Coastal Carolina
DB – Bralen Trahan, Louisiana
K – Noel Ruiz, Georgia State
P – Rhys Byrns, Louisiana
RS – Chris Smith, Louisiana