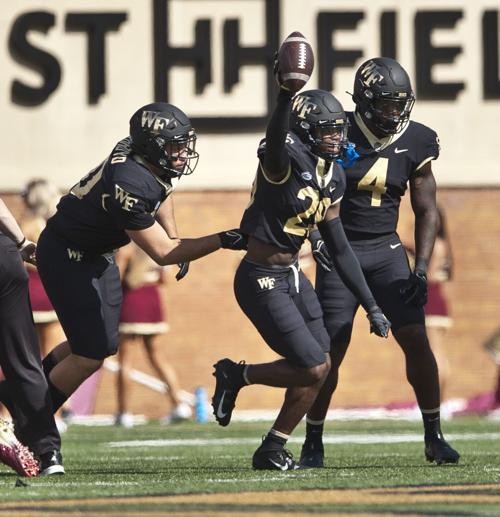 Wake Forest gets the Friday night treatment in Charlottesville for its first road football game of the season.
The Deacons will travel to take on Virginia after an emphatic start to ACC play: a 35-14 victory against Florida State in which Wake Forest controlled throughout.
During a 2020 season that ended in disappointing fashion, thanks to game cancellations and COVID fatigue, Wake Forest's 40-23 win against the Cavaliers was a high point.
To discuss this week's matchup, the Journal tapped Bennett Conlin, the Virginia beat writer at the Daily Progress in Charlottesville, to learn more:
EJ: Bennett, You were two points away from seeing a 100-pointer on Saturday, which is always something to cover. Here's our starting point: I couldn't believe how back-and-forth your assignment was. Twenty-one points for UNC in the first quarter, 21 for UVa in the second, and the the Tar Heels pulled away finally with 21 more in the third (they won, 59-39).
What was the difference that led to UNC's second-half breakaway from the Cavaliers?
BC: It's a pleasure to be included in the email exchange, Ethan. If Friday's game comes anywhere close to matching the offensive firepower in the Virginia-UNC game, we're in for a treat ... and a challenge fitting all of the scoring into a game story.
The matchup with UNC was strange. The Tar Heels jumped all over UVa's defense on their opening possessions, at one point opening up a 24-7 first-half lead. Sam Howell's team led 24-14 and was driving down the field when Howell tossed an interception in the end zone to Fentrell Cypress.
UVa turned that interception into a touchdown drive, and the Cavaliers added another score before halftime after a missed 54-yard field goal by North Carolina. UNC proceeded to score touchdowns on all five of its second-half possessions, turning a 28-24 halftime deficit into a beatdown.
What changed for UNC? Not much, honestly.
UNC's only drives that didn't end in points Saturday came on Howell's interception in the end zone and the missed field goal. Eight of the team's 10 drives went for touchdowns. UVa didn't force a punt!
In the first half, a turnover and a missed field goal by UNC gave Virginia the edge. In the second half, UNC's offense went 5-5 on touchdown drives, while UVa's offense threw an interception, settled for a field goal and punted once. That wasn't enough to keep pace.
The defensive showing has UVa a bit concerned, especially with what appears to be a solid Wake Forest attack coming to town on a short week.
EJ: Wake Forest is flirting with being real dangerous at this point. Three home games and three victories have built up some confidence in the Deacons. Florida State was the first clear benchmark — and I use that term lightly — for the season so far, with the first two games against Old Dominion, which hadn't played since 2019, and Norfolk State, an FCS program.
Their offense looked great against FSU and likely would've scored even more points without an interception to start the game.
The UNC stats were almost wacky. You know what, I take that back — they were wacky. UVa's defense allowed 699 yards, and that's a performance that indicates multiple in-game issues. Has Coach Bronco Mendenhall or players addressed what they saw as the glaring issue that snowballed?
BC: Oddly enough, Mendenhall liked the team's defensive effort level. While the energy was there, Mendenhall hinted that individual players turned a passion to make tackles into careless mental errors. In his estimation, defenders were out of position to make plays because they often tried to do more than they're supposed to within the scheme. I found that comment interesting given the number of veterans on the defense.
Horrible tackling coupled with missed assignments led to plenty of defensive mistakes and a bunch of UNC yards. We'll see if the Cavaliers can actually fix those issues on a short week.
It's also worth noting that UNC's skill players were simply more talented than the skill players at William & Mary and Illinois. UVa dominated those less athletic offenses, allowing just 14 combined points.
Sam Hartman seems like he's leading a balanced Wake Forest attack with a few different offensive weapons. Is there anyone in particular who can test UVa's inconsistent defense?
EJ: I'll tell you who's been a blast to watch so far: A.T. Perry.
Perry has been on Wake Forest's campus for a bit, but the wide receiver is turning 2021 into his step-up moment so far. You really got to see the start of that in fall camp, but he's proving it now.
Against Florida State, I was legitimately shocked at how open he was on any given play. He set two career highs — seven receptions and 155 receiving yards to go along with his score against the Seminoles — and he'd just set that receiving yardage high in the season opener against Old Dominion.
The problem he really creates now helps to take attention off other guys like Jaquarii Roberson, an all-ACC wide receiver pick. Wake Forest losing Donavon Greene to a season-ending injury before the season sure stung, but Perry is helping the offense navigate just fine. Kind of makes you wonder what it would've looked like with Greene in the mix, too.
Is there a player or two that will be burdened with the coverage of Perry and Roberson? Who do you expect to play a factor in the defensive backfield?
BC: UVa, in part due to the trust in its secondary and in part due to some questions at linebacker, has leaned on a 3-3-5 scheme at times this fall. UVa loves Joey Blount and Nick Grant at safety, and Blount can be impactful when he's healthy.
Antonio Clary, Fentrell Cypress, De'Vante Cross and Anthony Johnson are other names to watch in the secondary. Cypress snagged an important interception in the opening half against UNC. North Dakota State transfer Josh Hayes might see his first action of the season Friday after dealing with injury in fall camp. Hayes figures to work into the mix at cornerback, and he's a quality player.
I'd say UVa's depth exceeds its talent in the secondary. UVa probably doesn't have a Day 1 or Day 2 NFL Draft pick in the defensive backfield, but when the group communicates well and tackles effectively, the results can be impressive. The tackling stunk against UNC, and a team like UVa can't afford poor tackling in the secondary against teams with superior athleticism.
Speaking of defensive backfields, admittedly not my smoothest transition, how in the world does Wake Forest plan to stop UVa quarterback Brennan Armstrong? Virginia fans went from some questions about Armstrong during the early stages of last season to currently believing he's the best quarterback in the ACC. After a 554-yard passing performance against UNC, I can't blame them for trusting their signal caller.
EJ: Wake Forest coach Dave Clawson brought up really interesting points about about the Virginia offense during his weekly press conference. What stuck out to me was a comment he made regarding personnel groups. Clawson said the staff identified nine different offensive personnel packages when looking through film. Now, he said Wake Forest likely wouldn't see all of those in game, but it's still a lot to prepare for.
Plus, the sheer flexibility of skill players and the moving parts pre-snap put a burden on the mental side of the game. And I say that before I even mention Armstrong, who is someone I'm excited to see live as an observer of ACC football.
The Deacons feel strongly about their DB group because of the depth they've established there. Injuries have challenged the program in recent years, and the defense got peppered with that problem occasionally. Frankly, the defensive backs group is just plain fun. Your starting corners are a seasoned presence in Ja'Sir Taylor and a budding star in Caelen Carson. The safety combo of Nasir Greer, Coby Davis, Zion Keith and Nick Andersen (who hasn't played the first three games due to a fall camp injury) can fly, and Traveon Redd might be the most versatile guy on the field in Wake Forest's rover position (which acts as an extra DB on the field).
I think they really have the pieces to challenge Armstrong. But he's proven time and again that he can answer what opponents throw at him. I know we're both going to be interested to see how it pans out — it's part of our job, for goodness sakes!
See you on Friday, Bennett.