Bill Oakes, the former director of the Winston-Salem Open, is back in professional tennis.
Oakes has been hired as a senior adviser for the Citi Open in Washington. The ATP 500 event will be held in mid-August just before the doubleheader in New York City that will include Cincinnati's Western & Southern Open and the U.S. Open.
The Citi Open is scheduled for Aug. 14-21 at Rock Creek Tennis Center in northwest Washington, likely without spectators.
"It's fantastic that they have worked through this this pandemic, and it's great the Citi Open will be the first tournament back," Oakes said.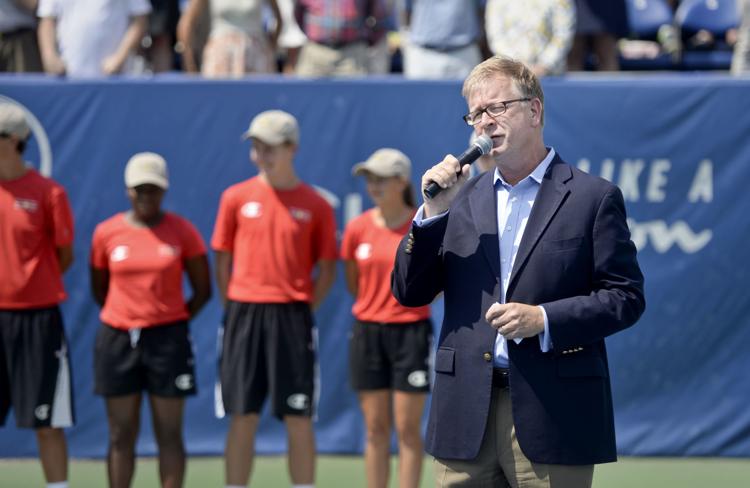 Oakes, 55, will lend his vast knowledge of professional tennis to Mark Ein, who owns Kastle Systems International and owns the tournament. Ein, a venture capitalist, and Oakes grew up together, attending Bethesda Chevy Chase High School in Bethesda, Md.
"We were actually ball boys at the tournament years ago, and I can remember being on the court when (John) McEnroe was playing like in 1978," Oakes said of the Tour's fourth-longest running tournament. "So Mark and I have been friends for years and I just think this is a great opportunity. Through the years we've stayed in touch and have been friends, and I've known Keely (O'Brien, the tournament director) for 15 years, so getting a chance to work with friends makes it that much better."
Ein said: "Bill's one of the best tennis executives in America and when we had the chance to get him on our team we jumped at it. We're so lucky to have him and his experience, so we think it's a very big deal to have him on board."
Ein said the two grew up a few blocks away from each other.
"It's funny because Bill's mom used to run the ball kids program and he and I were on the courts a lot during those days," Ein said.
Ein said saw Oakes at an ATP meeting last year after he'd bought the interest in the Citi Open.
"I saw him and we started talking and I called him 'Billy,'" Ein said. "And he said nobody has called him Billy in about 40 years, so he's Bill to me now. But like I said earlier, we're just so thrilled to have Bill with us on our team."
The Citi Open, first played in 1969, is one of 16 tournaments in the ATP 500 series. The Winston-Salem Open is an ATP 250 event. The Winston-Salem Open, which was canceled for 2020 but will celebrate its 10th anniversary next August, has a total purse of $835,000 with the Citi Open's purse at $2.1 million.
"You get more points, and the prize money is higher," Oakes said, comparing the two.
The Citi Open has had women's and men's draws, but Ein said it's not clear yet whether women will compete in August.
Andre Agassi has the most all-time victories in the tournament winning five times in the 1990s. Andy Roddick also won the tournament three times.
Australian Nick Kyrgios is the defending champion.
Oakes spent the last nine years as the Winston-Salem Open tournament director before he resigned in January to pursue other opportunities. Oakes also was a senior associate athletics director at Wake Forest working under Ron Wellman, who retired as athletics director in May 2019.
Before arriving in Winston-Salem, Oakes spent 15 years at ProServ, a sports marketing agency based in Atlanta. He was also the tournament director for the ATP tournament in Atlanta. Oakes also is a former director of marketing and sales for the USTA's Southern Section.
"Our field is going to be exceptional because the players have been idle for so long," Ein said. "We're working toward being that first tournament back, and Bill's excited about it. We are all kind of working at a fast pace because our tournament will be here soon."