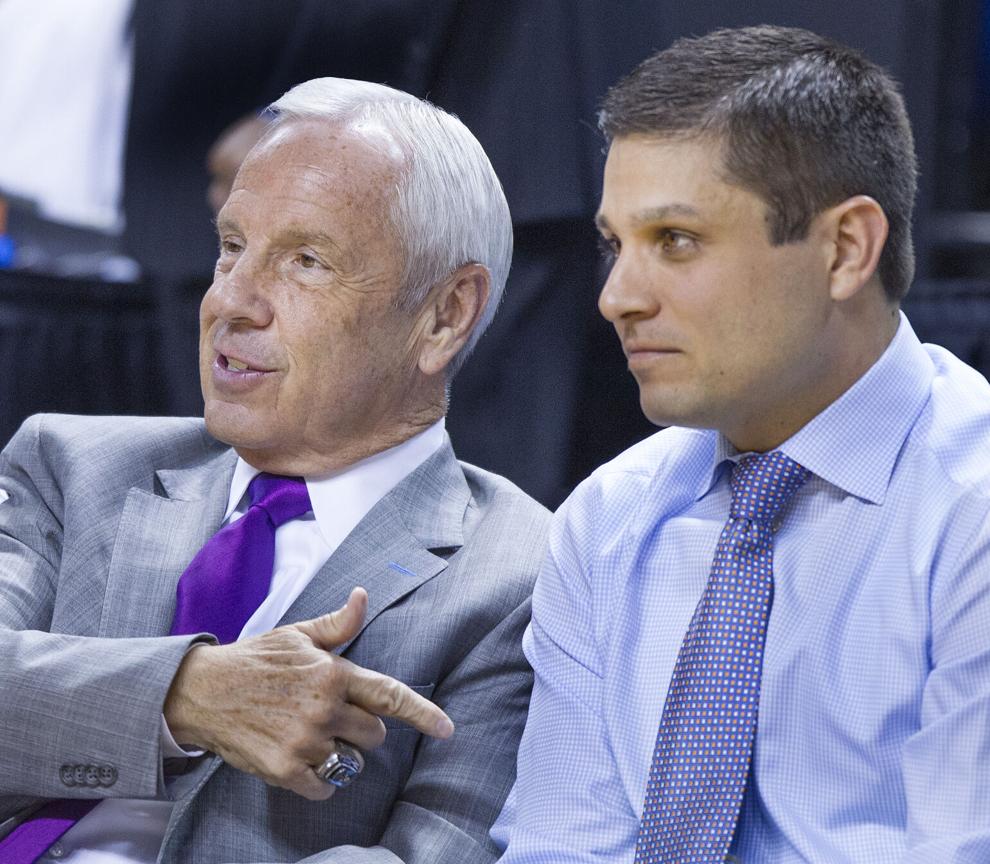 GREENSBORO — UNCG's Wes Miller might not be the next men's basketball coach at North Carolina, but he will be part of the conversation. The former Tar Heels player has earned his spot at the "family" table with five straight 20-win seasons and with two NCAA Tournament appearances in the last five years with the Spartans.
Miller's name has been mentioned in recent years as a potential successor to Roy Williams when the Tar Heels coach eventually decided to retire. Eventually came sooner than some expected when Williams announced his decision Thursday to step down after 18 years at UNC.
Three of those years were spent coaching Miller, including a 2004-05 season that ended with a national championship for the Tar Heels.
What makes Wes Miller a contender for one of the premier jobs in college basketball at the age of 38? First, and maybe foremost, he's a part of the Carolina family as a former player and as a Williams protégé.
The Greensboro native transferred from James Madison to UNC after one year with the stated intention of becoming a college basketball coach and learning as much as he could from Williams.
Miller and UNCG athletics director Kim Record did not respond to interview requests Thursday, but in 2019, Miller told Jeff Mills that playing for Williams at North Carolina "was life-changing."
"I always wanted to coach, and so I had this incredible experience playing for a Hall of Fame coach. … What makes him different, to me, is that I didn't just learn because I was there but because he embraced that I wanted to coach while I was playing," Miller added. "And he's embraced that ever since I got done playing."
Miller, for his part, has embraced the Carolina Way as taught by Williams. That's one thing that could make a coaching transition to Miller relatively smooth.
Miller's UNCG program values defense first and his teams share the ball, run and pressure opponents. That sounds a lot like the Tar Heels under Williams, doesn't it? Miller also has shown an ability to adapt the Spartans' playing style to his personnel and a willingness to embrace analytics and the 3-point shot.
It took a few years for Miller to grow from an assistant who took over as interim head coach when Mike Dement resigned in December 2011. The Spartans' record after his first five seasons was 60-92 overall and 39-46 in the Southern Conference. Since then, Miller's teams have gone 125-43 overall and 70-20 in the league with two NCAA appearances and two NITs.
One of the sayings Miller has posted prominently on the wall is that UNCG is a "growth program." He has the numbers to back it up.
Something that Miller's Spartans haven't done consistently and that he would have to do nearly every night as North Carolina's coach is beat teams from Power 5 conferences. In the last five seasons, UNCG is 1-10 against teams from the nation's top five leagues, including 1-7 against ACC teams.
It's obviously harder to beat ACC teams with SoCon players, and Miller's Spartans have pushed such national programs as Gonzaga, Kansas, Kentucky and Florida State on the road or on neutral courts. But to compete in the ACC, you have to recruit ACC-caliber talent.
Miller has had some outstanding players, including two-time SoCon player of the year and three-time defensive player of the year Isaiah Miller, but they have typically been under-the-radar recruits who have developed in the Spartans program. Miller would not only be expected to develop players in Chapel Hill, he would be tasked with bringing four- and even five-star recruits into the program. That's what's required to compete in a league where Duke, Louisville, North Carolina and Virginia have won the NCAA championship in the last nine years.
Could he do it? That's a question that can't be answered unless he gets the job.
But Wes Miller checks a lot of boxes as a potential successor to Roy Williams as North Carolina's coach.