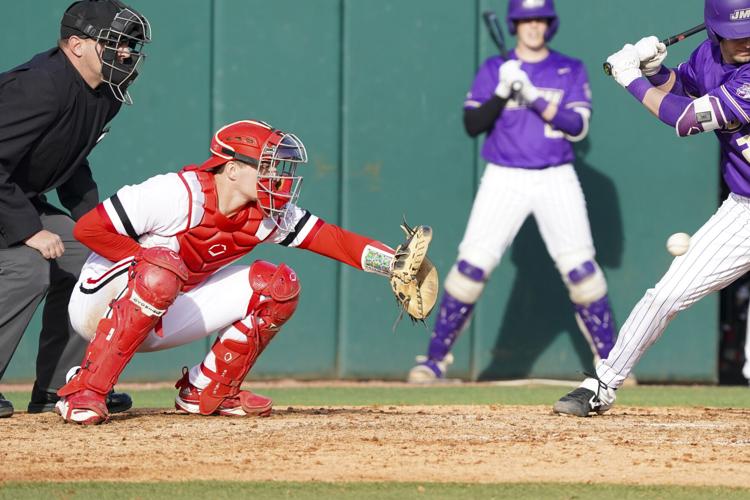 GREENSBORO — Patrick Bailey is only 21 years old, but for at least nine years baseball coaches have known he was destined to be one of the best catchers in the country.
Scott Bankhead saw it when he had Bailey, then a seventh-grader, catching college pitchers at the N.C. Baseball Academy.
Scott Davis saw it when he made Bailey his starting catcher when Bailey arrived at Wesleyan Christian Academy in High Point as a sophomore, and Davis allowed him to call pitches for three years.
And Elliott Avent and his coaching staff saw it at N.C. State when they made Bailey a starter from day one and also trusted him to call pitches for three seasons.
Confirmation of what all those well-respected coaches and others saw will come Wednesday night when Bailey will be selected in the first round of the annual Major League Baseball draft. Most mock drafts project the 6-foot-2, 205-pound switch-hitter to go in the top 20 picks.
While the draft will be held virtually this year, Bailey says it still will fulfill a dream he's had since he started catching when he was about 10 years old.
"I don't think it will be any less magical," the Greensboro native said in a recent Zoom conference. "It's been a dream of mine since I was a kid playing tee ball. This is kind of the starting flag for my dream of playing in the major leagues."
'As natural as I've ever seen'
The road to professional baseball started when Bailey was playing for Bankhead's teams as a 10-year-old at the N.C. Baseball Academy. Bankhead, who grew up in Reidsville, spent 10 years in the major leagues. As a former pitcher, he knows what a good catcher looks like.
"From the get-go his ability to catch the ball from the position was as natural as I've ever seen," Bankhead says.
But Bailey didn't start out as a catcher.
"Like all 10-year-olds he was playing shortstop and pitching and doing everything like he should at that age," Bankhead says. "But as we started to notice he had some interest in catching it was very obvious from the get-go that it was a very natural thing for him to do."
Bailey lived "like a minute" from the academy and by the time he was 12 or 13, "He would call me over and give lessons to local college guys," the catcher said. "He didn't want to catch them, so I got back there and was catching college guys in seventh, eighth, ninth grade. At that age, I was freaking out a little because I'm catching this 18-, 19-, 20-year-old guy."
Bankhead had him catching "kids who were throwing 85 miles an hour or more," he said. "He was never intimidated by that. At first, people would look at him because he was small and say, 'Is this kid OK to catch me?' … At the end they'd say, 'That kid is going to be special one day.' "
Those sessions catching pitchers who were sometimes seven or eight years Bailey's senior "fueled the fire for getting behind the plate," he says, "and I learned the pitching side of things through Bankhead. I began to love working with pitchers and trying to get the best out of them."
And no matter how much Bailey learned from Bankhead and the college pitchers at the academy, he always wanted to learn more.
"He's a student of the game," Bankhead says. "He enjoys the relationship he has with pitchers. He enjoys setting up hitters and trying to use the pitcher's best pitches on any particular day or to any particular batter."
Would Bankhead have been comfortable with Bailey as his catcher?
"He's as good as any I ever threw to, but I never saw those guys at a young age like him," he says. "He's somebody that anybody would like to throw to."
The pitchers' choice
The pitchers at Wesleyan figured that out almost immediately after Bailey, who had been home-schooled, enrolled at the High Point school as a sophomore. The Trojans already had two senior catchers and coach Scott Davis was going to use one behind the plate and one in the outfield, but Bailey changed those plans.
"Our pitchers loved throwing to him," says Davis, who retired in 2019 after coaching the Trojans for 18 seasons. "I had talked to each of our pitchers about him in our one-on-one meetings prior to that and asked them who they felt better throwing to, and every one of them said Patrick. It wasn't a hard decision for me."
Even before Wesleyan's pitchers worked with Bailey, Davis knew his new catcher was something special. Davis, whose son Luke had played on N.C. Baseball Academy teams with Bailey since they were 10 years old, would give his players a manual or playbook each January outlining the program's philosophies and coverages. Bailey came to him in August and asked to get a copy as soon as possible and immersed himself in it a few weeks later.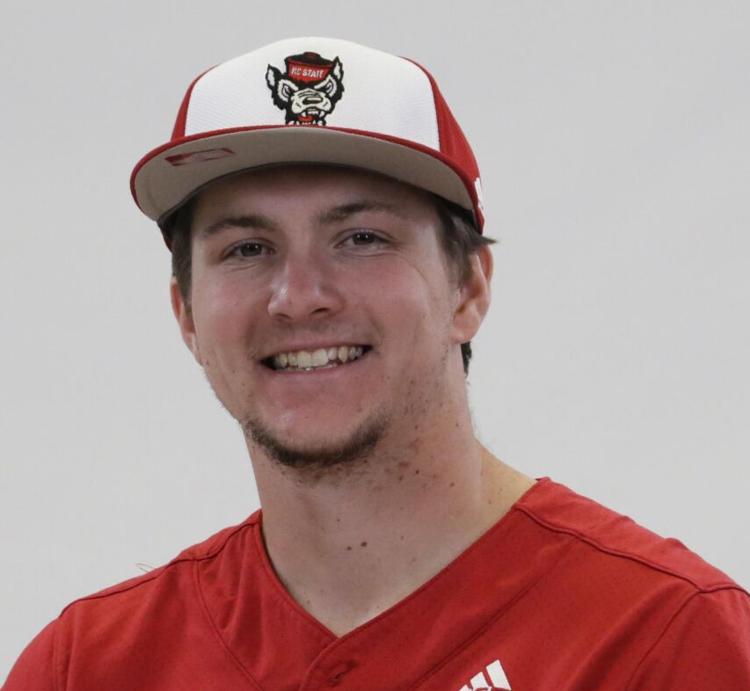 "I knew right then he was special because he was wanting to make sure he was prepared for our indoor workouts," Davis says. "A week or two into those workouts it became very evident that Patrick was going to be our starting catcher and it wasn't going to be that difficult a decision."
After that season, college baseball coaches began to take note of Bailey, and he committed to N.C. State.
In Bailey's final two seasons at Wesleyan the Trojans won NCISAA Class 3-A state championships and he was an HSXtra.com All-Area selection, capped by player of the year honors in 2017. Only two runners attempted to steal a base on him, and both were thrown out by at least 10 feet. But Bailey's most impressive accomplishment as a high school player was that Davis and his coaching staff trusted him enough to let him call pitches.
"I never let anybody else call pitches other than my staff or myself," the former Wesleyan coach says, "because I didn't want those kids to have the responsibility of losing a game on a bad pitch."
The Trojans only lost nine times during Bailey's three seasons behind the plate. He played for the USA Baseball 18U team in the fall of 2016 and was drafted in the 37th round by the Minnesota Twins after finishing his career at Wesleyan. Bailey would have gone much higher, but he had made it clear that he intended to play at N.C. State, and he honored his commitment and went on to be named the ACC's freshman of the year in 2018.
"When he left us he was the best high school catcher in the United States," Davis says. "He was a switch-hitter, he was the best framer in the United States, he blocked the ball, his aptitude was off the charts and his preparation was unbelievable. He was essentially a coach on the field."
Bankhead continued to work with Bailey at the N.C. Baseball Academy and continued to rave about what kind of catching prospect the youngster was.
"I told some scouts when he was in high school that he could be, right then and there, a backup catcher in the big leagues as far as his catching, throwing and blocking ability," Bankhead says.
'He's just so advanced'
But first, Bailey had to hone his craft as a catcher and continue his development as a hitter at N.C. State.
Davis, a former Wolfpack player, says it only took "about five minutes" for coach Elliott Avent to offer Bailey a full scholarship during a campus visit after his sophomore year. But the N.C. State coach wasn't totally sold.
"Elliott told me, 'Scott, I don't know if he's going to be able to catch here. We've got this guy and that guy,' " Davis says. "I told him, 'Coach Avent, within two weeks of the fall he will earn your starting job and he will never come out unless you just give him a day off during the week.' I knew that once his pitchers threw to (Patrick) they'd see the difference. He called a month after Patrick got there and said, 'You were right.' "
Bailey not only won the job, he showed Avent and his staff enough that they decided to let him call pitches as he had at Wesleyan. Avent says that former N.C. State and major-league catcher Colt Morton and Patrick "had an affinity for wanting to call the game, studying it and just having a knack for it. Part of that Patrick learned from Scott Bankhead when he was catching bullpens in the sixth, seventh and eighth grade."
Chris Hart, the Wolfpack's associate head coach, has earned a reputation as a catcher whisperer of sorts. Bailey will be the sixth N.C. State backstop drafted in nine years, and many of those catchers come back to help the program, including Pratt Maynard (Los Angeles Dodgers) and Andrew Knizner (St. Louis Cardinals).
"We've been fortunate to have a really good situation behind the plate through the years," Hart says, "but Patrick's the best defensive catcher we've ever had. He's just so advanced catching, he's so advanced mentally and he's the only guy in the 16 years since I've been here who's called his own game. To give a guy in college that big a responsibility is saying a lot. I'm not comparing it to football necessarily, but it would be like having the quarterback have complete control of the playbook."
Avent says that major-league scouts need to understand that Bailey is "a true catcher," not a player moved to the position to get his bat in the lineup. The Wolfpack coach says he thinks a team will draft Bailey even higher than the Nos. 10-20 range where he is projected in most mock drafts because of his defensive ability and his makeup.
"The top two things that a catcher can do for me is he can receive and he can make a pitching staff better," Avent says. "That's what Patrick does that I hope the scouts are calculating."
The only area where there are any questions about Bailey's pro potential is offensively. He's a switch-hitter who hit 29 home runs in 477 at-bats for the Wolfpack, but he also struck out 93 times while batting .302.
"Something I've been working on that teams want to see me continue to progress through is the hitting ability," Bailey says. "Even though it sucks that the season is over, something I've been able to work really hard on these past few months without playing games is my swing."
He's done "some mechanics stuff, especially with my left-handed swing," in the Raleigh area during the COVID-19 lockdown with former N.C. State player Kyle Wilson, who is the hitting instructor for the Class AAA Durham Bulls. He believes that work will pay off whenever professional baseball resumes.
"Everybody wants to hit," Avent says. "Even if you're the best defensive shortstop in the country, you're Ozzie Smith, you still want to hit. So does Patrick, and he's pretty good at it and he works hard at it. But he understands that as much as he loves to hit, he's a catcher first, and that's what he brings to the table and what's going to help his team win. He takes such great pride in it."
'You never know'
Once Bailey is drafted and signs with a club, what's next? Avent compares Bailey to former Wolfpack catcher Brett Austin, as well as some future major-leaguers he's coached against, including Jason Varitek and Matt Wieters from Georgia Tech and Yasmani Grandal from Miami.
"Whoever gets him is going to get a young man they're going to be pleased with," the N.C. State coach says. "There's nothing he doesn't possess."
Aaron Fitt, co-editor and national writer for D1Baseball.com, says Varitek might be the best comparison for Bailey.
"Every tool … that's who he reminds me of," Fitt says of the former Boston Red Sox standout. "Maybe that's too obvious a comp, but it's right there."
Hart says Bailey's defense-first approach should help him advance quickly in the minor leagues.
"There's so many different factors … but defense is what usually holds catchers back and I don't think defense will hold Patrick back," the Wolfpack assistant says. "I think they'll be very comfortable with him catching at the big-league level very quickly. It will be all about the offensive side of it, how quickly he adapts to the typical things you have to adapt to going from college to professional baseball."
Davis' most famous former pupil at Wesleyan is San Diego Padres All-Star outfielder Wil Myers, who was drafted as a catcher.
"We have been so fortunate to have so many really good players, Division I players and future professionals, but anybody who tells you they know (who's going to make it), they really don't know," Davis says. "I played with great players, several major-leaguers, at N.C. State, but you never really know. Even with Wil Myers, you knew he was super-special and a tremendous athlete, but you never know."
What Davis does know is that Bailey is as close to a sure thing as most teams will find at catcher.
"If he doesn't make it, something crazy is going on or something happened," his high school coach says. "I know whoever takes Patrick Bailey is going to have a big-league catcher in three to four years. Maybe quicker."