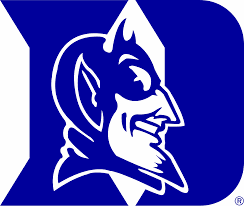 Duke Blue Devils
PG Tre Jones | 6-2, 185 | Sophomore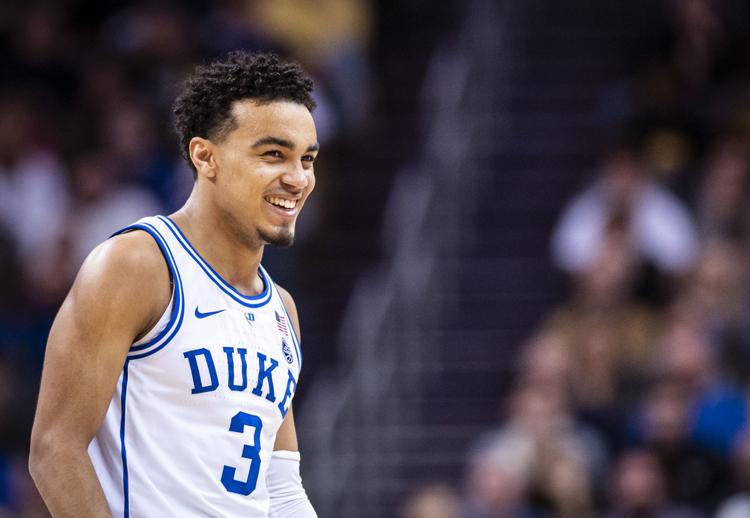 Role: Floor general and defensive dynamo
How he fits: Jones will be Duke's first starting point guard to return for a second season since the Quinn Cook era, giving the Blue Devils continuity that has been missing during the one-and-done era. The unquestioned leader of the team, Jones will average upward of 35 minutes and will have the ball in his hands more as a creator than he did in his freshman campaign. He's the engine that makes the Blue Devils go on both ends of the floor, and he'll be in the conversation for national defensive player of the year awards.
SG Cassius Stanley | 6-5, 180 | Freshman
Role: Featured Attraction
How he fits: He's not Zion Williamson, and no one is, but Stanley will have his own share of highlight-reel plays next season that showcase his freakish athleticism. It makes sense he played for Russell Westbrook's AAU team, because Stanley shows the same tenacity in his desire to attack the basket. A good enough shooter to keep defenses honest, Stanley will benefit from playing alongside Jones and Matthew Hurt. His physical gifts should translate to the defense end also, where he'll have an opportunity to be aggressive on the wing and force turnovers.
C Vernon Carey | 6-10, 275 | Freshman
Role: Next-Generation Center
How he fits: Want proof of the small-ball revolution? Just watch Carey this season as he finishes a post move with a baby hook shot on one possession then steps out to the perimeter on the next trip down the floor. With more floor spacing available this season, Carey will have an opportunity to win one-on-one battles in the lane or find open shooters on the wings. He'll certainly be Duke's top rebounder this season.
F Wendell Moore | 6-5, 210 | Freshman
Role: Glue Guy
How he fits: Whatever Duke might need on a particular night, Moore is capable of delivering. His primary strength at this point is defense, meaning he'll draw the top assignment on the wing on any given night. Offensively, Moore's game is more geared for scoring inside the perimeter at the moment, functioning best as a slasher who can finish in the lane. He's versatile, he plays hard, and Moore will find a way to positively impact the game in any role.
F Matthew Hurt | 6-9, 215 | Freshman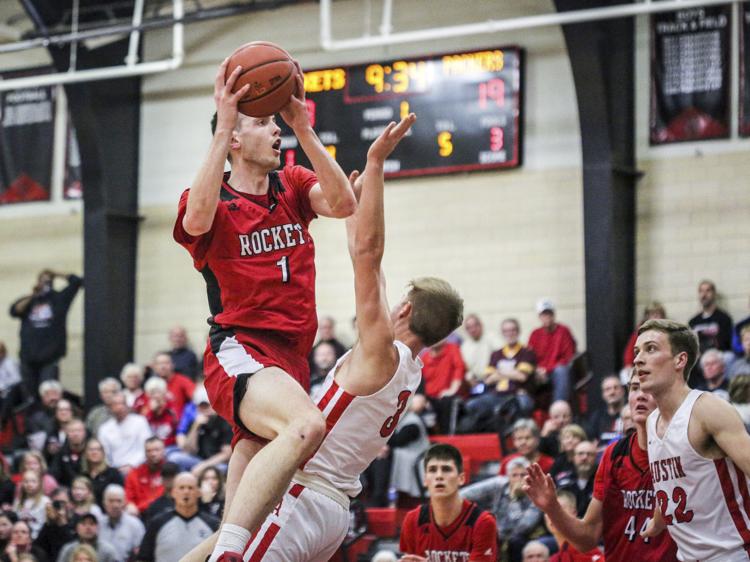 Role: Prototypical Duke Stretch Four
How he fits: Hurt said Duke's staff didn't sell him on any player comparisons, but it's hard not to see some similarities to Ryan Kelly. Hurt will be the three-point shooter Duke has desperately needed in recent seasons, but that's not the only piece of his game. Given his threat from the outside, Hurt can use his size and length to get past defenders and finish in the lane. Although his game is more perimeter-focused, he has proven he can score from anywhere on the floor.
PF Javin DeLaurier | 6-10, 235 | Senior
Role: Leader and garbage man
How he fits: Garbage man is a compliment in this case, with DeLaurier largely responsible for cleaning up after Duke's youngsters. He'll put up solid rebounding numbers and get most of his buckets on putbacks and layups, benefiting from playing alongside ultra-talented offensive stars. DeLaurier has steadily improved his ability to stay on the floor, going from 9.9 fouls called per 40 minutes as a freshman to 6.5 last season, and can be a solid rim protector.
F Jack White | 6-7, 220 | Senior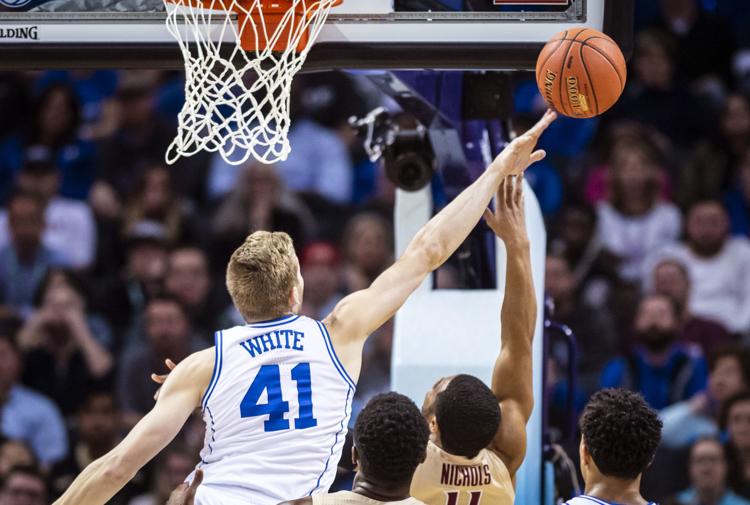 Role: Sixth Man
How he fits: White again figures to be Duke's top option off the bench and whether he stays there depends on whether he can knock down three-pointers consistently, as he did until January last season. White is experienced and has the respect of his teammates and figures to be a key contributor as a versatile, physical defender and strong rebounder.
G Alex O'Connell | 6-6, 185 | Junior
Role: Floor-spacer
How he fits: In the few occasions in which he played major minutes last season, O'Connell showed his value as a shooter and has hit 41 percent of his three-point attempts over two seasons. The Blue Devils will still need shooting off the bench, and how large of a role O'Connell plays depends largely on whether Coach Mike Krzyzewski can count on him defensively.
G Jordan Goldwire | 6-2, 180 | Junior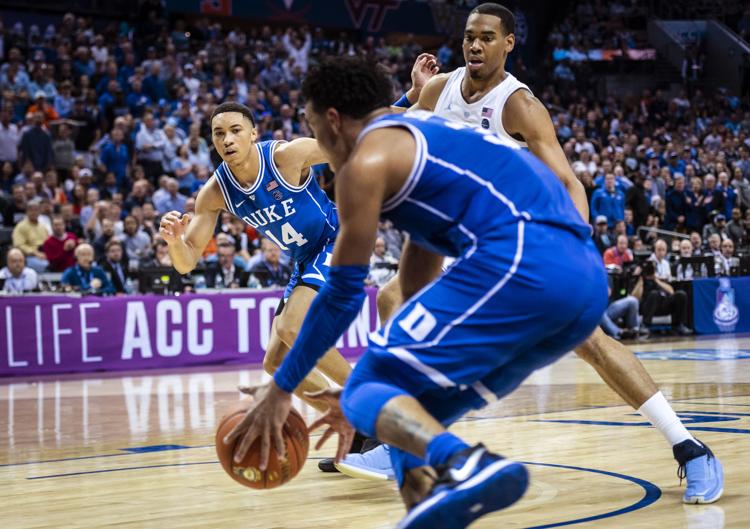 Role: Defensive pest
How he fits: The most surprising revelation on Duke's roster last season, Goldwire figures to continue in his role providing energy in the form of a defensive spark. He's not much of a threat offensively, but Goldwire has proven he can give the Blue Devils a good 15 minutes of game-changing pressure alongside Jones.
F Joey Baker | 6-7, 200 | Sophomore
Role: Spacing, maybe?
How he fits: After surprisingly seeing his first action in February, Baker played 18 minutes in four games, taking four shots. The former four-star recruit has the widest range on the bench, as he could step in and help fill the need for floor spacing while he could remain in a reserve role in what was originally supposed to be his freshman season.
F Justin Robinson | 6-10, 200 | Senior
Role: Reserve Three and D
How he fits: Robinson could see a few more minutes this season given Duke's lack of big men. He got into a few games as a sophomore for more than mop-up duty, played hard and knocked down a few open shots. If his number is called, Robinson will defend and run the floor on every possession.
Reserves
Junior guard Mike Buckmire will be joined by freshmen walk-ons Michael Savarino and Keenan Worthington, a native of Chapel Hill. Savarino is a grandson of Mike Krzyzewski and played his high school basketball at Durham Academy.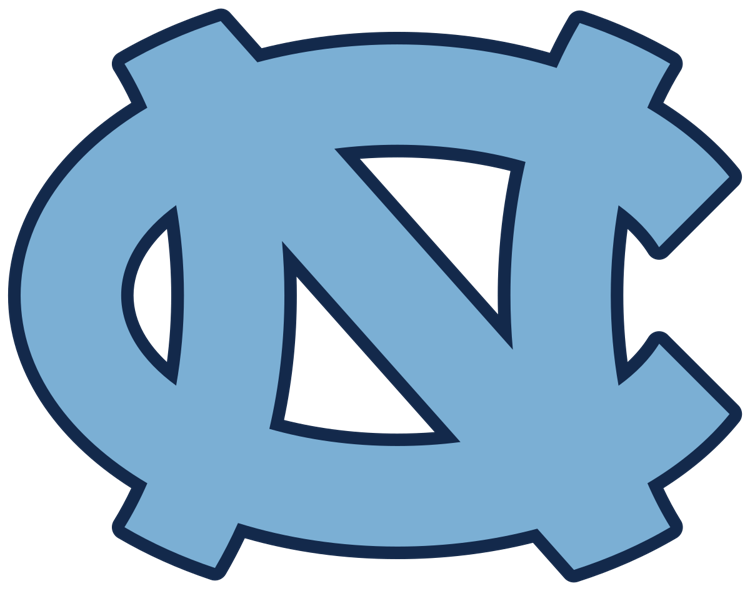 North Carolina Tar Heels
G Cole Anthony | 6-2, 185 | Freshman
Role: Freshman phenom scorer
How he fits: Coach Roy Williams loves a scoring point guard, and that's what he's got with Anthony, who projects as a top pick in the 2020 NBA Draft. Anthony is an aggressive, bouncy athlete who can get his own shot anywhere on the floor. He's improving as a long-range shooter, but his bread-and-butter is still getting to the rim and using his athleticism to finish. Anthony plays with an edge, and that translates to the defensive end, too, where his athleticism and tenacity will make him an above-average defender as a freshman.
G Leaky Black | 6-7, 185 | Sophomore
Role: Theo Pinson 2.0
How he fits: Black only briefly showed his promise before injury largely wiped out his freshman season. Expect a major leap for him as a sophomore as his versatility will make him a valuable part of the rotation. Black originally burst onto the recruiting scene as the state's top point guard prospect before hitting a growth spurt. He brings all of those playmaking skills in the body of rangy wing, and Williams has said he can envision Black's future at the point. Given Anthony's value as an off-ball scorer and a thin cast of ballhandlers, don't be surprise to see Black run the show at times.
SG Christian Keeling | 6-4, 175 | Graduate
Role: Steady, veteran guard
How he fits: Shooting is the most obvious strength for the graduate transfer who shot 38 percent from three-point range at Charleston Southern last season, but there's quite a bit more to his game as a willing passer and penetrator. Despite his size, Keeling ranked in the top-200 nationally in defensive rebounding rate last season on his way to averaging a total of 6.9 per game. Look for him be effective in transition, both as a shooter and facilitator.
F Justin Pierce | 6-7, 215 | Graduate
Role: Swiss Army Knife
How he fits: A graduate transfer from William & Mary, Pierce has the type of versatility necessary in today's game. He doesn't exactly have the look of a traditional stretch-four, but his numbers are reflective of that role, averaging 14.9 points and 8.9 rebounds last season. Offensively, Pierce can hold his own as a perimeter ballhandler and has shown the ability to knock down three-pointers, though his percentage dropped from 41.6 as a sophomore to 32.4 percent last season. Perhaps most importantly for a Williams team, Pierce ranked 73rd nationally in defensive rebound rate — a number like that automatically earns minutes in the Carolina rotation.
F Garrison Brooks | 6-9, 230 | Junior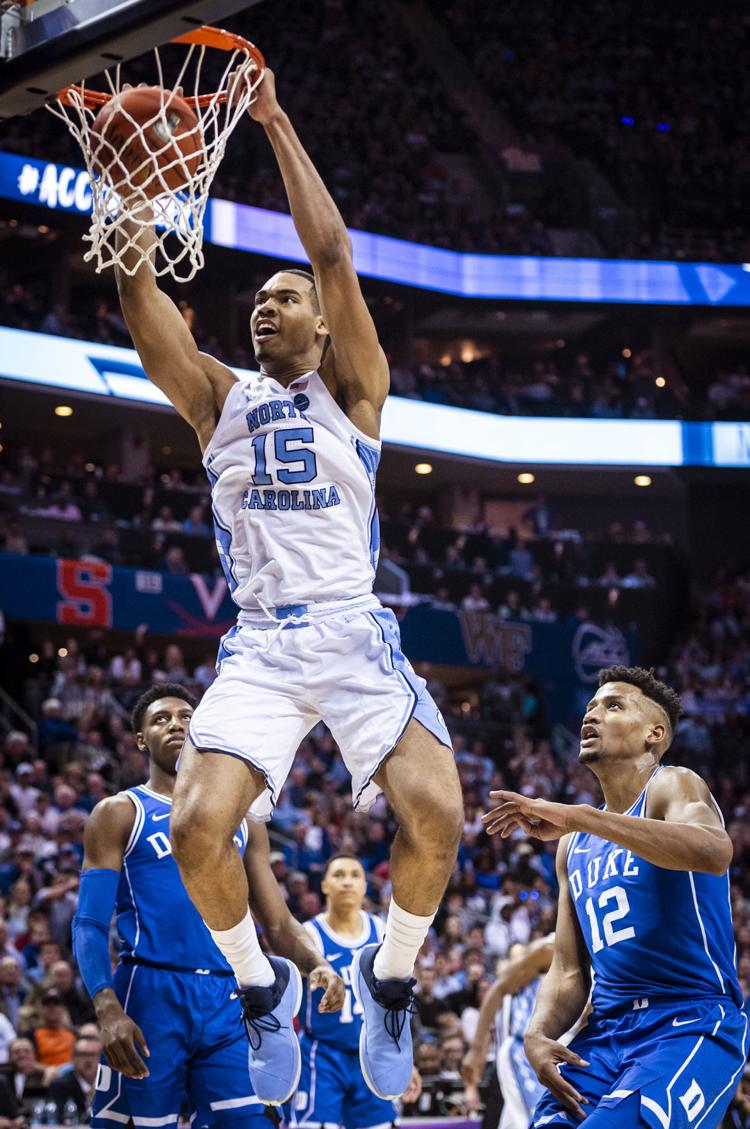 Role: Dirty-work big man
How he fits: Brooks flourished last year in a somewhat thankless role as the fifth starter among Carolina's three seniors and Coby White. Offensive touches were few and far between, but Brooks went to work on the boards and emerged as Carolina's best defender, leading the team in defensive player of the game awards from the coaching staff. Expect a few more opportunities to score as he polishes his game, but Brooks clearly embraces his role as Carolina's junkyard dog down low.
C Armando Bacot | 6-10, 240 | Freshman
Role: Traditional big man
How he fits: A McDonald's All-American, Bacot figures to be the bigger offensive threat should Williams choose to start him alongside Brooks in a two-big lineup. He's long and strong, featuring a more traditional post game, but also has the ability to step out to the high post and knock down jumpers. Rebounding will ultimately decide whether Bacot starts and plays major minutes.
F Sterling Manley | 6-11, 235 | Junior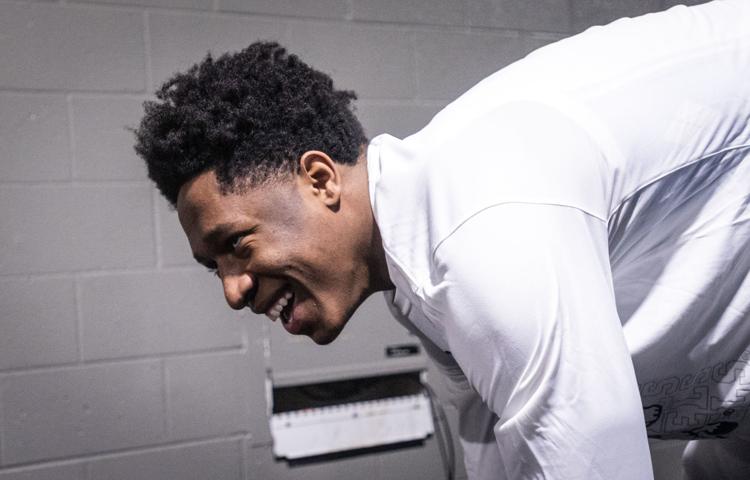 Role: Efficient post offense
How he fits: After positive moments as a freshman, Manley was limited by injury for virtually all of last season, where he began as Carolina's top post player off the bench. It's a role he'll likely reprise next season, and although he won't be playing star minutes, there's reason to believe Manley can be effective in giving the Tar Heels 15 minutes. Obviously the sample size was limited and the scale is different, but Manley's rebounding rate was similar to Luke Maye's while his offensive efficiency rating was just below. If Manley is healthy, there's a case to be made for him as Carolina's biggest surprise thanks to his length and soft hands around the bucket.
G Brandon Robinson | 6-4, 170 | Senior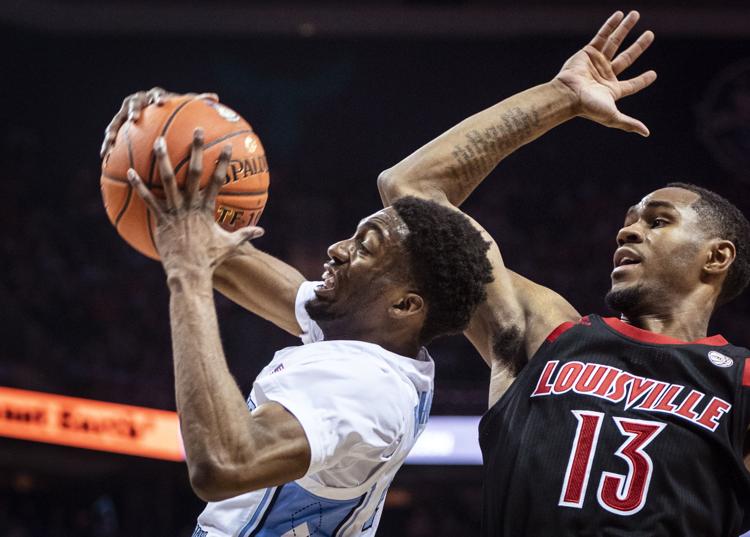 Role: X-Factor
How he fits: It's hard to believe this is Robinson's senior season, because it's rare a top-75 recruit sticks around for three seasons while averaging fewer than 10 minutes per game. Robinson saw his role grow last season, consistently giving Carolina a solid 10-15 minutes throughout ACC play. A 46-percent three-point shooter last season, Robinson's greatest strength is that he always seems to be affecting the game positively, even if it doesn't show up in his stats. In a total of 415 minutes last season, Robinson had a total of 17 turnovers while his offensive efficiency rating, regardless of minimum possessions, was second on the roster. Regardless of whether he plays 10 minutes or 20, his impact will be bigger than his numbers.
G Anthony Harris |6-3, 180 | Freshman
Role: Bench spark
How he fits: Anthony is the big name, but Harris is pretty darn good, too. A four-star recruit according to 247Sports, Harris would likely be starting at most other programs. An impressive athlete, Harris has an advanced body for his age and uses his physical ability and athleticism on both ends of the floor. Capable of playing the point or off the ball, Harris and Anthony could be a matchup problem when they're paired.
G Andrew Platek | 6-3, 200 | Junior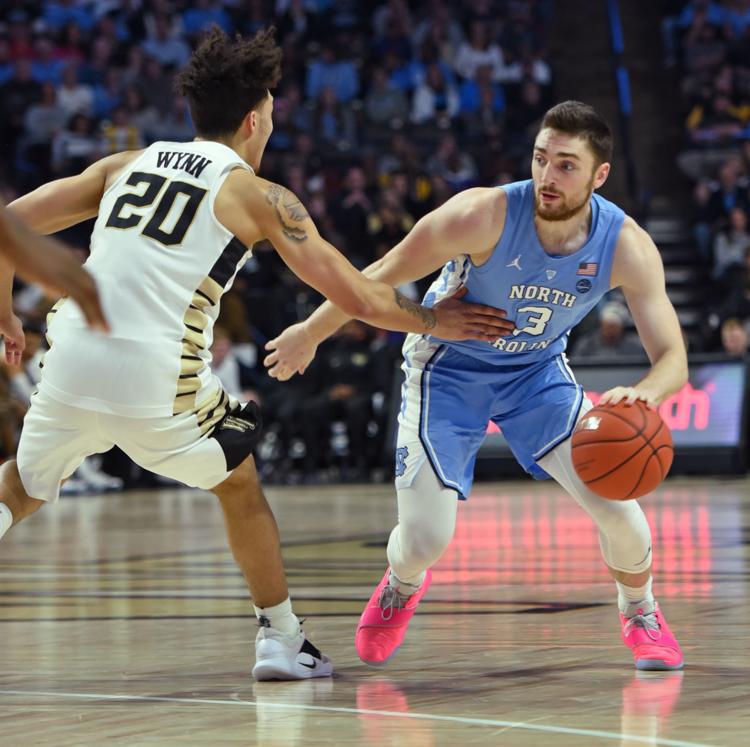 Role: Bench shooter
How he fits: After averaging 7.5 minutes as a freshman, Platek played a smaller role last season, averaging just 3.6 minutes. With another influx of perimeter talent, it's hard to see Platek finding his way into major minutes, but he is plenty capable as a shooter and could help space the floor in a pinch.
F Brandon Huffman | 6-10, 250 | Junior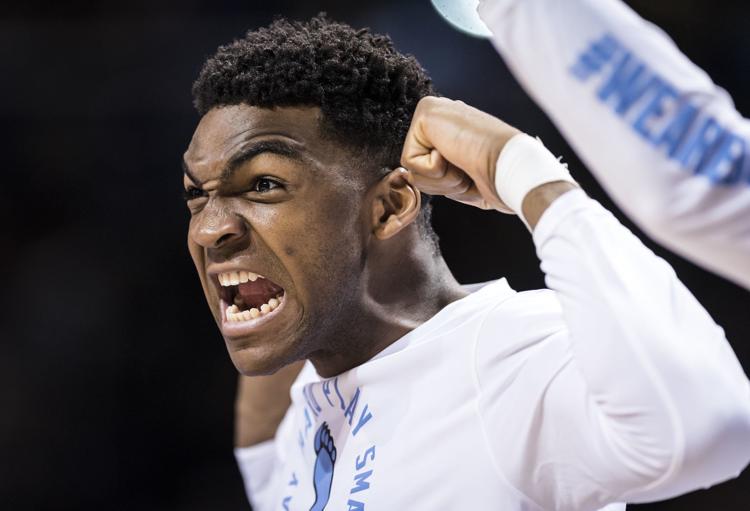 Role: Bruiser
How he fits: Huffman is a giant of a human and one of the biggest characters in the locker room. Regardless of whether he's playing, he'll offer plenty from the morale standpoint on the bench. On the floor, he can give Carolina a few minutes of brute-force strength and match up defensively against an opposing post player who is content in the lane.
PG Jeremiah Francis | 6-3, 190 | Freshman
Role: Reserve point guard
How he fits: After suffering several devastating knee injuries in high school, Francis is still getting back to 100 percent. It's unlikely he plays any significant role next season and fits the billing of a potential redshirt.
Reserves
K.J. Smith, Ryan McAdoo, Shea Rush, Walker Miller and Caleb Ellis
This isn't your usual bunch of reserves as Smith and McAdoo were both scholarship players in Division I programs before transferring to play for the Tar Heels.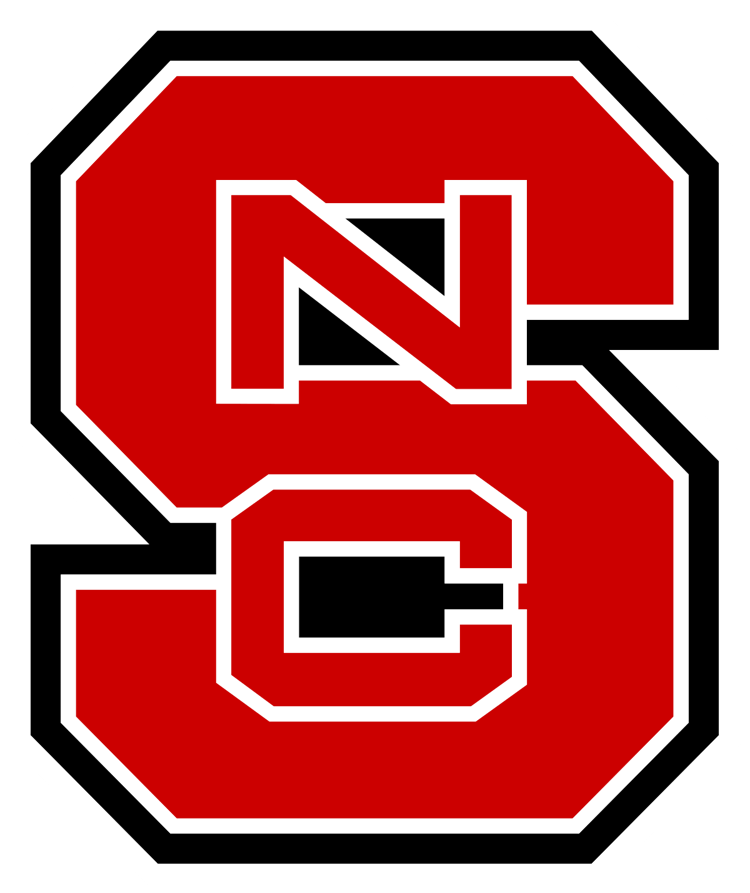 North Carolina State Wolfpack
PG Markell Johnson | 6-1, 175 | Senior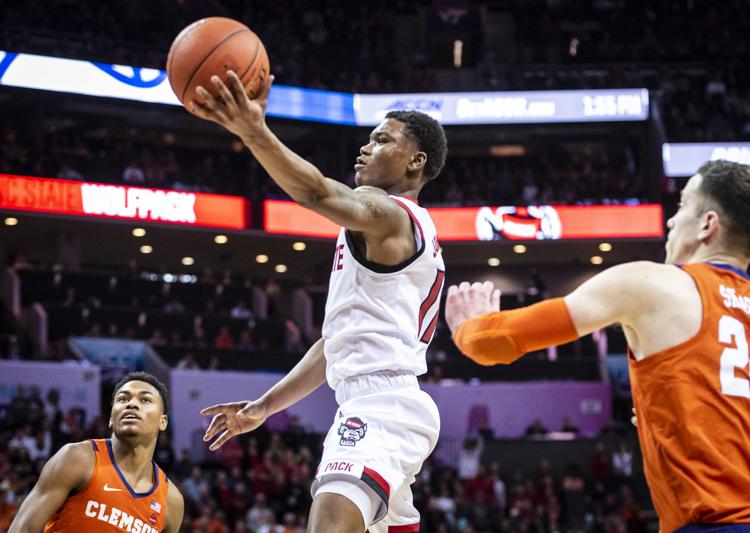 Role: Floor general
How he fits: Johnson doesn't get the fanfare of some other guards in the league, but he has quietly become one of the most well-rounded players in the ACC. He is capable of big scoring nights, fueled by hot shooting from deep or playing the role of distributor, shown by his 7.3 assist average as a sophomore. No matter what he's doing on any given night, if he's engaged and efficient, State wins. With the amount of offensive talent surrounding him, Johnson won't have to press his offensive game next season. Get the Wolfpack organized, set his guys up and knock down open shots, and State should have one of the nation's most efficient offenses.
G Braxton Beverly | 6-0, 180 | Junior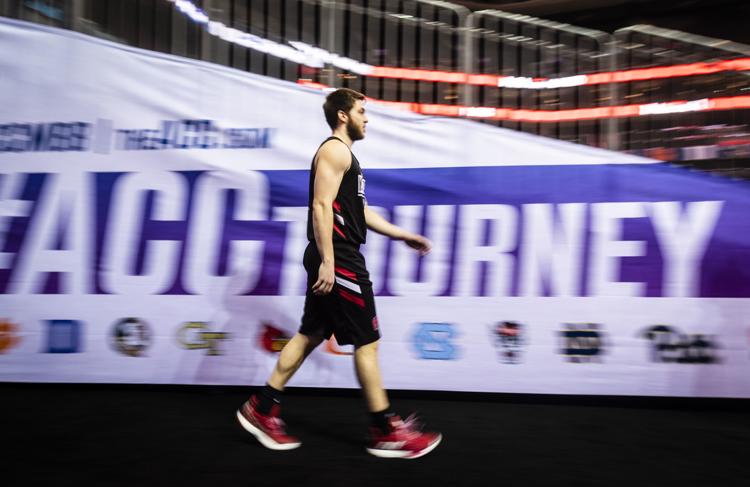 Role: Steady combo guard
How he fits: Beverly got injured in the preseason and never took a step forward from his freshman season, actually regressing to 34 percent from three-point range. Still, Beverly knocked down some big shots, offered a steady hand when he took over ballhandling duties and took care of the ball, averaging just 1.2 turnovers. Even when his shot wasn't falling, Beverly wasn't afraid to fire it up, which is the type of confidence Coach Kevin Keatts wants in his players. There's no doubt he'll be playing hard, and pending he's healthy heading into the season, expect that three-point shooting percentage to move closer to 40 percent.
G C.J. Bryce | 6-5, 195 | Senior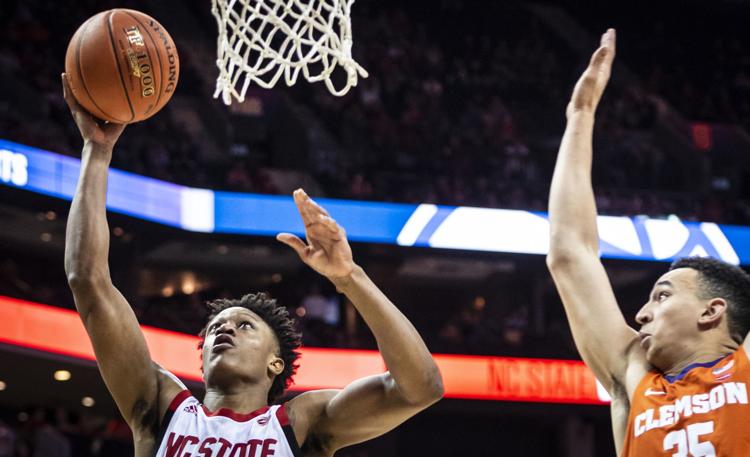 Role: Do-it-all wing
How he fits: Bryce showed what he was capable of several times throughout the season then closed on a high-note in the NIT, playing three fantastic, complete games, averaging 14.6 points and 7.6 rebounds while defending at a high level. State has plenty of guards on the roster, but none of them have the combination of size and ability as a two-way player. Bryce isn't the most athletic player in the world, but he understands the game and uses his body and basketball IQ to get to the bucket.
F Pat Andree | 6-8, 225 | Graduate
Role: Stretch Four
How he fits: Andree joins the Wolfpack after playing three seasons at Lehigh, where he averaged 10.8 points and shot 41.5 percent from three-point range, posting his best rebounding average of 6.2 last season. He'll have every opportunity to let it fly in a State offense that gives good shooters the freedom to make the most of their opportunities. His biggest offensive impact will come as a catch-and-shoot option on the perimeter, but he'll need to rebound at a high level to stay on the floor, given State's desire to play smaller and faster.
F DJ Funderburk | 6-10, 210 | Junior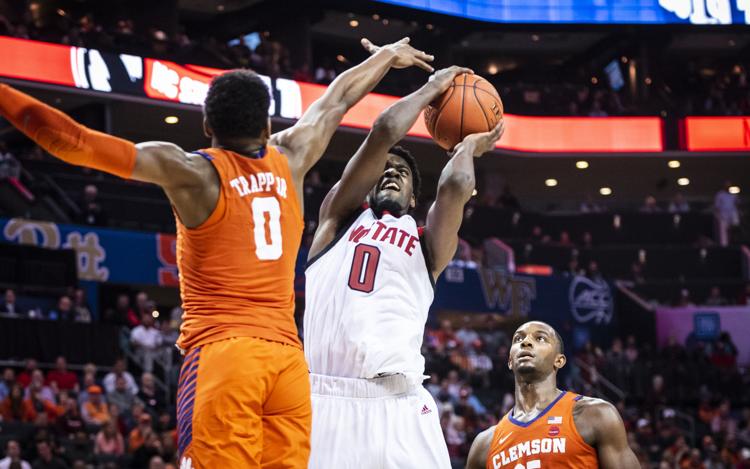 Role: Athletic big
How he fits: Funderburk is the prototypical big man for Keatts' system as he's big and long enough to give State a post presence with some slick moves around the basket, but he's also athletic and quick enough to function in the press and serve as a back-end rim protector. Funderburk is capable of posting his man up in the lane, but he's also comfortable operating in the mid-post and stepping out to three-point range. He had several big moments last season and stands to build on that as a starter and State's best big.
G Devon Daniels | 6-5, 200 | Junior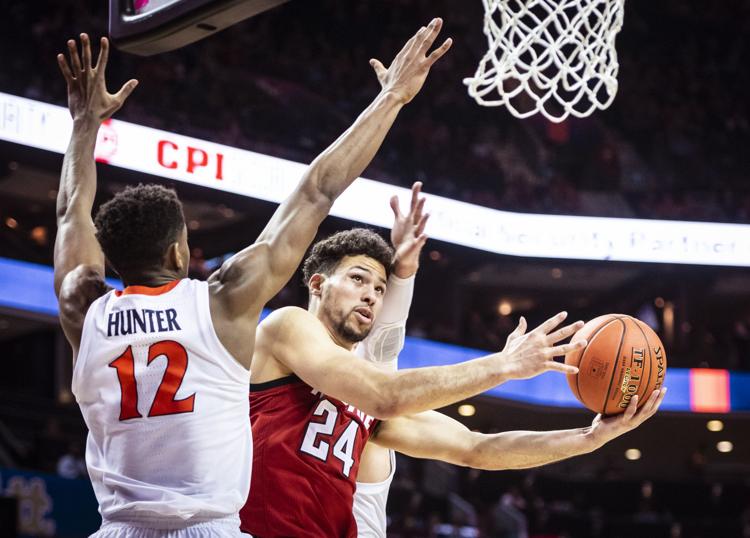 Role: X-Factor
How he fits: There were moments — literally — last season Daniels looked like State's best player before a silly shot or unnecessary turnover halted his momentum. There's no doubt the dude can get tough buckets from all over the floor, but sometimes, there's no need to attempt to get the tough buckets. If Daniels can find more consistency next season, there's no reason he couldn't play a starter's minutes, where his size and rebounding ability would be of particular benefit for State. Given the pace Keatts wants to play, the minutes are available for someone to stake a claim.
PG Blake Harris | 6-3, 190 | Junior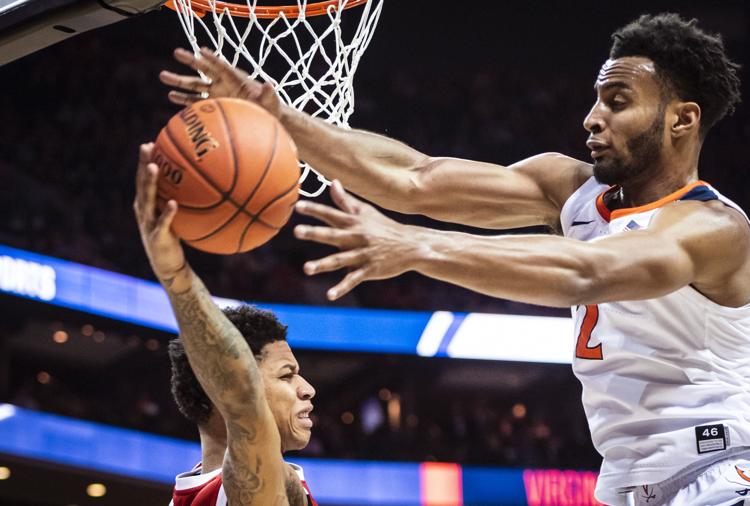 Role: Backup point guard
How he fits: A former four-star recruit, Harris remains an intriguing prospect largely due to the mystery factor. Averaging only nine minutes per game last season, Harris showed some promise as a defender and shooter, hitting eight of 19 three-point attempts, but struggled with turnovers, posting what was easily the highest turnover rate on the roster at 28 percent. Pending he can rein that number in a bit, Harris can give the Wolfpack good minutes as a defender off the bench.
F Jericole Hellems | 6-7, 200 | Sophomore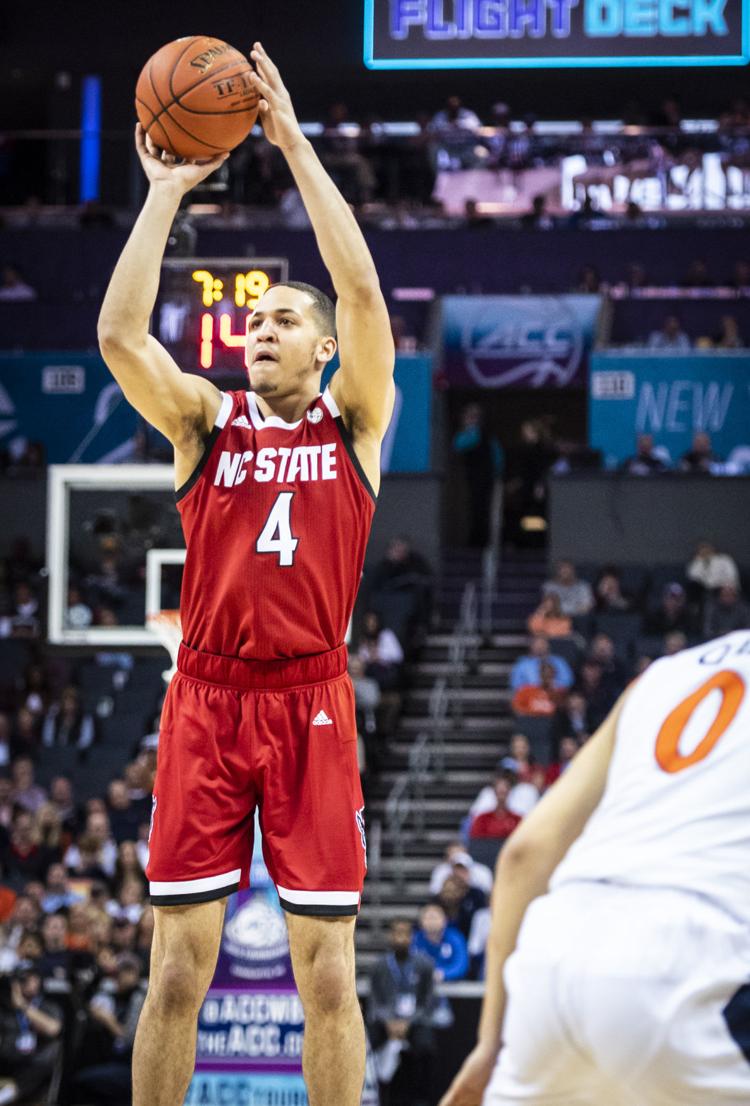 Role: Well-rounded wing
How he fits: Even when he was figuring things out last season, Hellems had the look of a potential pro. While there's nothing particularly exciting about his game, there's also no area he's truly lacking — a jack-of-all-trades built to function in State's system. He'll knock down jumpers, get after it in the lane and, most importantly for the Wolfpack, will defend as hard and well as anyone on the floor. The numbers might not be huge, but Hellems can put numbers in every column on the box score.
F Manny Bates | 6-11, 220 | Freshman
Role: Rim protection and rebounding
How he fits: Bates missed all of last season after a preseason shoulder injury and his time as a redshirt might not be all bad, having added about 30 pounds since arriving in Raleigh. His offensive game was raw in high school with one dunk or layup or another mixed with the rare jumper, so don't expect a ton of scoring when Bates makes his debut. Instead, he'll serve well as a mobile big man that can grab rebounds, protect the rim and cause defensive havoc with his massive frame.
G Dereon Seabron | 6-6, 190 | Freshman
Role: Athletic combo guard
How he fits: Seabron, the 2018 Class 4-A Player of the Year in Virginia, surprisingly flew under the radar and spent last season at prep school. Slim coming out of high school, Seabron has clearly added about 15 pounds of muscle over the past year and has the look of an ACC guard. A good athlete capable of playing either guard spot, Seabron is strong and attacks the basket relentlessly.
F Atticus Taylor | 6-7, 205 | Sophomore
Role: Undersized four
How he fits: Taylor comes to State after one season at Southwest Mississippi Community College, where he averaged 9.0 points and 7.4 rebounds last season. There's no mystery to his role as Taylor told PackPride that Keatts and his staff sold him on stepping in to help replace the role that Torin Dorn filled as a tough, athletic forward who routinely guarded bigger players while looking to score in the lane. In addition, Taylor is capable of knocking down shots from the perimeter.
F Danny Dixon | 6-10, 230 | Graduate
Role: Post depth
How he fits: Dixon was a late addition to the roster as a graduate transfer from Mo.-Kansas City, essentially taking the scholarship meant for Jalen Lecque. State isn't going to ask a lot of Dixon, who averaged 7.5 points and 3.6 rebounds in 19 minutes last season. Dixon's rebounding rate is surprisingly low for a player of his size, but he did knock down seven of 15 three-point attempts and turned the ball over just 36 times all season.
PG Thomas Allen | 6-1, 185 | Transfer
How he fits: Allen will sit out this season after announcing his decision to transfer from Nebraska in April. The Raleigh native averaged 8.7 points and played 30 minutes per game last season for the Cornhuskers. He'll have two years of eligibility remaining.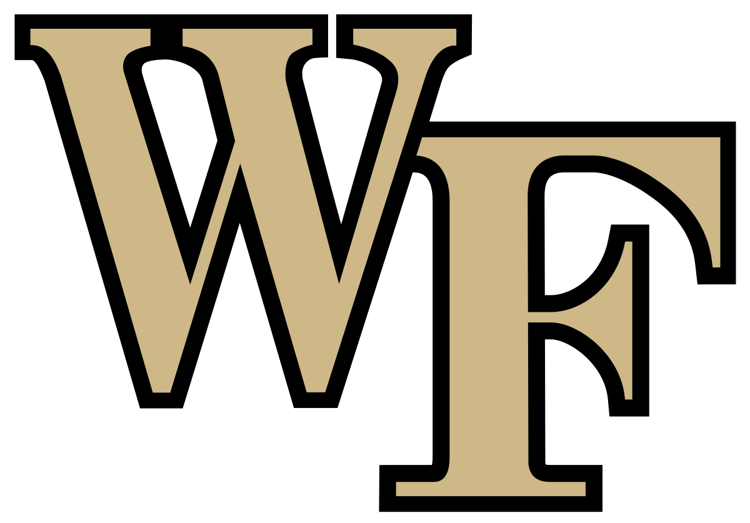 Wake Forest Demon Deacons
Brandon Childress | 6-0, 190 | Senior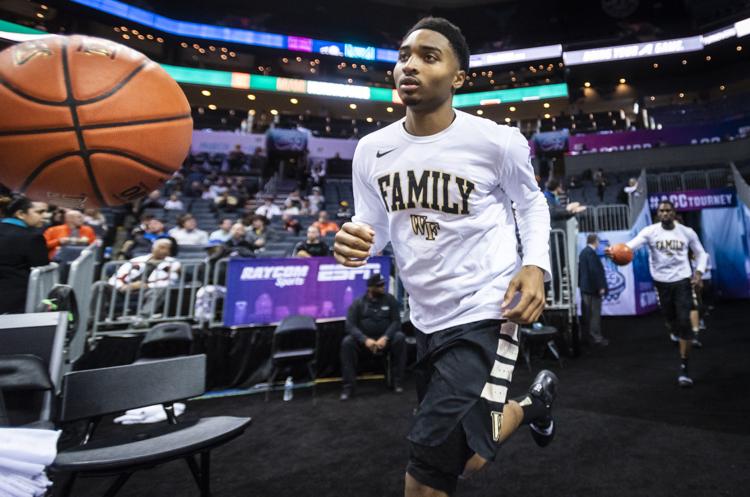 Role: Point guard and leader (x2)
How he fits: It's the same role as last season for Childress, but now with a season under his belt and reinforcements incoming in the backcourt. Childress shouldn't have to play the heavy minutes he had to last season – more on that below – which should allow him to improve upon offensive efficiency numbers that were somewhat volatile. He's now the only player on the roster who has played in an NCAA Tournament game.
Chaundee Brown | 6-5, 215 | Junior
Role: Stat-filling wing
How he fits: The physical tools have been there for Brown since he arrived in Winston-Salem, and last season saw further maturation and consistency from the Orlando, Fla., native. In his last seven games he scored 100 points and had 57 rebounds, averages of 14.3 points and 8.1 rebounds. Those should be targets for a player capable of garnering All-ACC attention, though it's worth monitoring his health as he returns from knee surgery in April.
Andrien White | 6-3, 190 | Senior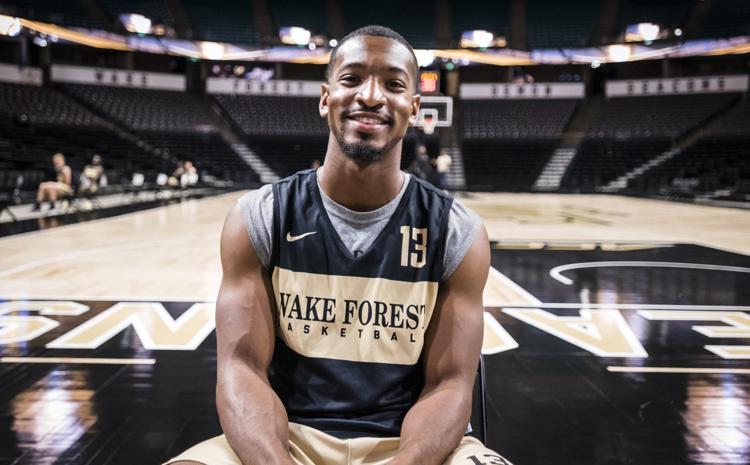 Role: Shooter and leader
How he fits: Received rave reviews as a practice-only player last season, and now forms an experienced backcourt with Childress. Scored more than 1,000 points in his three years at Charlotte and should help the Deacons' perimeter shooting, as he made 169 3-pointers with the 49ers.
Olivier Sarr | 7-0, 235 | Junior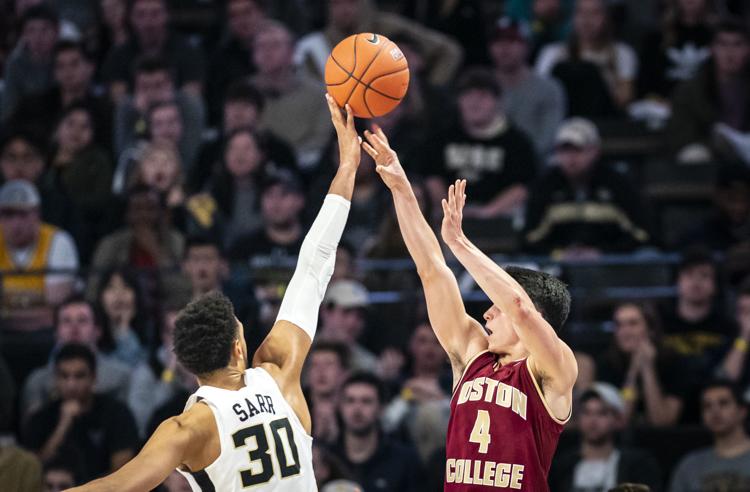 Role: Interior presence and stretch-five
How he fits: Bulked up last year but still had difficulties with foul trouble and rebounding. Without the insurance provided by Ikenna Smart, Sarr has to be improved in those areas – or Wake Forest will be trotting out undersized lineups or inexperienced post players.
Sharone Wright Jr. | 6-5, 180 | Sophomore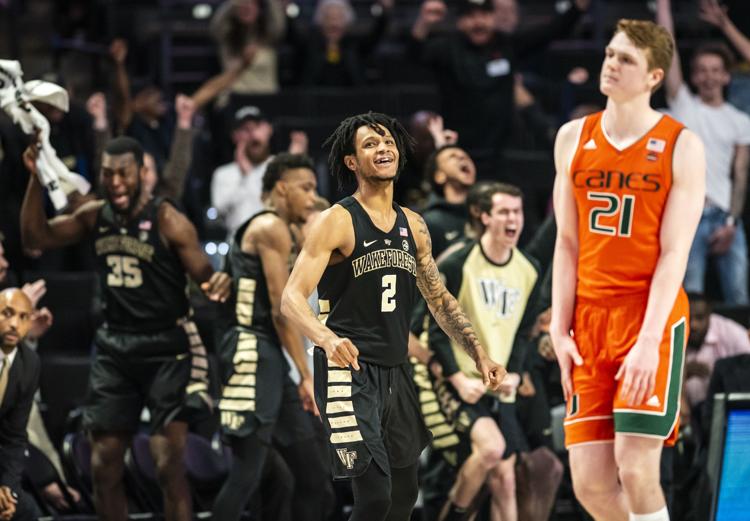 Role: Athlete
How he fits: Successful in spurts last season and disappeared in others, typical of a freshman. Wright shouldn't be depended on for an abundance of scoring, but he showed he's capable of scoring in bunches last season and those bursts could come more often. But Wright's value should come as a long and athletic wing who can be a lock-down defender and terror on fast breaks.
Torry Johnson | 6-3, 170 | Senior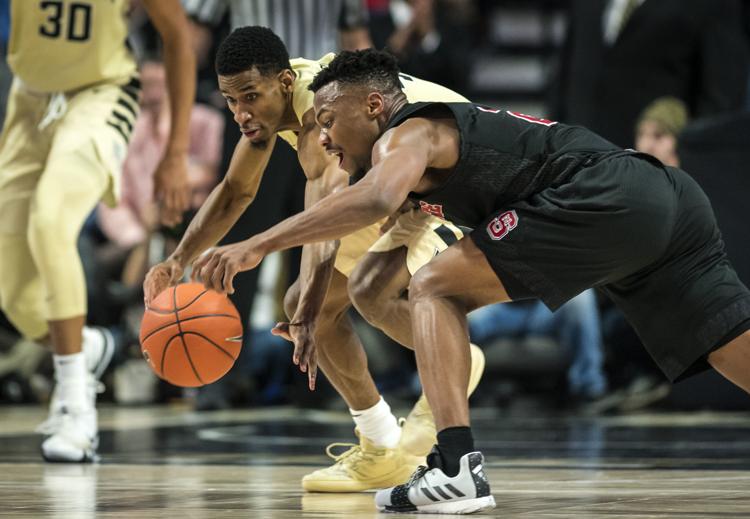 Role: Defensive stopper
How he fits: Also underwent surgery after the season, to repair a torn labrum that hindered him in the last month and a half of the season. Another backcourt piece who isn't likely to score 20-plus points, but showed his value to be on the defensive end.
Miles Lester | 6-0, 170 | Sophomore
Role: Shooter and backup point guard
How he fits: Non-scholarship player who, like White, also sat out last season but shined in practices. As a freshman at Rice, Lester hit 20 of 53 3-pointers and dished out 46 assists in 12.4 minutes per game.
Isaiah Mucius | 6-8, 190 | Sophomore
Role: Controlled energy
How he fits: First and foremost, the number attached to Mucius above – 190 pounds – has to go up, if it hasn't already. Wake Forest is limited inside beyond Sarr, and Mucius can change that if he's able to step into a stretch-four role. He's got the energy and positivity to succeed – he needs the shot selection and discipline to accompany it.
Ismael Massoud | 6-8, 200 | Freshman
Role: X-factor
How he fits: The highest-ranked recruit of Wake Forest's four-player class, per 247sports, the door seems open for Massoud to step into a significant role early – especially if he can provide outside shooting.
Ody Oguama | 6-9, 190 | Freshman
Role: Something inside
How he fits: Was the first enrollee of the freshman class and drew early praise from new associate head coach Rex Walters for his work ethic. Oguama is one of two incoming forwards who will have the chance to carve out roles for themselves on a roster with a mostly inexperienced frontcourt.
Michael Wynn | 6-6, 200 | Sophomore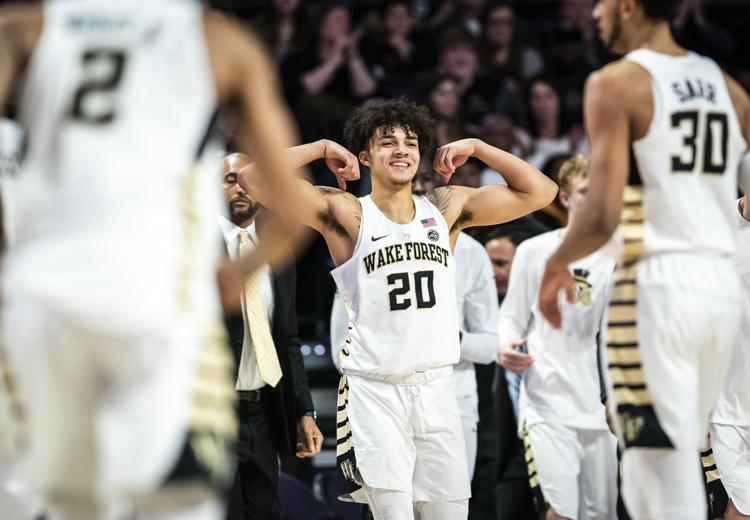 Role: Shooter
How he fits: We got a couple of glimpses last season that Wynn could become a viable long-range shooter for the Deacons as he develops, and that time needs to happen sooner rather than later. The Deacons were 328th in the country in 3-point percentage last season (30.8) and with the 3-point line moving back, Wynn's emergence as a 3-point shooter would be a needed boost.
Sunday Okeke | 6-8, 245 | Junior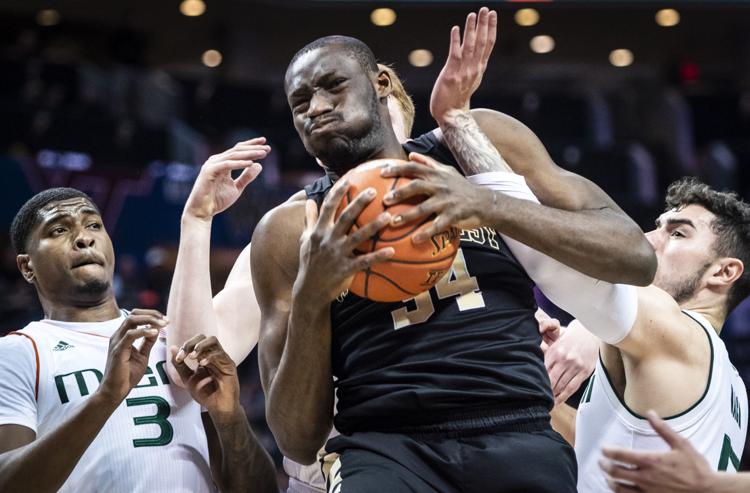 Role: Bruiser
How he fits: Might be the most projectable player on the roster, as it's a guarantee Okeke will get the most out of what opportunities he's given. Not the most skilled player, but capable of providing a physicality inside that could be necessary against most teams for the undersized Deacons.
Jahcobi Neath | 6-3, 170 | Freshman
Role: Backup point guard and student
How he fits: The Canadian point guard features plenty of athleticism, but for a team that will lose (at least) three guards after this season, the most important thing for Neath this season is to learn behind Childress, White and Johnson. That's not to say Neath can't or won't contribute on the court – but his most important role this season is probably as an understudy and as the point guard of the future.
Tariq Ingraham | 6-8, 230 | Freshman
Role: Bruiser
How he fits: The second incoming forward who seems to have a straightforward path to holding a significant role. Ingraham comes from a prestigious Philadelphia prep school and was the latest addition to the class, and provides further bulk in the middle.
Reserves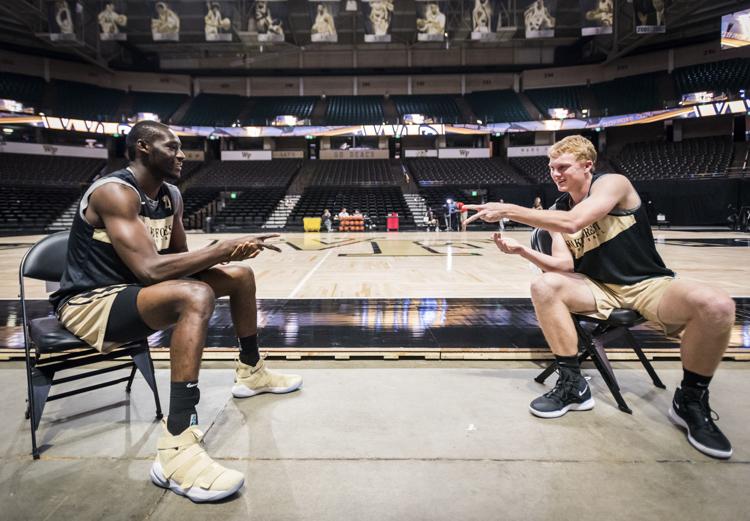 Blake Buchanan and Grant Van Beveren are the walk-ons (along with Lester and Okeke) on the Deacons' roster. Buchanan played in 10 games last season and Van Beveren is a freshman.