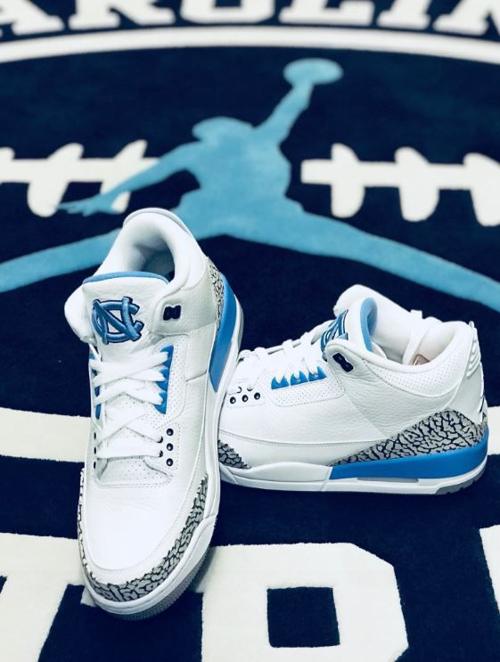 Updates at 6:43 p.m. with new version:
CHAPEL HILL — North Carolina announced suspensions for 13 football players today, all related to the sale of team-issued Jordan sneakers that were given to players on Jan. 11.
Making sense of the case, which was classified as a secondary violation by the NCAA:
1. How did this start?
On the evening of Jan. 12, someone who identified themselves as Chris Bullock, "a lifelong UNC fan," emailed a generic account for athletics director Bubba Cunningham with concerns that basketball players had sold their shoes to local sneaker boutiques after seeing several Instagram posts. Within an hour, his executive assistant, Molly Norton, had passed it along and Cunningham quickly reached out to Marielle vanGelder, who leads the compliance department. VanGelder replied that she was already in contact with the football equipment staff to determine who had received the shoes and that the basketball program had not received them.
In the email, Bullock alluded to "scrutiny" the program had faced in recent years and attached a photo of one of the Instagram posts, belonging to Greensboro's Request Boutique, which advertised the Jordan 3 UNC Player Edition sneakers for $3,500.
2. What action did Carolina take?
The next day, UNC officials began requiring all athletes and staff who received exclusive shoes to return them to the equipment staff. By Jan. 16, 92 of 101 pairs of shoes were accounted for. Those whose shoes were not returned faced further questioning.
3. How were the shoes sold?
Fifteen players were found to have sold the shoes for cash. Three players sold them to commercial outlets for $1,300, $1,500 and $2,500 and were unable to get them back. Two players sold their shoes to commercial outlets for $2,300 and $2,500 but were able to retrieve the shoes and return the money they received. Six players sold their shoes to teammates for prices of $300 to $1,000 and were unable to get them back. Four players were able to retrieve the shoes after selling them to teammates. Nine pairs of the Jordan 3 PE remain unaccounted for.
Request Boutique in Four Seasons Mall in Greensboro was formally named in the documentation provided to the NCAA, as was Raleigh's SirCastleTees.
As of Monday night, two pairs of the shoes were available on eBay for just more than $600 and $1,100.
4. What rules were broken?
The NCAA prohibits the sale or exchange of items received for participation in intercollegiate athletics. It's viewed in the same light as an "extra benefit," given that athletes receive the gear based on their athletic ability and it's not something readily available to normal students.
Every athlete at UNC is required to sign a Department of Athletics Equipment Use Agreement annually, stating they understand these rules.
5. Who will the Tar Heels be missing and for how long?
The most important names on the list are quarterback Chazz Surratt and defensive ends Malik Carney and Tomon Fox, who will be suspended for four games.
Also suspended for four games are Brian Anderson, Beau Corrales, Tyrone Hopper, Quiron Johnson, Malik Robinson and Jordan Tucker. Greg Ross and Tre Shaw will sit for two games, while Jack Davidson and Jonah Melton will each be suspended for one game.
6. Why did they do it?
Carney didn't want to get into the details of exactly why today.
"It was a moment I wasn't really thinking about the consequences; I made a wrong decision," he said. "It's not really about me at this point, it's about the guys and making sure my teammates are still up."
The money might be tough to turn down — not just for a college student or athlete — but anyone.
7. What's the result?
Most immediately, Elliott will be the starting quarterback instead of battling Surratt for the job and, barring injury, he'll have four weeks to cement his standing, starting with the opener Sept. 1 at California.
Elliott had mixed feelings about being named the starter by Fedora.
"In a way, it's kind of nice and but in another way, it doesn't make a difference to me," he said. "I'm going to just keep competing like I have been … I've always worked like I'm going to be the starter and that's what I'll continue to do."
Meanwhile, Carney (5½) and Fox (4) led the defense in sacks, although there is solid depth at the position with Jason Strowbridge and Tyrone Hopper stepping in.
8. What's the aftermath?
Seemingly, the suspended players have been forgiven by their teammates.
Carney, a team captain, specifically referenced how tough it was to apologize in front of the team.
"A lot of guys are looking at me as a leader," he said. "I've still got to have my energy and enthusiasm to keep the guys running."
Cole Holcomb, another of the most vocal of the Tar Heels leaders, said the 13 players are paying a price for their actions.
"It happens; guys make mistakes," he said. "We kind of dealt with it; we talked and we moved on. You've got to learn from it. They made that mistake, they owned up to it, and you've got to be a man about it."
---
CHAPEL HILL — Thirteen North Carolina football players will miss games during the 2018 season after UNC self-reported a secondary NCAA violation involving the sale of team-issued shoes.
Offensive lineman Brian Anderson, defensive end Malik Carney, wide receiver Beau Corrales, defensive end Tomon Fox, defensive end Tyrone Hopper, offensive lineman Quiron Johnson, linebacker Malik Robinson, quarterback Chazz Surratt and offensive lineman Jordan Tucker will each sit out four games.
Defensive backs Greg Ross and Tre Shaw will miss two games, and quarterback Jack Davidson and offensive lineman Jonah Melton will miss one.
Because multiple players share the same position, the NCAA approved a request to stagger certain suspensions. Carney will sit games against East Carolina, Central Florida, Pittsburgh and Virginia Tech. Fox will sit against Miami, Syracuse, Virginia and Georgia Tech.
All other suspensions will begin with the season opener at California on Sept. 1.
"I am certainly upset by our players' actions and how their choices reflect on them, our program and the university," head coach Larry Fedora said. "These young men knew the rules and are being held responsible for the poor choices they have made. Accountability is an important core principle in this program. We will learn from this and aim to do better in the future."
Athletics director Bubba Cunningham added: "We are disappointed. Chancellor (Carol) Folt, Coach Fedora and I have high expectations of all of our students, coaches and staff, and we expect everyone to embrace and abide by all team and NCAA rules. We always will strive to get better."
Players will be permitted to practice, attend meetings and continue strength and conditioning training while serving their suspensions.
Contact Brant Wilkerson-New at 336-373-7008.