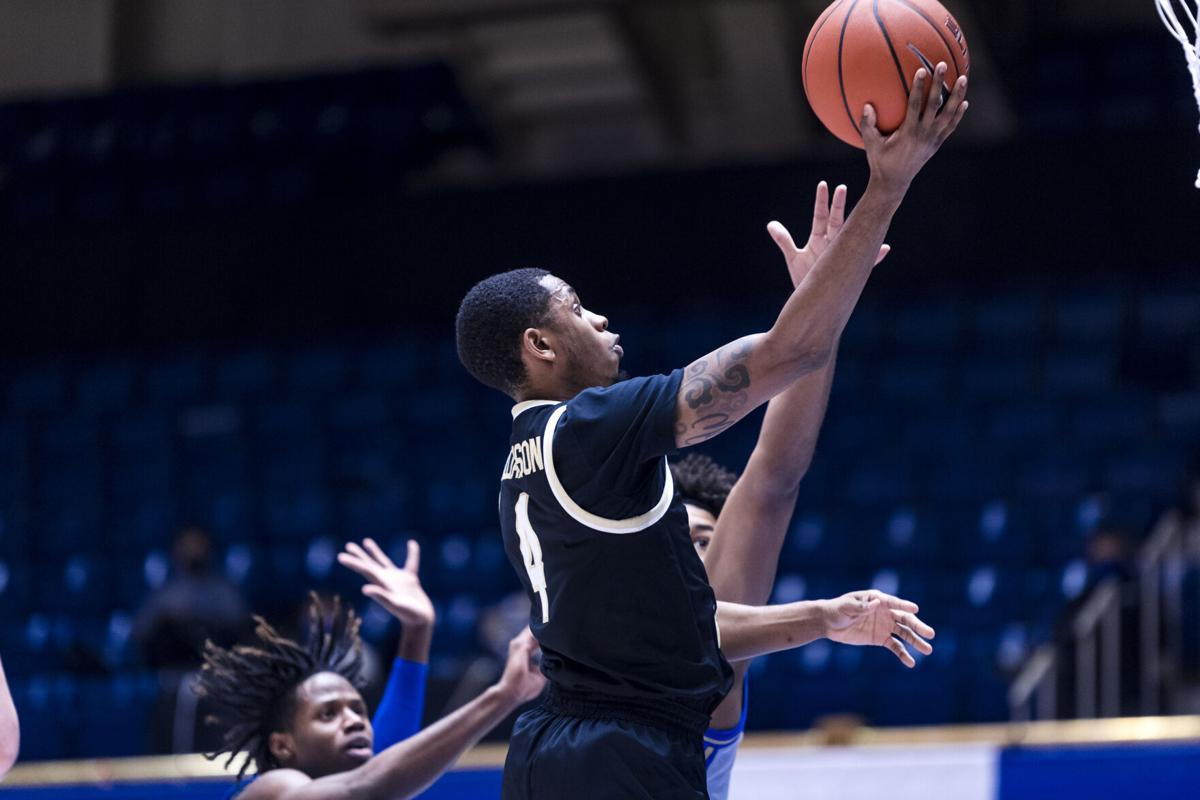 The tests varied for Wake Forest's basketball team in the past seven days.
The Demon Deacons (0-3 ACC, 3-3 overall) went through an ACC gauntlet of playing three games in a week's span, starting with Georgia Tech on Sunday, then back-to-back matchups with top 25 teams, Virginia on Wednesday and Duke on Saturday.
Reading the bottom line is easy: Wake Forest lost them all. But in a season that was going to be the start of a rebuild, the early pours of the foundation are trending in a positive way on the offensive side.
Against Georgia Tech's zone, Wake Forest struggled with turnovers. With Virginia's pack line, a team with championship pedigree pulled away. And in a 79-68 to Duke on Saturday, the Blue Devils' pressure contributed to a dominant rebounding performance (35-25).
The point isn't the that Wake Forest lost those games. The point is the team was in them, especially the last two. And some of the traits about which Wake Forest coach Steve Forbes has preached since he took over the program in April are beginning to emerge, especially moving the ball.
"I don't think basketball is a game of catch and hold and look around because when you play real good teams like we're playing, that gives the defense a chance to do what?" Forbes said after the Duke game. "Get back in the right spots, right? We have to react.
" … We're getting better at it. The last two games I think you've probably seen that, I hope."
Ahead of the Virginia game, Forbes introduced a new starting lineup he attributed to "ball movers vs. ball stoppers."
The lineup featured Isaiah Mucius and Ody Oguama in the frontcourt along with a trio of guards: Carter Whitt, Jonah Antonio and Isaiah Wilkins. Against Duke, Daivien Williamson returned to the lineup in Wilkins' place. But in both, the ball movement early set the tone throughout.
It's not only allowed Wake Forest to remain in two tight games, but it has a multi-fold benefit for individual players.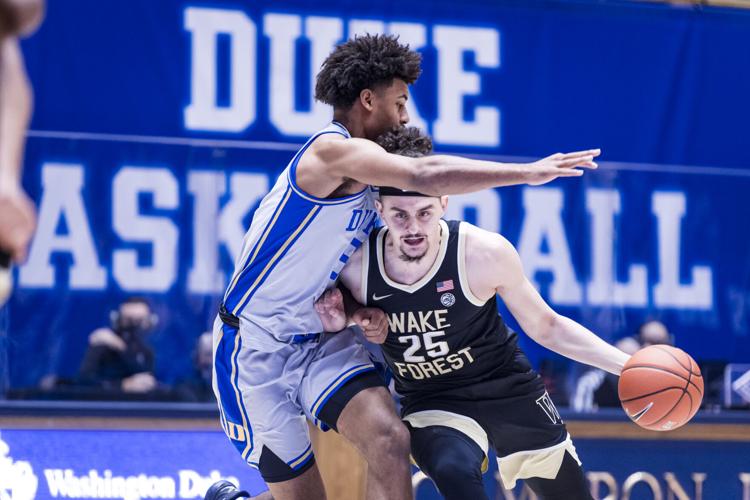 Ismael Massoud has thrived in the last two games coming off the bench. He scored 13 and 17 against Virginia and Duke, respectively. He hit four three-pointers against the Cavaliers and two against Duke. On Saturday, the 6-foot-8 forward pieced together an eight-rebound performance as the main rebounding strength for the Deacons.
After the Virginia game, Massoud said that role gives him a chance to watch the energy that's been established, then come in and match it.
"Guys know where to be, what spots their going to get their shots from," Massoud said. "We know when we're sharing the ball, everyone gets involved and it's easier to play that way."
Whitt is being allowed to play and do what he does well – seeing the floor and passing – while learning through some of the growing pains. He committed seven turnovers, but when he was off the floor, it was noticeable.
Whitt and Williamson have both shown the driving ability that kick-starts the motion Forbes wants to see, and it's paid off for shooters Antonio and Massoud.
Forbes looked to Whitt and Williamson as a strong combo to hold off the stress Duke would cause on defense. That push, the coach mentioned, would open the chances to get in the paint for those two.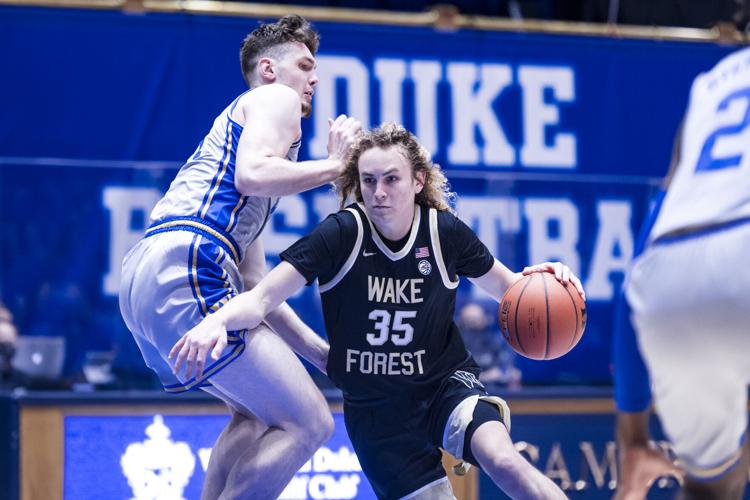 Williamson's ability to contort and finish at the rim makes his interior threat that much more frustrating for a defense. And Whitt, a true freshman who enrolled early in the midst of a season, has displayed in his four games that as he adjusts to the college game, his presence will be more difficult to ignore.
"The good thing about Carter is he does have confidence in himself," Forbes said. "Like, he's not sitting in there right now wondering if he should even be out there, right? He knows he belongs.
"He knows he's got to make some adjustments."
Duke basketball coach Mike Krzyzewski, after his team defeated Wake Forest on Saturday in Du…
Williamson tied for the team lead in points against Duke with 17. And he mentioned after the game that there's much good perspective that he and his teammates can take away from this week.
A team like Wake Forest, which had to deal with its extended layoff because of COVID-19 cases in the program while still trying to establish the type of effort needed to consistently win, has much to learn. But the building up is starting, and it's obvious to those who are paying attention.
"It's not going to be perfect," Williamson said. "But one of the main things we focus on is progression, just continuing to go in an upward motion. This isn't the outcome we wanted, but it's a lot of positives to take away from the game.
"If we match them or outrebound them, I'm telling you this game could be a different outcome. It's things like that. We've got to continue to grow and continue to get better and listen to our coaches and stick to our principles, and I think we'll be all right."