The NFL Draft will take place Thursday-Saturday. The Journal and News & Record have caught up with players from Wake Forest, Appalachian State, A&T and the area for interviews about how each one is adjusting to the revamped pre-draft landscape.
Justin Herron
Position: Offensive tackle
Career stats: 51 games, 51 starts; graded out at 90% with 21 knockdown blocks last season; holds program record for games started for any position.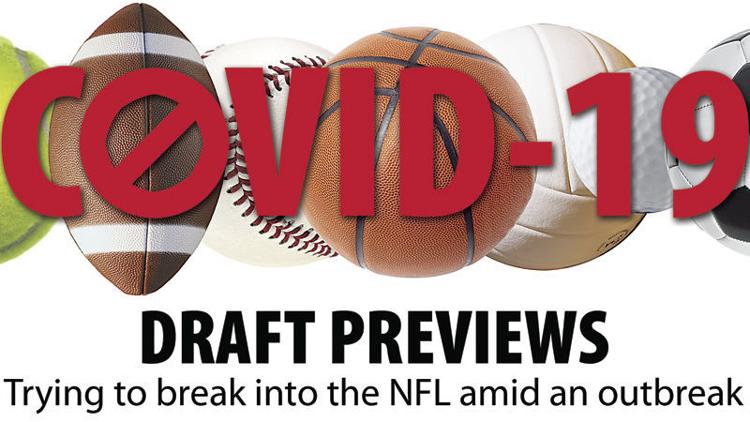 Question: How was the combine?
Answer: It was a great experience. Got to see a lot of players that you see on TV that everyone is talking about. And then it was great to see a bunch of NFL coaches.
It's kinda crazy that you're going to weigh-in and you just see (Chiefs coach) Andy Reid standing right in front of you.
Did you get a little star-struck seeing the Super Bowl-winning coach there?
It was just kind of surreal because for so long you're just so used to watching them on TV, and then all of a sudden you're in the same space as him.
I was walking back to my hotel and, who was walking next to me … head coach of the Raiders, Jon Gruden.
Yeah, Jon Gruden was walking right next to me. We didn't say anything, but it was cool just to walk next to him and all that stuff.
Were you happy with your performance?
[Herron's combine numbers: 5.26-second 40-yard dash; 27 reps of 225 pounds on bench press; 8.41-second three-cone drill; 4.88-second 20-yard shuttle]
Yeah, I was pretty happy. I was happy with everything, I felt really prepared, so I felt really good.
So you're out in Arizona?
Yeah, I'm out in Arizona training with LeCharles Bentley, in Chandler, Arizona (15-20 minutes from Phoenix).
What was the connection: Did your agent set it up for you to train out there?
So, you know my awkward-looking stance that I got a lot of questions about? I got that type of stance and style from watching (Bentley's) videos on YouTube and subscribing to his website.
And then he saw, he watched a couple of my games and watched what I was doing, so he just invited me to come out here.
It was a great opportunity, so I took it.
Well that's not quite what I thought you would say there. How long have you been there?
I've been in Chandler since January 3 of this year.
Staying out there through the draft?
I'm staying out here until I have to … go to a team, hopefully. So whenever that is, I'll just be out here until then.
I was in a hotel before, but now I'm just in an apartment right now. It's not too bad.
Do you like being on your own and across the country from your family?
I mean, granted, being at Wake Forest and playing football, you don't really see your family all that much. I mean, you get used to it because they come down to games and whatnot, but I mean, I'm used to it.
My family, we're perfectly fine and we talk almost every day.
How much have you been working out out there?
We work out every day except for Saturdays and Sundays.
LeCharles Bentley is who you're doing everything with out there — is he a former NFL player?
He is, he played at Ohio State, won the Rimington Trophy (goes to best center in the country) and he was a second-round draft pick.
I forgot which year, but he played for the Saints for about five years and then played for the Browns, but had a career-ending injury, so he's been doing this ever since.
What have you been doing to stay sharp on the mental side of football?
Since we can't do the pro day and teams can't fly the players out, I just do a lot of FaceTime interviews with a lot of different teams and we just go through football plays that way.
That's what helps keep me sharp, honestly, talking all the schematics with them actually really helps.
Teams basically give you a crash course on their system and then want you to recite back to them?
Yeah, I mean … more or less.
Is that something you're comfortable with?
Oh yeah, I feel like Wake Forest definitely prepared me well to be able to, you know, receive information, process it and repeat it back.
I mean, Wake Forest's offense was difficult, so it definitely helped a lot.
Well you had a long enough time to get it down.
A lot of the teams talked to you at the Senior Bowl?
Yeah, I had a lot of meetings there. I had several meetings at the combine and now I have more meetings.
So I've had three rounds of meetings.
Are you getting tired of them, or is it good to keep talking to them because it shows they're interested?
You know, honestly I don't get tired of the meetings. It's really interesting and I really like learning the different types of offenses that each team runs, and then I like being able to see what they run and translate it to Wake Forest, which helps me understand what's going on a lot better.
Do you have any kind of handle on where you might hear your name called?
Honestly, I'm just happy to have an opportunity to be in this situation. I'm just blessed and happy with getting an opportunity.
I have no idea where I'll go and honestly I'm not really focused on that, it's more about making sure that wherever I do go, I'm just the best player I can be.
Does the unknown factor at this point get to you, that you could be headed any one of 32 places?
Right, it's crazy to think about.
For so long, especially for me being six years, usually everything is planned out months in advance so you know what's going on.
I'm not really nervous … it's just kind of interesting because you're like, 'Man, I really don't know where I'll be or what I'll be doing.'
All I can do is work out. It's just kinda interesting that it's the first time in my life I'm playing it by ear, you know?
Yeah, you could be going to Buffalo and need to buy some warm clothes or you could be going to Miami and you need more shorts and T-shirts.
Right, so you're kinda like, 'Hmm, I wonder where you can go?'
It's more exciting because you can be like, 'I can be here, I can be here,' but honestly … the greatest thing about training here is that I'm surrounded by several NFL vets.
I mean, I train with Taylor Decker, who's the starting left tackle for the Detroit Lions. I train with Bobby Massie, starting right tackle for the Chicago Bears. A bunch of great players. Jack Conklin (Browns), D.J. Humphries (Cardinals) — I mean, I can go down the list.
So they kinda help me keep my head cool and just tell me, 'Just enjoy today and you can't really think about that kind of stuff. All you can do is work out every day and just have fun, enjoy the moment.'
How much are you picking those guys' brains for tips on entering the league?
You know, I listen to them every day. Sometimes it's not even questions about the NFL, sometimes it's just us talking and laughing and just talking about random things.
But I'm definitely around them, just watching them, how they work and kind of seeing how the great ones work out and it's really beneficial.
You've just been using FaceTime to talk to team personnel?
Yeah, just been doing FaceTime meetings, some phone calls, some Zoom meetings. Yeah, all of that virtual video chat stuff, I've been doing.
I guess since you only go through this process once, you don't really have a handle on how weird that is?
Yeah, you just have to roll with the punches.
You know, it's hard because now it's like, if someone asks me how the process goes, I'm like, 'Well honestly I can't tell you because I'm biased, having to go through it during a crazy time.'
But I mean, I'll still be able to give some good insight. Not now, because I'm nowhere near that point where I could give the insight just yet.
Were you surprised that the draft didn't change dates?
I mean, honestly no, I wasn't surprised.
It does … it sucks that there are some things that you could do at a pro day that could have definitely helped, and that's just across the board, that's with everybody.
But you know, if you put it in perspective, you already have a lot of games that they can go back and watch and your tape says a good amount.
Obviously pro days are second to none, but the good thing is that we still have the tape and everyone has tape of themselves, so it's good.
Are you looking at this last month as the last time you can be a fan of the NFL, or have you already said goodbye to your fanhood?
I think I said goodbye to my (fanhood) after my freshman year of college.
You know, like in the fall with Wake, we're always practicing on Sundays and we're doing stuff all day that you kind of can't keep track of it. I watch the Super Bowl here and there, and it's cool to watch it, but it's not like I have to catch every NFL Sunday game.
Obviously that could change when you play on Sundays, you know what I'm saying?