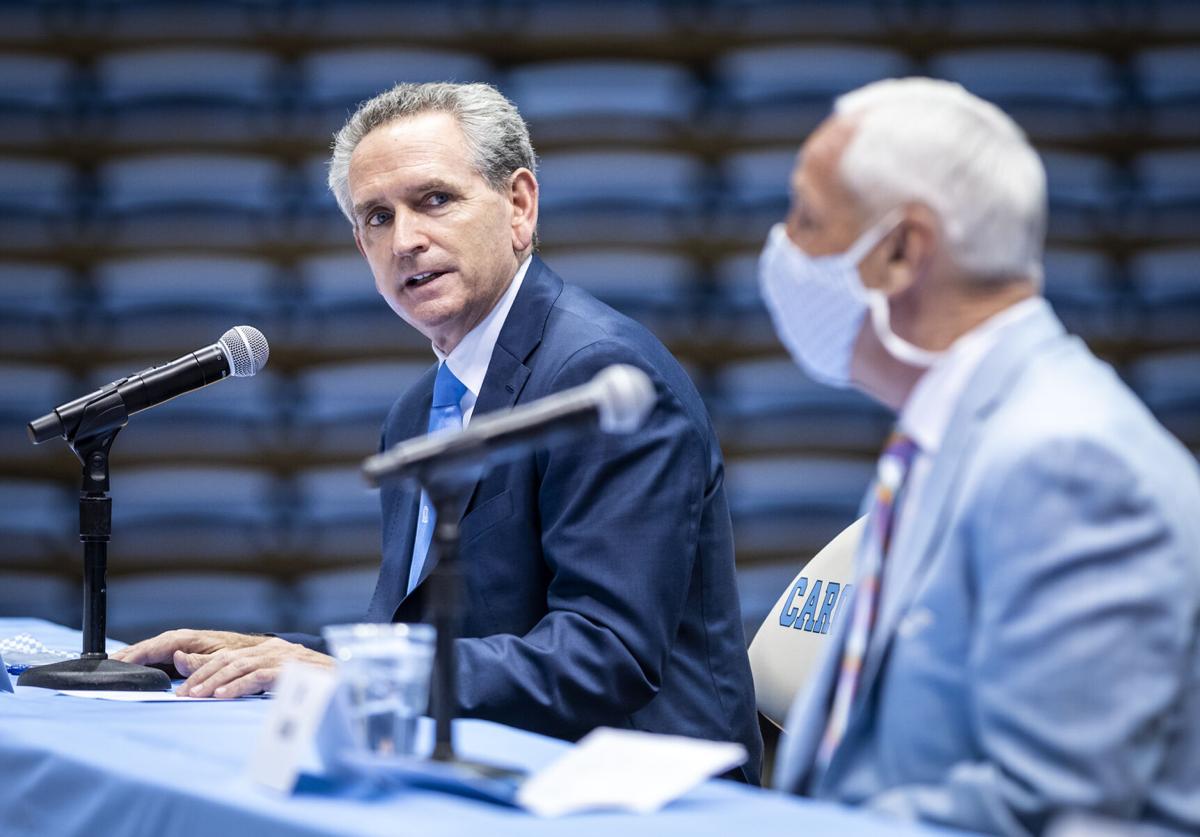 The search for Roy Williams' successor as North Carolina's basketball coach will be quick. Head-coaching chops are preferred but not mandatory, and candidates without Tar Heel pedigree will be considered.
Such was the outline UNC athletics director Bubba Cunningham gave reporters Thursday night via Zoom two hours after Williams' retirement news conference.
"I believe we've got the best job in college basketball," Cunningham said.
With six national championships, iconic players such as Phil Ford and Michael Jordan, and revered coaches such as Dean Smith and Williams, Carolina is certainly in the best-job conversation. And like most premier coaching positions, a primary question is whether the job should remain in the family.
When Smith retired in 1997, the school elevated his long-time assistant, Bill Guthridge. When Guthridge retired three years later, UNC pursued Williams, a former Smith assistant then at Kansas.
After Williams declined, the Tar Heels turned to Notre Dame coach Matt Doherty, a starter on Smith's 1982 national championship team. Losing ACC seasons in 2002 and '03 prompted Doherty's firing and Williams' hiring.
Williams has voiced his opinions on the program's future to Cunningham and UNC chancellor Kevin Guskiewicz, and Cunningham said Williams will continue to have input.
"I don't have that deep (Carolina connection) that Roy does, and I haven't been here my entire career," said Cunningham, UNC's AD since 2011. "And so, I really want to hear from (former players) and get their thoughts. … I value that, and I want to do right by them. … But I don't want to be myopic. I don't want to be myopic on the head-coaching (experience) thing, and I don't want to be myopic on Carolina experience."
When Williams returned to UNC, he had coached Kansas to four Final Fours and 14 NCAA tournaments in 15 seasons. No one in the Carolina family has similar credentials now.
Former Tar Heels reserve Wes Miller has coached UNCG to 125 victories and two NCAA appearances in the last five years, and Williams said Thursday that no player he coached came as close to reaching his potential as Miller.
After a promising four seasons at Ala.-Birmingham, former Carolina assistant Jerod Haase, who played for Williams at Kansas, has gained minimal traction in five years at Stanford. Current Tar Heels assistant and former player Hubert Davis shares Williams' enduring affection for all things Carolina Blue but lacks other coaching experience. Steve Robinson, Williams' longest-tenured assistant, has coached Tulsa and Florida State to the NCAA Tournament.
As popular as a family hire would be, especially Davis or Miller, "the best job in college basketball" deserves a thorough search. With the transfer portal operating at warp speed, Cunningham can't linger, but it shouldn't take long to gauge potential interest from outsiders such as Gonzaga's Mark Few, Baylor's Scott Drew, Florida's Mike White, Ohio State's Chris Holtmann, Villanova's Jay Wright and the Boston Celtics' Brad Stevens.
A first-year member of the NCAA Division I men's basketball committee, Cunningham spent the past several weeks in Indianapolis as he and his colleagues selected the 68-team field and administered the tournament. After consulting with Williams via phone for several days, he jetted back to North Carolina on Wednesday.
UNC has not appointed an advisory committee or retained a search firm, and Cunningham began conferring with Tar Heel royalty such as Jordan and Ford on Thursday. Pandemic notwithstanding, he hopes to meet at least some candidates in person.
"It's a very public business," Cunningham said. "We all know who the best coaches are in college basketball and the NBA. It's a pretty narrow set of people when you say you've got the best job in college sports. You guys know who everyone would have in mind. I'm not going to try and trick everybody and say there's this sleeper out there."
With the transfer portal and impending changes to NCAA legislation regarding athletes' access to agents and name, image and likeness compensation, Williams' successor will inherit a venerable brand in turbulent times.
"Quite frankly, college basketball is better when Carolina is good," Cunningham said, "and we need to be good, and we're committed to being good, and we have to find the right leader that can maintain the standards that we've become accustomed to."