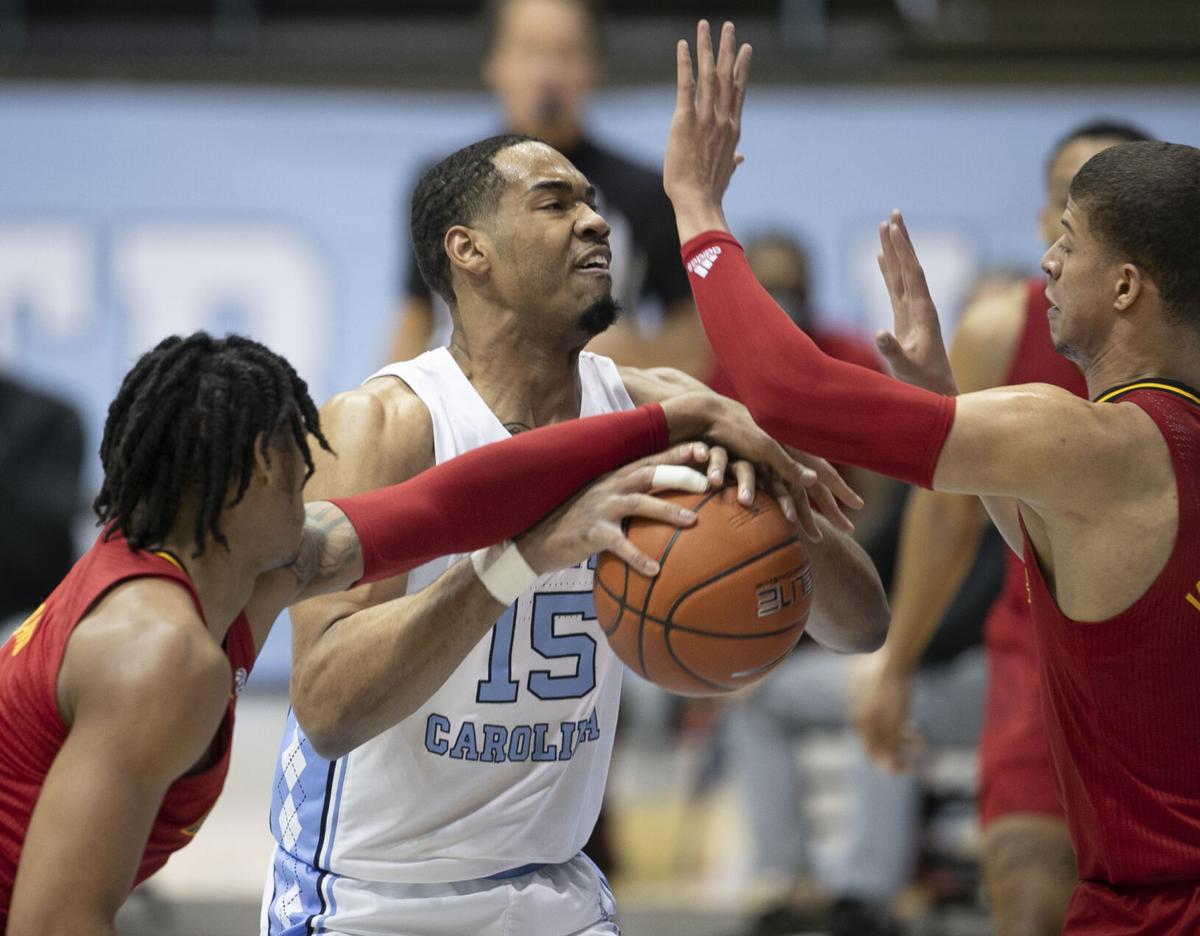 A recap of the North Carolina men's basketball team's 99-54 victory over Louisville on Saturday night.
Why the Tar Heels won
Carolina dominated inside, controlling the lane and the boards and getting strong performances from big men Day'Ron Sharpe, Armando Bacot, Garrison Brooks and Walker Kessler in destroying a team playing its first game in nearly three weeks. The Tar Heels' performance was their best of the season and bolsters their resume for at-large consideration for the NCAA Tournament.
Stars
Day'Ron Sharpe: 21 points (10-for-14 FG), 11 rebounds.
Garrison Brooks: 12 points (5-for-7 FG), four rebounds.
Armando Bacot: 14 points (7-for-8 FG), nine rebounds.
Kerwin Walton: 19 points (7-for-10 FG, 5-for-7 3FG).
Walker Kessler: 10 points, four rebounds.
Notable
• The win was Carolina's second, against six losses, over a Quad 1 team. Louisville entered the game with a No. 32 NCAA NET ranking, with Carolina at No. 53. 
• Carolina, which shot 61 percent, had a 45-34 rebounding edge and a 58-32 advantage in inside scoring.
• Louisville defeated Georgia Tech 74-58 on Feb. 1, and games against Syracuse twice, Virginia and Pittsburgh were postponed because of COVID-19 issues.
• Carolina has three ACC games remaining on its schedule: At home against Florida State and Duke and at Syracuse.
What they're saying
• "We caught them at a very good time. They haven't had practices like normal, like they were having earlier in the year. They beat Florida State, they beat Duke. We caught 'em on a really good time for us. We did share the ball better tonight than we had been doing." – Carolina coach Roy Williams.
• "I've said all along I think our freshmen are going to be good players. My request is to do it during my lifetime, and today it was in the first half. I hope I get to see more of that before I kick out." – Williams.
• "We were good. We shared the ball. I can remember almost every single turnover. We did some good things offensively, sharing the ball, moving the ball, and it's 61 percent for the game. Defensively, early on, we were giving up too many second shots. They had two guys with three offensive rebounds in the first half, but they weren't able to convert any of those. At the start of the second half, we had five second shots for them and five turnovers for us. But other than that, we did some really good things." – Williams.
Heels add Marquette
Carolina coach Roy Williams, during a season in which spectators haven't been permitted at the Smith Center and there's no ticket revenue, has frequently mentioned the limited number of home games his team has played. So the Tar Heels last week added Northeastern to fill one schedule gap and have added Marquette next week.
The Tar Heels lost three ACC home games because of COVID-19 reasons, although one postponement was self-inflicted. Now the Tar Heels are getting home games and keeping a semblance of a regular schedule, although their chase for at-large consideration, while boosted by the Louisville win, won't necessarily be helped by the new non-league opponents. Northeastern (9-8), just the seventh home opponent, had an NCAA NET ranking of No. 150 going into play Saturday, and Marquette (10-12) is No. 99.
Records
Up next
Louisville: Notre Dame, 7 p.m. Tuesday (ACC).
Carolina: Marquette, 7 p.m. Wednesday (ESPN2).