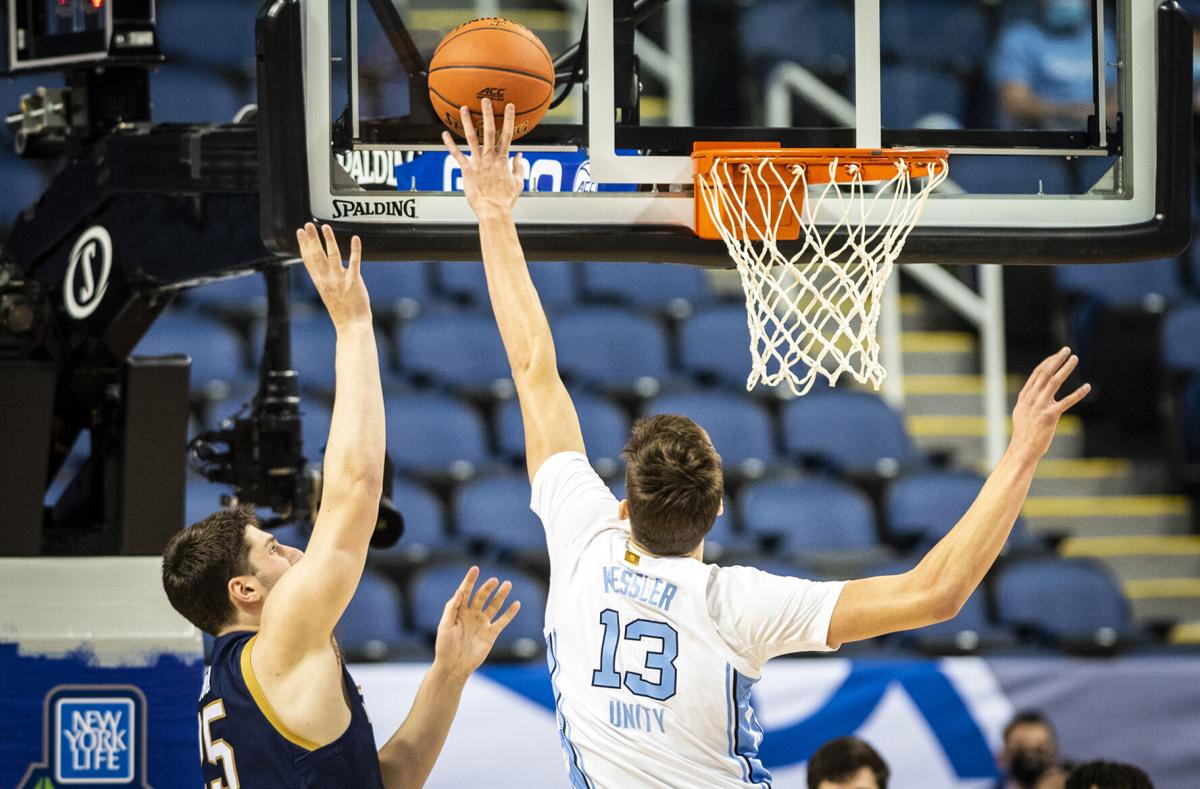 New North Carolina men's basketball coach Hubert Davis has suffered his first loss, one that comes in the new spring game of not only building but simply retaining a roster.
Walker Kessler, a 7-1, 245-pound center who played his freshman season at Carolina and had entered the NCAA's transfer portal, has announced that he will go to Auburn.
"I am excited to play for a great coach at an awesome school and be close to home and my family. War eagle!" Kessler wrote in an Instagram post this evening.
Davis, during his introductory news conference April 5, campaigned hard for Kessler to stay put.
"He's a Tar Heel, he's always a Tar Heel," Davis said. "He needs to come back here and this is the right place for him. We would love to have Walker Kessler and his family back in Chapel Hill and back at UNC."
Kessler, from Newnan, Ga., averaged just shy of nine minutes and scored 4.4 points per game in Chapel Hill. He blocked eight shots, scored 16 points and grabbed 12 rebounds in his best game, Carolina's 101-59 rout of Notre Dame in the ACC Tournament in Greensboro.
The site VerbalCommits.com has listed more than 1,325 players who have entered the portal from the 353 NCAA Division I programs. A Division I Council is expected to approve a rules change that will allow players transferring for the first time to be eligible to play immediately rather than having to sit out one season, as is currently required. In addition, all players have been granted an extra season of eligibility as a response to COVID-19, leaving college head coaches and their staffs to convince players to stay, find others in the transfer portal and recruit from the high school ranks following the season that ended one week ago.
Carolina has historically won with a strong big-man presence but will be challenged to do so in the 2021-22 season with its tallest players considering options. Carolina freshman Day'Ron Sharpe has declared for the NBA draft and has hired an agent, meaning he cannot return. Armando Bacot will go through the draft process but could return and is not in the transfer portal. Garrison Brooks and Sterling Manley are among the players in the transfer portal.
Kessler's new team, Auburn, is coached by Bruce Pearl and went 13-14 during the 2020-21 season, including 6-11 in Southeastern Conference games.
Pearl coached Auburn to the Final Four in 2019, with the Tigers losing to Virginia in the semifinals. Pearl, to whom Kessler referred in his social media post, also was sanctioned by the NCAA for inviting a recruit to his home for a cookout when he was coaching Tennessee in 2008 and for lying to the governing body during the investigation. Tennessee fired Pearl in March 2011, and Auburn hired him in 2014.