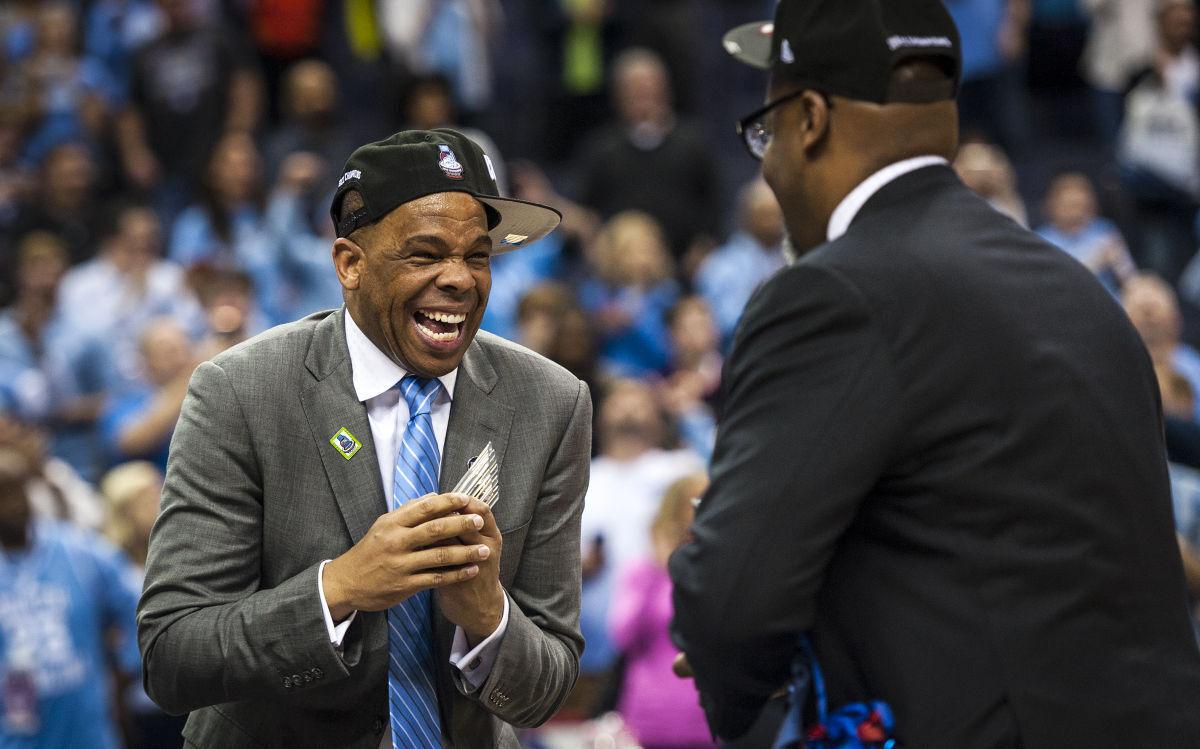 Roy Williams made way for his replacement last week, and in doing so, created a milestone opportunity for the program he departed.
North Carolina found its next men's basketball coach just down the bench from Williams' vacated post, promoting assistant coach and former guard Hubert Davis on Monday.
Davis becomes the first Black head coach, and 19th overall, for the school's flagship program.
He joined Williams' staff as an assistant in 2012.
"This is something that I wanted," Davis said in an appearance on ESPN2 on Monday night. "I have a passion and a desire to walk the same path as Coach Smith, Coach Guthridge, and Coach Williams."
Davis, who will be formally introduced in Chapel Hill on Tuesday, highlighted his ties to the town and university in a news release, saying, "I played here, I earned my degree here, I fell in love with my wife here, I got married here, I moved here after I retired from the NBA, and I have raised my family here."
Davis inherits a program coming off an unceremonious exit in the first round of the NCAA Tournament, an 85-62 loss to Wisconsin to end an erratic 18-11 season.
"It'll be a lot of similarities," he said Monday night. "I believe in the way Coach Smith (and others) play the game. ... It's the right way to play."
He added, "In terms of the foundation of who Carolina is, that won't change."
During his retirement announcement on Thursday, Williams acknowledged a changing landscape in college basketball while saying he was no longer the right man for the job at UNC.
The current equation — bubbling with name, image and likeness conversation for student-athletes, the ever-bustling transfer portal and more — will be one for Davis, 50, to figure out. That point was punctuated three days after the Tar Heels' final game of the season, when freshman center and former five-star recruit Walker Kessler entered the portal.
"There's no question that I'm old-school," Williams said. "You know, there's been a couple things happen, the transfer portal and things like that. But they didn't make the decision. … It sort of confirmed it."
North Carolina currently has two commitments for the 2021-22 season, both North Carolina natives: 6-foot-4 guard D'Marco Dunn from Fayetteville and 6-foot-7 forward Dontrez Styles of Kinston. Both are four-star recruits, according to 247Sports.
UNC rebounded from a 14-19 finish in 2019-20, when UNC battled multiple injuries, including point guard Cole Anthony's 11-game absence, and would've missed the NCAA Tournament.
The move to hire Davis keeps the job both in the lineage of Dean Smith and the greater Carolina family. Davis played for the Naismith Memorial Basketball Hall of Fame coach, whose teams won two national championships and 879 games, from 1988 to 1992.
Smith was replaced by his longtime assistant Bill Guthridge, who was succeeded by Matt Doherty before Williams, a former Smith assistant, took over.
Williams coached from 2003 to 2021, closing another Hall of Fame coaching career in Chapel Hill. He finished with 903 Division I wins, the third-highest total in history, with 485 victories and three national championships (2005, 2009 and 2017) coming at UNC.
Davis was an All-ACC guard who averaged 21.4 points as a senior in 1991-92, a college career that ended a year before Smith earned his second national championship. Davis played in 137 career games.
He was drafted by the New York Knicks with the 20th overall pick of the 1992 NBA Draft, authoring a 12-year career. Before going back to UNC, he worked as an analyst with ESPN and served as one of the co-hosts of "College GameDay."
North Carolina athletics director Bubba Cunningham said Davis would be the best leader for the program.
"He teaches student-athletes on and off the court," Cunningham said in the release. "He inspires his fellow staff members. He is strongly committed to family. He has a tenacious, burning desire to be the best he can possibly be. We witnessed that when he was a player, a broadcaster and an assistant coach — and I have no doubt he will ensure that our student-athletes and program will be the best they can be, as well."