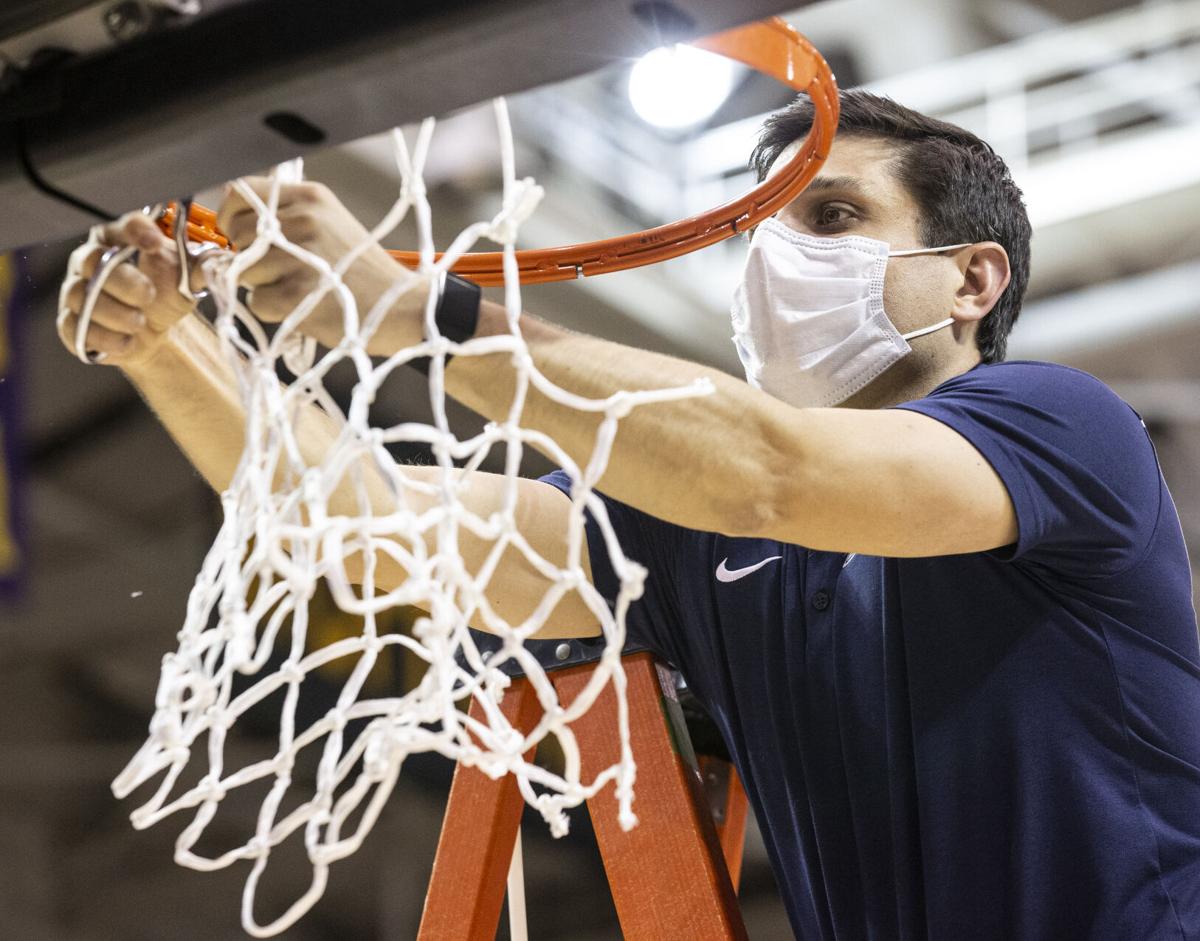 GREENSBORO — The next step in Wes Miller's college basketball coaching career will take him away from Greensboro, away from North Carolina and to the University of Cincinnati.
Miller, 38, guided the UNCG's men's program to its highest-profile moments during his 10 seasons, taking lessons learned from his college coach, Roy Williams, but adapting to find ways to win consistently in the Southern Conference. His teams won 20 or more games the last five seasons and reached two NCAA Tournaments during that time. In his program's first trip, in 2018, UNCG nearly defeated Gonzaga before losing 68-64 in a first-round game. The Spartans lost to Florida State, 64-54, in March.
Miller, getting a six-year contract pending trustees approval, will replace John Brannen, who was fired Friday by athletics director John Cunningham. Cincinnati announced March 26 that it had begun an investigation after several players said they would leave the program and after reports that Brannen's treatment of players had led to the transfers. Brannen has said he wanted "to bring the true facts to light."
Cincinnati went 12-11 this season, reaching the championship game of the American Athletic Conference Tournament before losing to Houston, an eventual Final Four team, by a 91-54 margin.
"I am honored to lead such a storied program and excited to get to work," Miller said in a statement released by Cincinnati. "I also can't thank UNCG enough because I wouldn't be here without my players and athletic director Kim Record. This last decade coaching the Spartans has been extremely rewarding."
Efforts to reach Miller and Record on Wednesday evening were unsuccessful.
"We are appreciative of everything that Wes has done not only for elevating the men's basketball program, but for our university," Record said in a statement posted at UNCGSpartans.com. "Under his leadership, Wes has won at an elite level, but more importantly, he made sure he graduated student-athletes at a high rate, forged a strong bond with our men's basketball alumni and contributed to the community. I want to thank Coach Miller for his commitment to UNCG these past 10 years. We wish him all the best at Cincinnati. They are getting a terrific leader and a better human being."
Miller will take over a program with a strong NCAA Tournament history. Cincinnati has made 33 trips to the postseason event, winning consecutive national championships in 1961 and '62. The Bearcats program has enjoyed a renaissance over the last three decades, which have included 14 straight trips, with Bob Huggins as coach, from 1992 through his final season in Cincinnati in 2005 and then nine in a row under former coach Mick Cronin from 2011 to 2019. The 2020 team, Brannen's first, went 20-10 before the NCAA Tournament was canceled because of the COVID-19 pandemic. 
"Wes Miller is a good guy and a great young coach," Cronin told the Cincinnati Enquirer. "I will always love the Bearcats and I believe UC has made a great hire and the future is bright."
Besides moving into a higher-profile conference, Miller will have more resources. Cincinnati reported spending $7.6 million on men's basketball during the 2018-19 fiscal year, the most recent year for which that information is available; UNCG spent just short of $2.3 million, according to the U.S. Department of Education's Equity in Athletics database.
While terms of his Cincinnati deal other than the contract length weren't disclosed, Miller would appear to be in line for a significant pay increase. He received a base salary of $301,150 at UNCG; Brannen was paid nearly $1.5 million annually, according to USA Today's salary database. After UNCG's NCAA trip in 2018, Miller and the school agreed to a contract extension through the 2028-29 season. It's not clear how much the buyout will total. 
UNCG went 185-145 under Miller. He went from being the youngest of Division I's head coaches — he was 27 when he became interim coach, replacing Mike Dement, who resigned under pressure in December 2011 — and using Williams' half-court man-to-man defense and up-tempo style to creating his own style that would work with his recruits in his program.
"What I realized as I developed as a head coach is I'm not going to be as good at being stubborn as Roy Williams is," Miller said in 2018. "That's his gift, not mine. I've got to find better ways to defend and win in this league that fit who we are.
"That's when we started playing a little zone, and I realized if we played more than two possessions of it, it could be successful. And then we started to toy with three-quarter-(court) pressure."
UNCG's success and his ties to the state made Miller a contender in the last 12 months for openings at two of the state's ACC schools. Miller was thought to have been a top candidate for Wake Forest's job after Danny Manning was fired in April 2020, but the job went to East Tennessee State's Steve Forbes. And then he was expected to be on the short list at North Carolina, his alma mater, when Williams announced his retirement April 1. But that job went to nine-year Carolina assistant, former player and first-time head coach Hubert Davis.
While Davis appeared to be Williams' choice at Carolina, the retired coach praised Miller's hiring by Cincinnati.
"Wes Miller is one of the most outstanding young coaches in our game and what he did at UNC-Greensboro makes me believe he is the most outstanding," Williams said, according to a news release. "As a player at North Carolina he came closer to reaching his full potential than any player I've ever coached. His energy, his determination, his intelligence and his care for young people convinces me that he will continue at that level. I am so happy for him and the University of Cincinnati Basketball program and I look forward to being in the stands!"
When Miller received his most recent contract extension, Record talked about not only her coach's potential in being able to stay in the Triad to fulfill dreams but the program's.
"We believe he has the opportunity to build something very special here," Record said in March 2018. "He could stay and win championships and do it all in his back yard his whole career.
"At the same time, knowing he has dreams and aspirations, how do we help him get there? Every coach is different in what their motivating factor is when you talk about next steps or longevity or term. We could've just extended it a couple of years. We could've done five years. We did seven. What the term says is your belief in not only the coach, but in the program. You're making a commitment to basketball, and not just a head coach."
When Miller took over for Dement in 2011, the Spartans were 2-8 and then lost six more under Miller. But they 11 of 16 to close the season, and Record removed the interim tag and gave Miller the job. 
Miller, who spent part of his high school playing career with Coach Freddy Johnson at Greensboro Day School, played for three seasons at North Carolina and was part of the Tar Heels' NCAA championship in 2005 that was the first of three in Williams' coaching career. He also served as an assistant coach at Elon and at High Point and ran summer basketball camps in Greensboro and Charlotte.