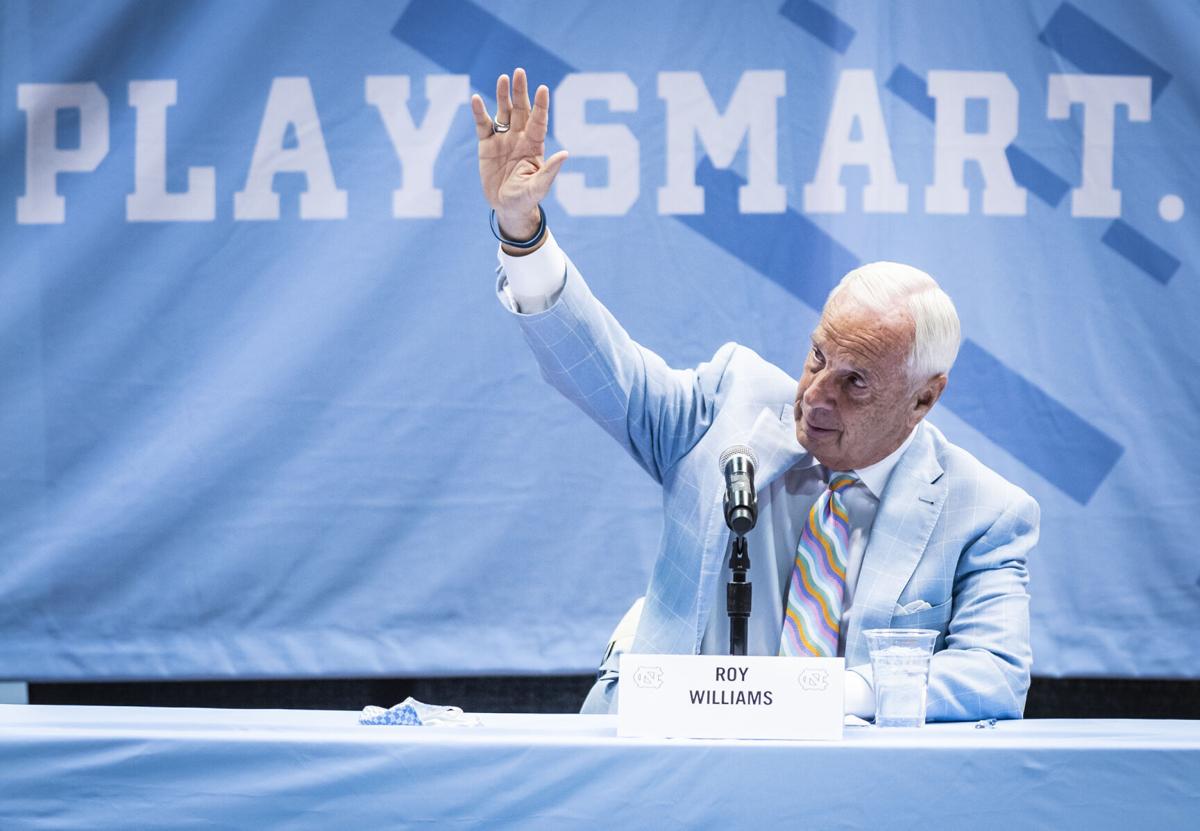 CHAPEL HILL — Roy Williams tried his best to get through the day. And with a few sips of water, he found moments to fight off welling tears with the swipes of aw-shucks humor that colored his coaching tenure at North Carolina.
Thank goodness for that water, a cup closer to empty than full after nearly an hour of memories and reflections as he finished his retirement press conference Thursday on the basketball court that bears his name.
Williams, winner of 903 games and three national titles, felt that at 70 years old, it was his time to step back as leader of the Tar Heels' program and allow for a new direction. He'd tried his best as long as he could, lasting 18 seasons at his alma mater.
"The biggest reason we're having this meeting is I just don't feel that I'm the right man any longer," he said, the words trembling from his mouth at the Dean E. Smith Center. "I love coaching, working the kids on the court, the locker room, the trips, the 'Jump Around' music and trying to build a team.
"I will always love that, and I'm scared to death of the next phase. But I no longer feel that I'm the right man."
These are different times, and unusual ways to say things, Williams mentioned as he worked through his written-out opening. He told the team through a Zoom call about the decision. He joked that as opposed to retiring or stepping away, he was "opting out," a jab at the phrase that became part of the college basketball lexicon. He said he needed the humor, because he was definitely going to need it, as he continues to process the end of a 48-year coaching career.
Williams said his go-to line when asked about his future is that he'd coach as long as his health allowed. But as he talked through the ultimate decision to step away, it became clear: back-to-back difficult seasons took their toll on a coach with a resume of countless examples of success.
In 2019-20, he pointed out, the Tar Heels had so many injuries. This season-long battle with the COVID-19 pandemic served as its own challenge. What crushed the coach the most, though, was he felt he kept making mistakes.
Up three in the waning moments against Clemson last season, Williams forgot to tell the team to foul. The Tigers' Aamir Simms hit a three-pointer to force overtime, which led to Clemson's first victory in Chapel Hill in 60 tries.
Up three again about a month later, the opponent then Duke, Williams remembered to tell his team to foul. It didn't matter. Tre Jones hit the first of his two free throws, intentionally missing the second one in a sequence that ended in a game-tying pullup jumper by the point guard. Duke went on to win in the Dean Dome on a game-winning tip-in at the overtime buzzer from Wendell Moore. Six games, Williams recounted, were decided by last-second shots in 2019-20. All six turned into Tar Heels losses.
That team beat Syracuse by double digits on the road, then lost by nearly 30 to that same team in the ACC Tournament.
That team finished 14-19, and Williams felt he had failed. He struck the same chord when talking about this season's 18-11 record.
"I just never got the team this year, where I wanted them to go," Williams said. "I just didn't get it done. I didn't get them to buy in and focus on the things that I think are really big in the game of basketball.
"We got better, all season long I think we got better. But not to the level that some of our teams did."
But the good times were still so good to him, too. The pain of the 2016 national title game loss washed away with the victory in 2017, the third of his three championships since taking over the program in 2003.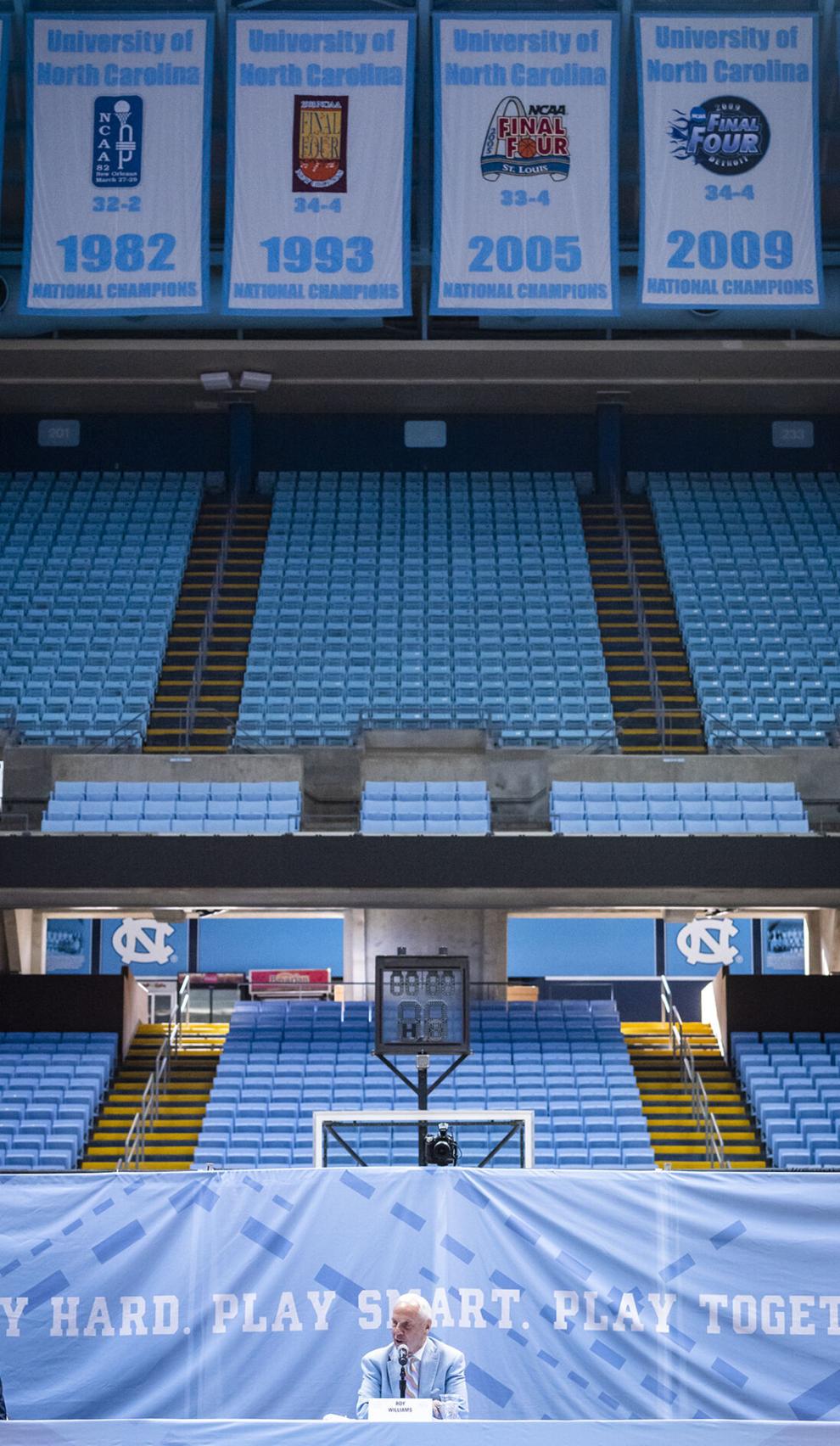 As he spoke, flanked by UNC chancellor Kevin Guskiewicz to his left and athletics director Bubba Cunningham to his right, the program's seven championship banners hung behind him. In total, he had contributed to four of them: his three, as well as the one from 1982 as an assistant under his former boss and idol, Dean Smith.
Williams recalled during those title-winning locker rooms, someone in the program would say, "Gosh, I wish I were on Franklin Street." Williams said he'd always laugh and say, "Franklin Street may be pretty good, but nothing's better than this locker room."
He faced the retired jerseys, the Carolina blue and white hanging in the rafters. As he looked toward his right at former players, he also faced the tunnel he'd walk through for the last time as UNC's coach. Williams said he dreaded forgetting a name, then continued to name off every face he saw that was obscured by masks in the school colors.
He lauded praise on Smith, whom Williams called the best on the court and even better off it.
"I could never come close to matching what Coach Smith did, but everyday I tried to make him proud," Williams said.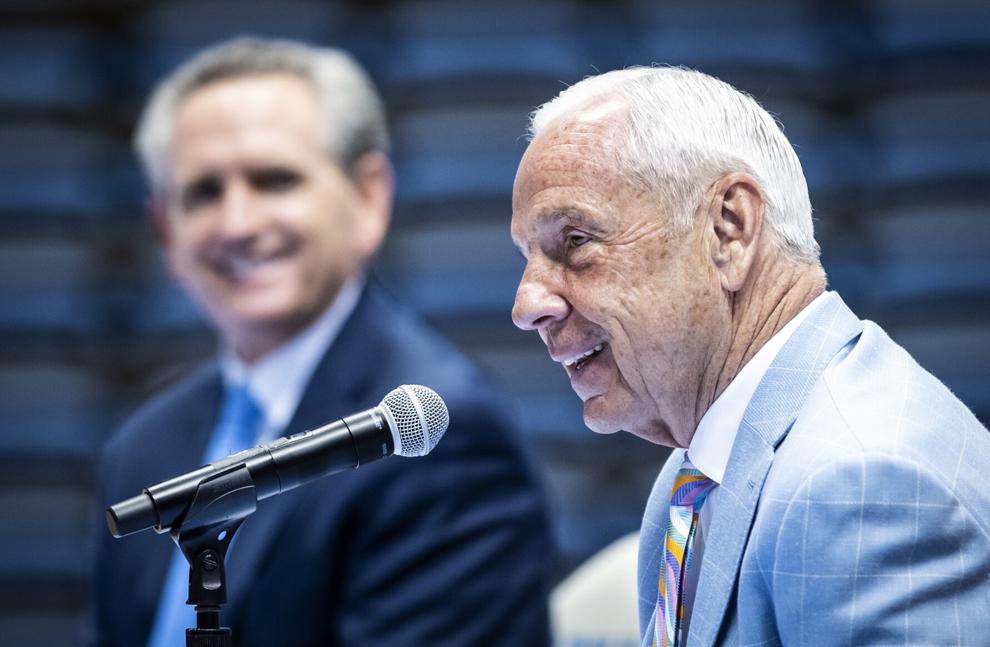 As he answered his last question, he rose to applause from the limited number in attendance. He hugged Cunningham and Guskiewicz, eased his way down the steps to his wife, Wanda. They held hands on their way out the tunnel, on their way to the next way of life as they passed by former and current Tar Heels.
He'd gotten through another hard part of a difficult day.
The moment was finally over, and Roy Williams had done his best.